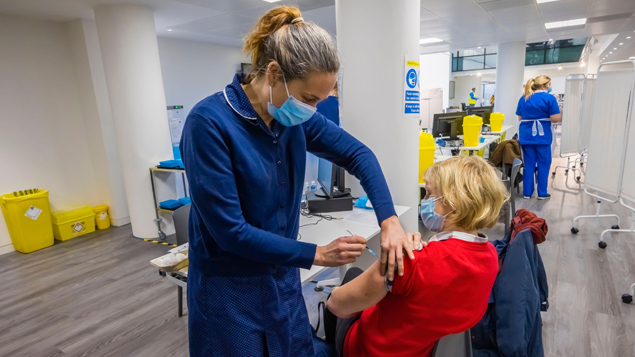 SNP Leader Nicola Sturgeon will today (Wednesday) pledge to raise NHS inpatient, day case and outpatient activity to 10% above the pre-pandemic level as she sets out that the SNP "is the only party with a serious plan for government and for national recovery from COVID."
In a speech today on the NHS, the SNP Leader will thank staff for their efforts during an extraordinary year – and will note that staff numbers are at record levels, that patient satisfaction continues to be high, and that Scotland's core A&E services have been the best performing in the UK for more than 5 years.
Ms Sturgeon will unveil measures to support NHS staff, to invest more in ensuring people get the right support closer to home, and to maximise hospital capacity so patients can be treated more quickly.
So far in the election, the SNP has already pledged to deliver a National Care Service in the next Scottish Parliament, and establish a network of fast-track cancer diagnosis centres in every part of Scotland.
In addition, NHS Agenda for Change staff have been offered the single biggest pay increase in the history of devolution with an average of 4%.
Plans for SNP investment in the NHS and social care services will be set out in the manifesto.
More on NHS Scotland, recently in TuS:
March 2021 Reports In Scotland: The 31-day standard states that 95% of all patients should wait no more than 31 days from decision to treat to first cancer treatment. 98.6% of patients started treatment within the 31-day standard, compared with 98.4% in the previous quarter and 96.5% for quarter ending September 2019. The 62-day standard states that 95% of eligible patients should wait a maximum of 62 days from urgent suspicion of cancer referral to first cancer treatment. 86.2% of patients started treatment within the 62-day standard, compared to 87.3% in the previous quarter, and 83.7% for quarter ending December … Continue readingNHS Scotland: 98.6% of cancer patients treated in 31-days and 62-day target met 21% more often than in NHS England7 COMMENTS
Being reported widely: Nine out of 10 deaths from coronavirus have occurred in countries with high obesity levels, according to World Health Organization-backed research that sets out the stark correlation between excessive weight and lives lost to the disease. The scattergraph above shows how countries, even those with weak health infrastructure and mass poverty, like most in Africa or Bangladesh, have had fewer Covid deaths, due to low levels of obesity. The original graphic only featured the UK but when you take into account Scotland's slightly higher obesity level, greater prevalence of limiting long-term conditions including cardiovascular disease and higher … Continue readingAgainst all the odds, NHS Scotland saves lives5 COMMENTS
Headlining in the Herald last night: Three cases of a Covid-19 'variant of concern' first identified in Brazil, have been identified in Scotland, officials have confirmed. Following their return to north east Scotland from Brazil, via Paris and London, three Scottish residents entered self-isolation and then subsequently tested positive for coronvirus, it has been confirmed. These individuals then self-isolated for the required period of 10 days. These three have already self-isolated for ten days and no other cases have emerged from those they shared the flights with? So, there are currently really no cases 'hitting' Scotland? So, Scotland's test, trace and isolate system works. … Continue readingNHS England fails to track Brazil Variant but NHS SCotland does6 COMMENTS
With 99.9% of care home residents vaccinated and the death rate there in steep decline, NHS Scotland has accelerated mass vaccinations. After just 7 days and, in the last 4, vaccinating nearly twice the number pro rata, NHS Scotland has done 21.48% of the population, just a smidgin behind NHS England, at 21.76%. The sacrifice of around 2 000 care home residents was always a price too high just to get ahead of the EU countries but even that is now lost to the Eton schoolboys running England. NHS Scotland's 7 day average, last week was 60% higher. Many lives … Continue readingOnly one week after making the care homes safe, NHS Scotland catch up with mass vaccinations4 COMMENTS
According to the Guardian, based on figures for England from the BMA, there are 46 000 NHS staff absent with Covid-19 'putting the health service in crisis.' There were repeated headline warnings that the same 'could' happen in Scotland, only two weeks ago: Staff absence rates are an objective measure of stress within a system like the NHS: In the week to 5th January 2021, a total of 2 901 staff were absent due to Covid-19, down for a recent peak of 3 237 in the week to 17th November 2020. In the same period, the number of Covid-19 patients … Continue readingBetter-staffed NHS Scotland revealing few resilience issues6 COMMENTS
According to the Guardian yesterday: Absence rates in some hospitals are now between 8% and 12%, versus the health service's normal level of 4%, just as the NHS comes under the greatest strain in its history. Three days ago, The Scottish Academy of Medical Royal Colleges and Faculties warned health services were in danger of being overwhelmed. Their warning was heavily reported in the Scottish media: https://www.bbc.co.uk/news/uk-scotland-55458992 However, as Andrew Marr put it, when you look at the data, isn't the truth that it isn't? Here are the data: There are approximately 160 000 staff in NHS Scotland. The absence level peaked at … Continue readingWhy is NHS Scotland staff absence so much lower?14 COMMENTS
Early results suggest that NHS Scotland has been ahead of the game in getting its vaccination programme rolling. That Unison guy and Sarah Smith were not available for comment but we hear that, that woman from Fife will be on Reporting Scotland to complain that her local GP's phone is always engaged when she calls. Alert readers will notice something odd about the above graph. Discuss below. Why Russia and Canada? Russia approved its own vaccine in August and Canada has reserved more doses than any other country. Continue readingFreeman praised as NHS Scotland vaccinates twice as many as NHS England6 COMMENTS
In October 2020 NHS Scotland's A&E departments saw 89.2% of patients within 4 hours. In the same period, NHS England only saw 77.6% in that time despite counting in a way which favours them. NHS Scotland's performance is thus 15% better, at least, becsause: NHS England starts the clock again after patients are admitted while NHS Scotland counts from arrival in A&E, so the gap is probably even bigger. https://inews.co.uk/news/health/nhs-england-covering-up-true-scale-of-12-hour-hospital-waits-1335856 Sources: https://beta.isdscotland.org/find-publications-and-data/health-services/hospital-care/nhs-performs-weekly-update-of-emergency-department-activity-and-waiting-time-statistics/releases https://www.england.nhs.uk/statistics/statistical-work-areas/ae-waiting-times-and-activity/ae-attendances-and-emergency-admissions-2020-21/ Continue readingNHS Scotland accident and emergency services at least 15% better7 COMMENTS
In Holyrood, last Friday, Monica Lennon (Central Scotland) (Scottish Labour) asked the Scottish Government what its response is to reported concerns by the Royal College of Emergency Medicine that lack of capacity in hospitals will lead to A&E delays and ambulance queues. Click to access WA20201023.pdf The RCEM study does not offer a 'regional' breakdown and is based on a sample of only 89 senior clinicians, representing up to 110 Emergency Departments. https://www.rcem.ac.uk/RCEM/News/News_2020/RCEM_outlines_actions_to_tackle_crowding_in_A_Es_.aspx We've seen Royal College surveys before with tiny or zero Scottish samples then picked up by opposition politicians or Scottish media to use as evidence of problems … Continue readingLabour MSP attacks NHS Scotland with English research findings3 COMMENTS
In what is, of course, largely a commercially driven tactic, the Herald offers us this morning nothing to help us understand anything. Whether this is a deliberate or just lazy habitual pattern, it does, of course, contribute to the vain attempts to weaken the appeal of the SNP Government at this difficult time for the Union. There are 46 major wards in the above hospital. In the middle of a pandemic, one has, 'the Herald understands' closed in a precautionary move to control the spread of a virus. The Health Board has not contacted the media with an alert, for … Continue readingOnce more NHS Scotland fights on and the herald stokes fears to undermine their efforts