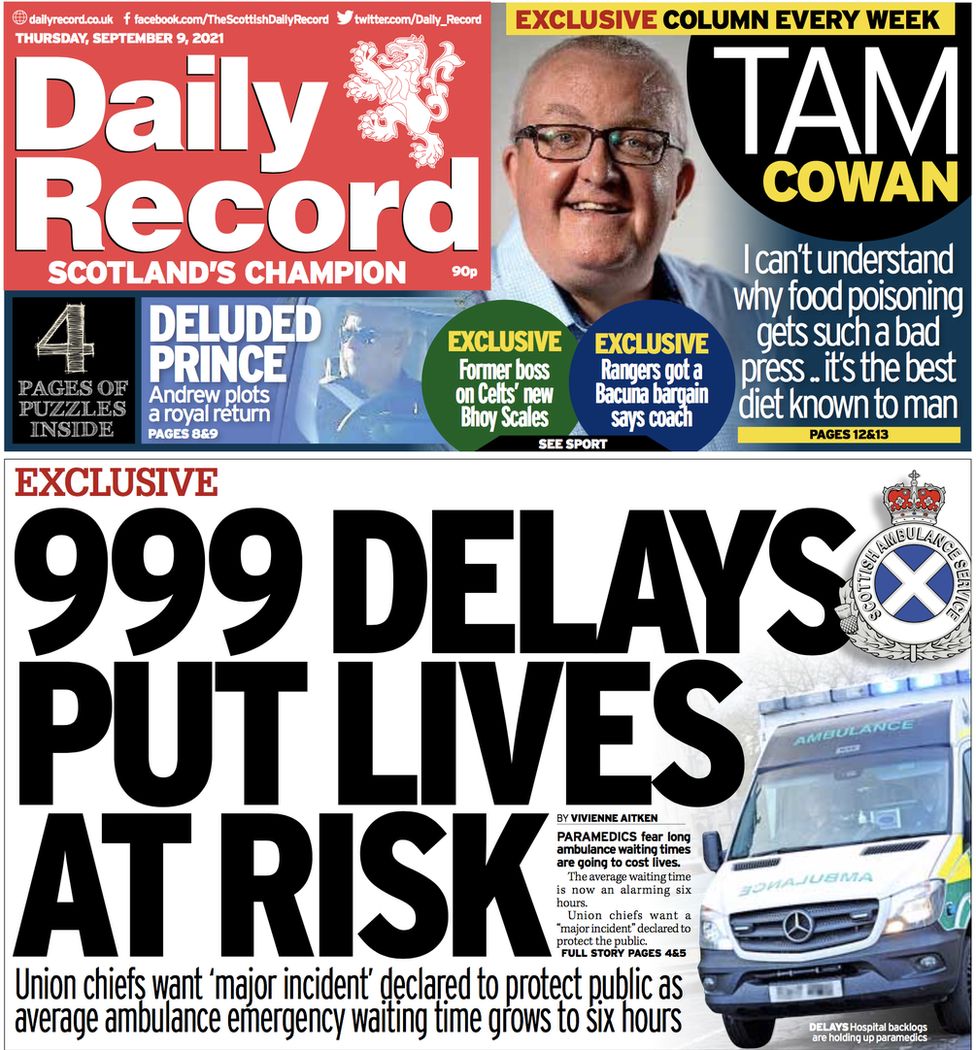 This is another trade union / media scare story based on deliberate misrepresentation of the data. It follows from another in the Record, two weeks ago and explanation is the same. See this:
In the Record two days ago, the report of a tragic error. Without knowing the whole story, I hesitate but it does look like a mistake was made.
However, the report had these features:
Yesterday the man's heartbroken family, who asked not to be identified, called for answers on the "despicable" delay in getting him emergency treatment.

And Helena's husband Graham, 67, called for government action to tackle ambulance waiting times.

Last week the Daily Record told how there has been in increase in the number of urgent 999 calls not seeing an ambulance quickly – with about three in 10 patients now waiting longer than 10 minutes for medics to arrive.

Labour health spokeswoman Jackie Baillie called the two cases "harrowing" and said they showed "the lives of Scots have been put at risk due to the SNP's failure to re-mobilise the NHS and support ambulance services".

She added: "Ambulance services are overwhelmed, A&E is in crisis, staff are crying out for support and Humza Yousaf is missing in action. It is all too clear that he has lost control.

"Humza Yousaf should apologise to these families but he must also own up to the crisis unfolding and stop it spiralling further out of control.

"If the SNP fails to support our frontline services, lives will be put at risk. They must act and act now."

https://www.dailyrecord.co.uk/news/scottish-news/four-hour-ambulance-delay-death-24806868
Politicising a death
So, first, straight to the top, bypassing the head of the ambulance service who is directly responsible, to an opposition MP who may or may not have fed the story to the Record and who may or may not have groomed the family for this purpose as Anas Sarwar may or may not have groomed the family of a dead child in a campaign to unseat the Health Secretary, Jeanne Freeman.
This immediate politicising of a single health incident is a regular tactic in the Scottish MSM especially Reporting Scotland but it is almost entirely absent in Wales, Northern Ireland or England where repeated and much larger, more serious, cases of failure are reported without any mention of the politicians ultimately responsible in those countries. You can see the evidence here:
and here:
Ignoring ambulance facts
Second, on the claim 'there has been in increase in the number of urgent 999 calls not seeing an ambulance quickly', this is either deliberate misrepresentation or uneducated.
SAS told us in February 2019:
The Scottish Ambulance Service changed the way it responds to the most unwell patients in 2016 with 999 call handlers giving the highest ­priority to incidents such as cardiac arrests. An evaluation of the changes has found the system has saved the equivalent of 1182 lives. Under the new system, call handlers are taking longer on the phone to despatch paramedics and some lower priority calls are waiting longer for an ambulance. A Freedom of Information request by the Scottish Conservatives revealed that an additional 62 patients were saved in Lothian as a result of the changes in 2017.
https://www.edinburghnews.scotsman.com/health/hundreds-saved-scotlands-new-ambulance-response-system-106900
How significant are the figures reported? The SAS responds to around 1.8 million calls per year. That's around 4 900 per day.