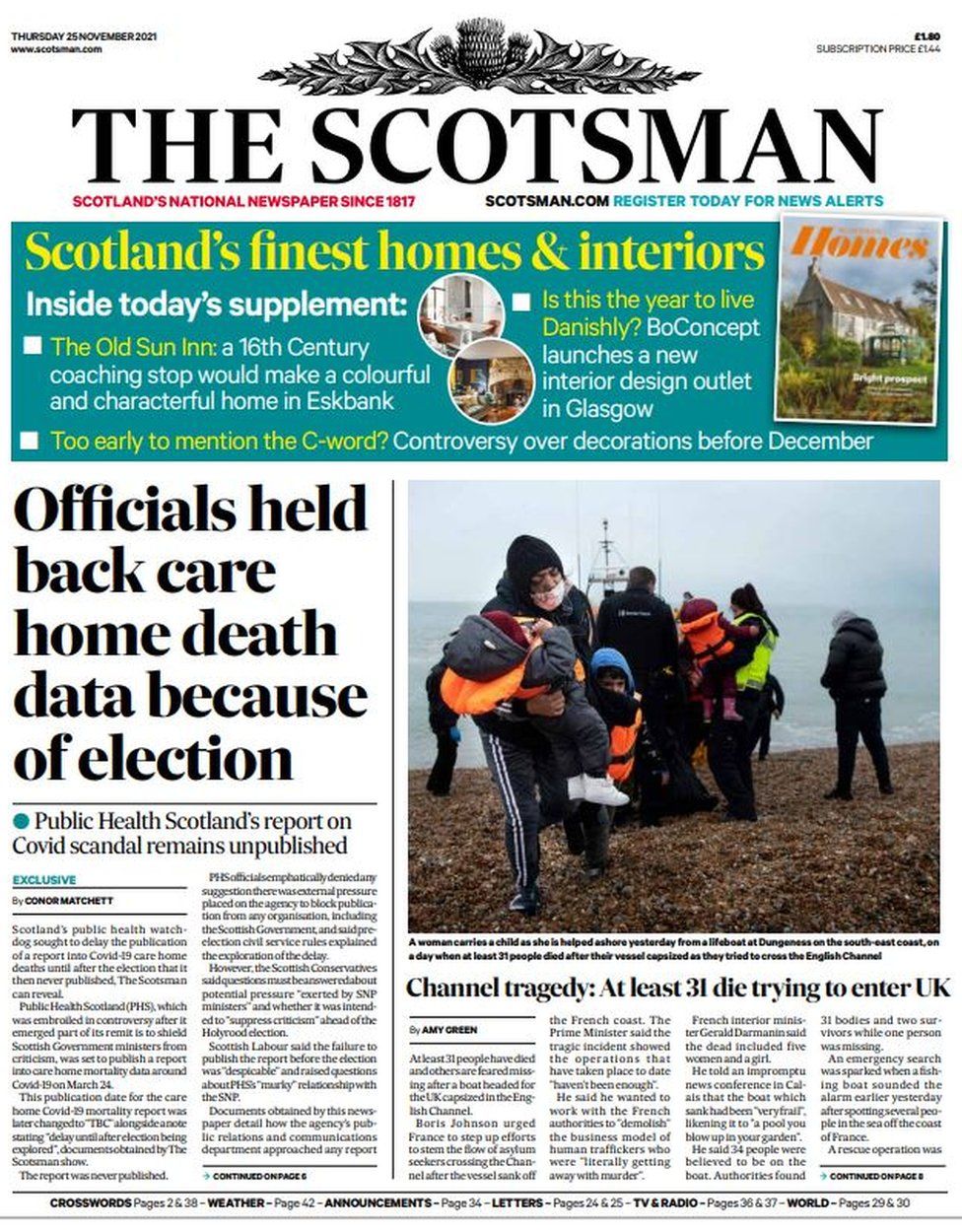 The 2021 Scottish Election campaign began on 25th March 2021. According to the Herald, Public Health Scotland was due to publish a report, undertaken by Stirling University, on care home deaths, the day before, but did not. It was supposedly published on 17th May 2020. It did not expose any scandal and concluded only:
This could indicate that by emptying hospitals to prepare for a potential influx of COVID-19
patients (which was partially averted by effective lockdown measures), the "normal place of
death" shifted for a large proportion of individuals. Any assessment of "excess deaths" in care
homes should, therefore, be viewed in this context. The rise in care home deaths may, in part,
be due a reduction of the flow from care homes to hospital as a preventative measure to
ensure that hospitals were not overwhelmed. This would also mean care homes are dealing
with a greater load of palliative care, over and above the increase due to COVID-19.

https://dspace.stir.ac.uk/bitstream/1893/31237/1/Deaths-in-Scottish-care-homes-17-May.pdf
Later, we were to discover that Scottish care homes had suffered a significantly lower toll than those in England:
By June, we knew that the 'scandal' hoped for by opposition parties, that hospital discharges were responsible for care home deaths, was not supported by the evidence:

Asymptomatic care workers unknowingly spread coronavirus. Large numbers of staff could have been unknowingly spreading coronavirus through care homes, according to the UK's largest charitable care home provider. Data from MHA shows 42% of its staff members who recently tested positive were not displaying symptoms. Nearly 45% of residents who had a positive test were also asymptomatic. MHA operates in England, Scotland and Wales and has fully tested staff and residents in 86 of its 90 homes so far.

https://www.bbc.co.uk/news/health-52912538
This finding was confirmed in July 2020, by the ONS, in a study of 9 081 care homes:
These emerging findings reveal some common factors in care homes with higher levels of infections amongst residents.These include prevalence of infection in staff, some care home practices such as more frequent use of bank or agency nurses or carers, and some regional differences (such as higher infection levels within care homes in London and the West Midlands). There is some evidence that in care homes where staff receive sick pay, there are lower levels of infection in residents.

https://www.ons.gov.uk/peoplepopulationandcommunity/healthandsocialcare/conditionsanddiseases/articles/impactofcoronavirusincarehomesinenglandvivaldi/26mayto19june2020#main-points
In April 2021, Public Health Scotland confirmed that hospital discharges palyed no significant part in the outbreaks: https://beta.isdscotland.org/find-publications-and-data/population-health/covid-19/discharges-from-nhsscotland-hospitals-to-care-homes/
A Public Health Wales report did the same.
And, to finish, from Robert Cuffe, BBC Head of Statistics, April 2021:
Care homes that received discharges might actually have seen slightly lower rates of outbreaks.

https://www.bbc.co.uk/news/uk-scotland-56834412
As for delaying sensitive reports:
In 2001:
The report of the investigation into whether the embattled minister Keith Vaz has broken parliamentary rules may not be published until after the general election, it emerged yesterday.

The Labour dominated Commons standards and privileges committee – which meets today – has decided to re-examine the year-long inquiry by Elizabeth Filkin, the parliamentary commissioner for standards, into Mr Vaz's conduct.

https://www.theguardian.com/politics/2001/feb/06/labour.election2001
In 2020:
A cross-party group of Members of Parliament is urging Prime Minister Boris Johnson to publish a long-delayed report into Russian interference in UK elections.

The report was sent to Johnson last October, but he refused to publish it before the general election.

https://www.businessinsider.com/boris-johnson-russia-report-affront-to-democracy-cross-party-letter-2020-6?r=US&IR=T