Headlining the Sturgeon/Ross visit to a drugs project, BBC Scotland link to their July 2020 report on drug deaths climbing steeply but seem not to have noted this year's data showing a clear reversal of the increase in the 25-34 year olds and a small reduction, from 6% to 5% in the overall number.
This confirms a flattening after the 27% surge in 2018.
Why is this happening? Perhaps this from last year:
I agree fully that we should do all we can, now, to reduce drug deaths.
But, this 'crisis' may be burning itself out. See these graphs: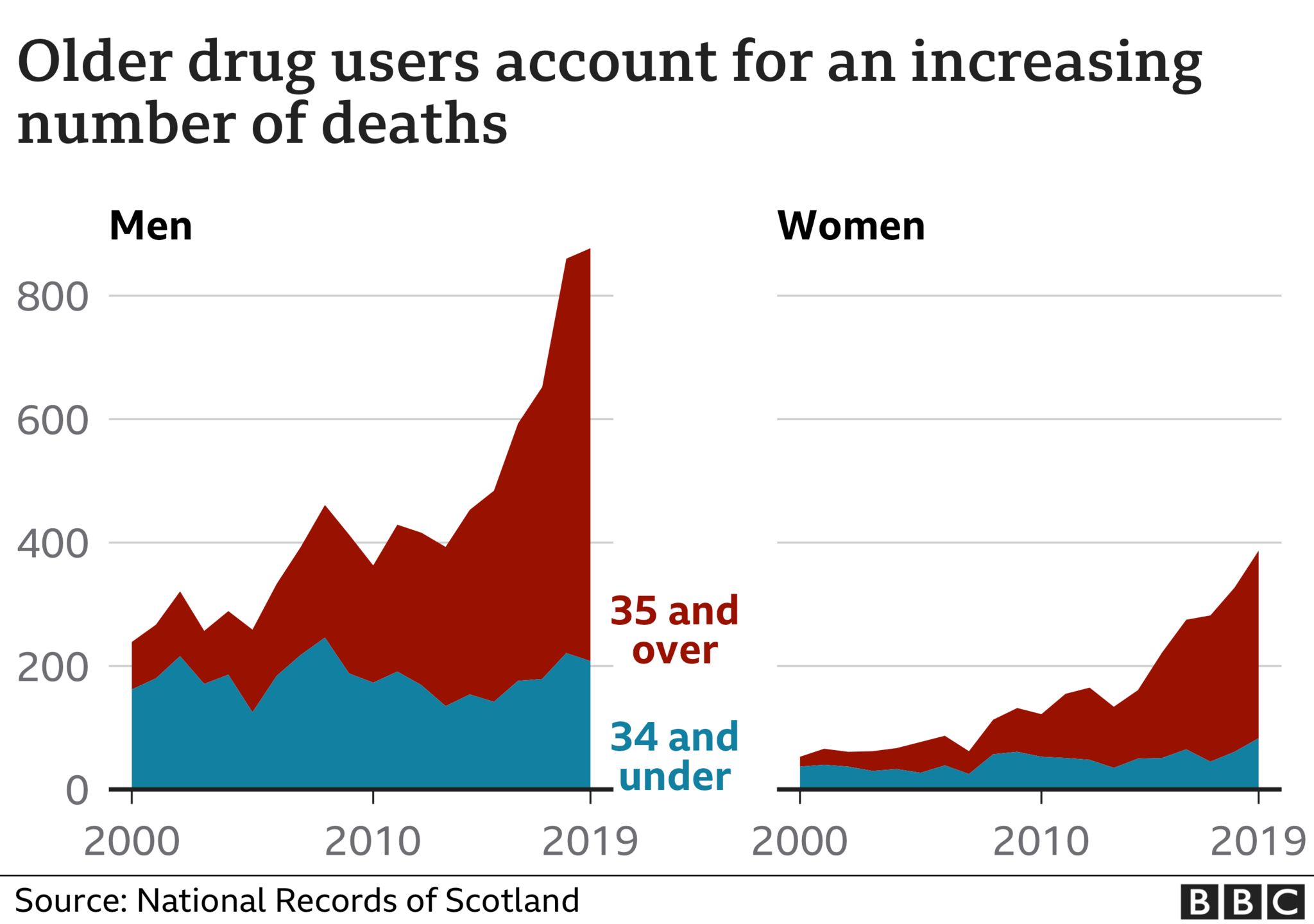 In a BBC Scotland report from December 2020:
The National Records of Scotland statistics are six months late after a huge backlog in processing toxicology results and delays due to Covid-19. They show that two-thirds of those who died were aged 35 to 54. The report said the median average age of drug-related deaths had gone up from 28 to 42 over the past two decades. However, there was also an increase in deaths among 15 to 24 year olds – from 64 in 2018 to 76 in 2019.
That the graphs divide the data simply into over 35 and under 34 groups slightly conceals the evidence that Scotland's exceptionally high drug deaths are due to a wave of death affecting those whose lives were ruined by Tory economic policies from 1979 to 1997 and, crucially, that the wave already shows signs of fading out as the older members, 55-64 disappear from the data:
Even were we to do nothing and I'm by no means suggesting that, the shortened lives inevitable after a life of drug abuse, mean that 35-54 groups group do not have long even if they avoid overdose and the level of deaths among the currently under 34, not unusual in other countries, will become the norm.