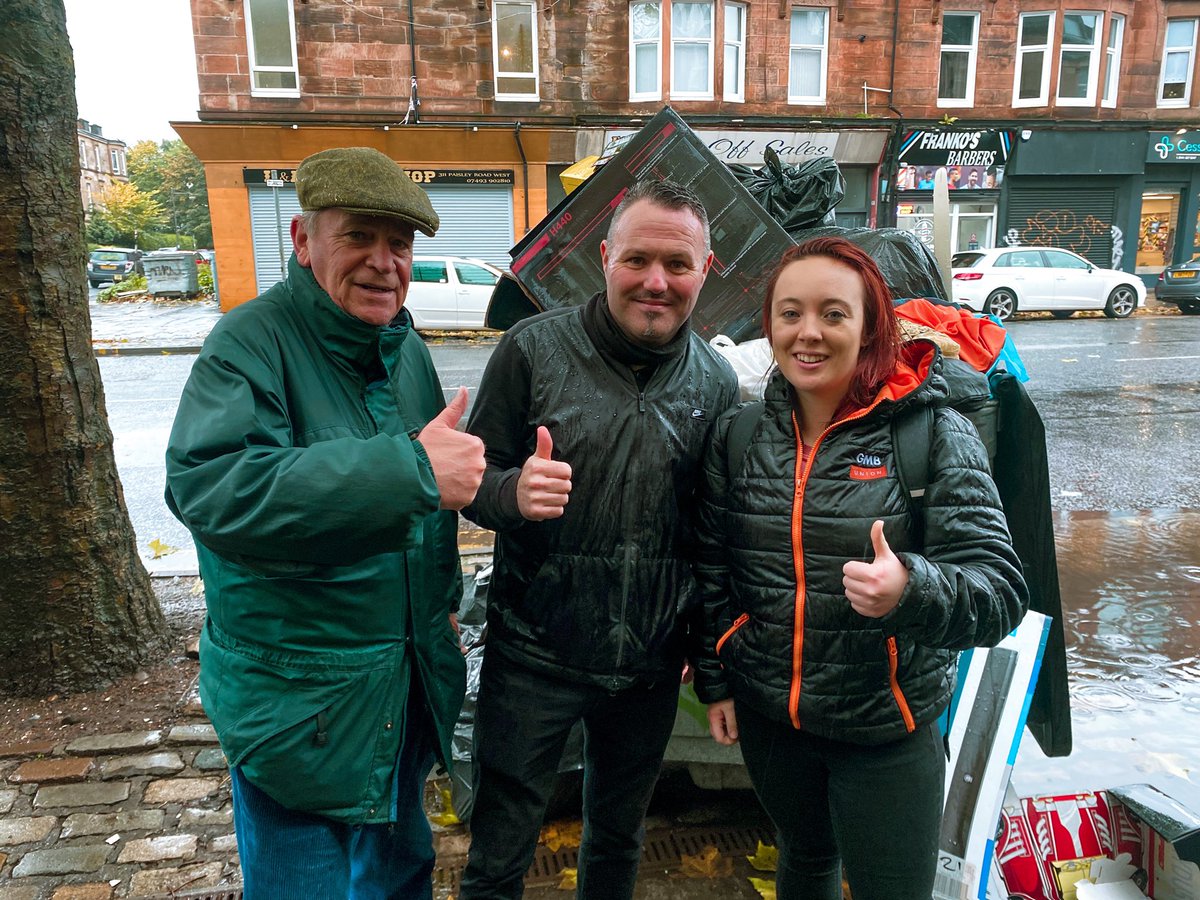 From Alasdair Galloway
The utter venality of the GMB action over the weekend to reinstate strike action is difficult to exaggerate.
Let's put to one side (for now at least) the obvious intention of embarrassing the Scottish Government in front of the whole world, and thus support (they think) their chums in the Labour Party. I am not suggesting this is not relevant – far from it – remember who Richard Leonard is married to. My point is that the GMB position is weak enough without making that charge.
First of all, something which seems to be getting forgotten is that there was an agreement on wages just last Friday. But not only that – there was an agreement for consultation over the next 14 days – ie till the 12th November. For the GMB that seems to have been cut from 14 days to less than 48 hours.
Secondly, Connor Gillies reported on "The Nine" that the GMB want Glasgow CC to agree to an "unspecified pay rise". That is young Mr Gillies' description which is nicely uncertain. Is it just that he doesn't know? Or is the GMB asking for Glasgow CC to agree to the principle of a pay rise and then they will tell them what it will be?
Sure the latter is ridiculous, but it also directs us toward another fact that is being ignored. This dispute was always directly between the GMB (on behalf of their members) and COSLA (on behalf of the local authorities, including Glasgow CC). In other words, in terms of the procedure it is not in the gift of Glasgow CC to offer a pay rise. That is a matter for COSLA and should be offered to the employees of all Councils. Not just Glasgow. I wonder why they would try this?
In turn this directs us to a very important question. Why only Glasgow? Well one reason is in paragraph 2, and when you pursue this whole sequence of events to this stage, you begin to fully realise the force of it. Why not Edinburgh CC, or Highland, or Argyll & Bute who are equally involved in these wage negotiations?
Practice is that Municipal (or Council) wages are determined by national negotiation. My guess is that if COSLA (or worse the Scottish Government) suggested making the negotiations local, with different Councils doing their own thing, the GMB would be in the van of critics that this would be an attempt to cut costs in more rural areas (Highland, Argyll & Bute) by paying less than in urban areas such as Glasgow. But it is the GMB who are behaving in this way.
However, the GMB have shifted position over 24 hours. Their original press release read (https://gmb.org.uk/news/cop26-strike-action-glasgow-go-ahead)
"The council has failed to give our members the proper time and space to consider the 11th hour offer from COSLA, and the fact the council moved to block strike action in the Court of Session using anti-trade union legislation, means there is too much bad faith among members towards the employer."
Let's go through this
Proper time and space has not been allowed by Glasgow CC? Really? It was the GMB who agreed the 14 days consultation, so this really doesn't stand up.
The Council threatened Court action using "anti-trade union laws". To fully consider this we need to move on to their second press release on Sunday.
The second press release reads as follows (https://gmb.org.uk/news/glasgow-cleansing-strikes-underway-after-council-refuses-%E2%80%9Cindustrial-relations%E2%80%9D-reset)
"We met the council in good faith, offering a clear set of proposals to reset industrial relations and avoid strikes. The council rejected these proposals.
"We specifically offered heads of terms to work together to tackle the chronic and unacceptable problems caused by years of cuts, to urgently address the employer's unresolved discriminatory pay system and outstanding equal pay liabilities, and back this with a commitment from the council that they would not use anti-trade union laws against their workers again."
There are 3 specific claims made here, though it's important to note that nowhere in this subsequent release is a pay rise mentioned. In fact, they have now said (in the same page as cited above) they are going to ballot their members on the COSLA pay offer while they are on strike!
Let's start with the last point, that Glasgow CC "would not use anti-trade union laws against their workers again." Personally, I prefer disputes being kept out of Courts as the Courts seldom of and by themselves solve the problem and in many cases may make the whole thing worse. BUT, for a Council to make that sort of commitment is just ludicrous. A Council – any Council and not just Glasgow – could simply not give such an assurance. For one thing they not only have responsibilities to their employees (important as they are) but also to, for instance, Council Taxpayers, and could find themselves, under the right circumstances, at the wrong end of an action brought by Council Taxpayers alleging breach of statutory duty.
Starting at the beginning, however much force there is in the allegation of "chronic and unacceptable problems caused by years of cuts", I would expect that this is true of many other departments in many other Councils, but most importantly it is not something to be resolved over a weekend. But most importantly, it can hardly be disengaged from a near enough decade of austerity bequeathed to us not be the Scottish Government and certainly not by Glasgow City Council, but by the government at Westminster. I would be surprised if the City Council has dealt with every problem in an ideal way, but they are hardly the authors of funding problems in the public sector. For sure it's not a demand to be addressed in a couple of days.
But it's when you get to the second one that you begin to wonder whether all this is a joke. To suggest that anyone, never mind the City Council has more responsibility for "unresolved discriminatory pay system and outstanding equal pay liabilities" than the GMB is hard to sustain.
Consider this about the role of the GMB when Glasgow CC introduced its Workforce Pay and Benefits Review (WPBR), which was meant to remedy pay discrimination but in fact further institutionalised it.
"Of the 12,000 equal pay claims currently outstanding against Glasgow City Council, two thirds are Cross's clients and only one third are represented by Unison or the GMB. This is not what one would expect if the unions had been in total opposition to the WPBR from the outset." https://www.workersliberty.org/story/2018-11-03/issues-behind-glasgow-equal-pay-strike "The issues behind the Glasgow equal pay strike" Dale Street
OR
"Frustration at union (in)action from 2005 on Irvine's blog (supported by published comments from trade union members) is directed mostly towards the GMB" Beirne, M., Hurrell, S. and Wilson, F. (2019) Mobilising for equality? Understanding the impact of grass roots agency and third party representation. Industrial Relations Journal, 50(1), pp. 41-56., https://eprints.gla.ac.uk/179983/1/179983.pdf
So, to sum up this sorry situation, having agreed to put a wage increase to members with 14 days for consultation, the GMB go on strike because 48 hours after coming to an agreement they find the employer hasn't given them enough time.
Realising that their position is, lets be kind, weak, another press release is put out, which shift the ground much more clearly to industrial relations generally in the department concerned. The demands made vary from problems much less than fully in the control of Glasgow CC, moving on to claims that are deeply ironic, suggesting not so much an airbrushing of history but a rewriting of it. It concludes with a demand that no sensible Council could ever agree to.
Why? Is it a "cop out"? Har har. Or just an attempt to embarrass the Scottish Government, Glasgow and thus all of us, when the rail workers let down the "cause"?
One last thing, if you want to get some idea of how the Union's actions have gone down, have a read down this https://twitter.com/GMBScotOrg/status/1454867329091833862 When I was a lad the GMWU (as it was then) was colloquially referred to by guys in the AUE and ETU etc as "the mugs' union". That much has not changed, I would suggest.