Ahead of a week of protests, the Herald's Josh Carmichael (18?) knows it will be 'chaotic' and not, perhaps, 'inspirational?' For Unionists, anything the SNP Glasgow City Council does must fail and fail even before it fails.
The real chaos in the UK Cabinet Office responsible for the event will not come to light in Scotland's media and the First Minister, deliberately side-lined by that UK cabinet Office, will no doubt find herself blamed for their failures.
Was that delay on one of the escalators in Central Station an early sign of chaos? Why did she need 10 big polis? Threats from the Glasgow Uni Young Conservatives?
Was it these faith groups and pilgrims blocking the path, yesterday, but staying faithfully on it? How many faith groups? That'll be theological chaos! They did start singing at one point. How am I supposed to mediate secularly with that racket!
Earlier yesterday, the Herald's Josh Carmichael (21?) was assuring us:
COP26 Glasgow protests in full as disruption continues across Scotland!
Look! There are four guys there under 70! And some pink smoke! Call in the riot police! Thousands of them crossed the border yesterday fresh from pinning down wee women protesting a murder by a police officer.
In a dream, I saw the Glasgow polis normal, turning on the London riot police when they see them doing the same here.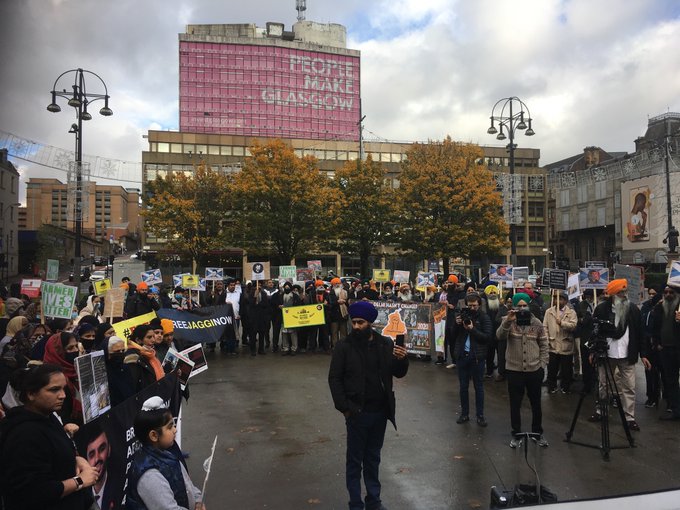 Ooh, wait, this will surely kick-off! Glasgow Sikhs protesting against India's authoritarian premier Modi. Why are the Glasgow polis not searching their turbans? Aren't they allowed to keep wee knifes in them, like our skean dhus most of us have in our socks?
Nope, they're just making speeches and clapping and staying in a neat circle. Don't they know how to be chaotic?
The Herald's neighbour, the Glasgow Evening Times with a report by the Press Association does it so much better with lots of fantastic images and no mention, not one, of chaos:
https://www.glasgowtimes.co.uk/news/national/19684095.pictures-climate-campaigners-stage-opening-ceremony-cop26-protests/
In wonder, what is the Guardian saying?

'It's the protests which are giving me hope': activists descend on Glasgow
That's an interesting perspective. I wonder, do you think the Herald's Josh Carmichael (58?) would be interested in that view? Naw?
Finally want to see images of real chaos in Glasgow and no riot police from elsewhere in the UK apparently required?