The River Dee and its forest setting.
The Herald today as we run up to COP26: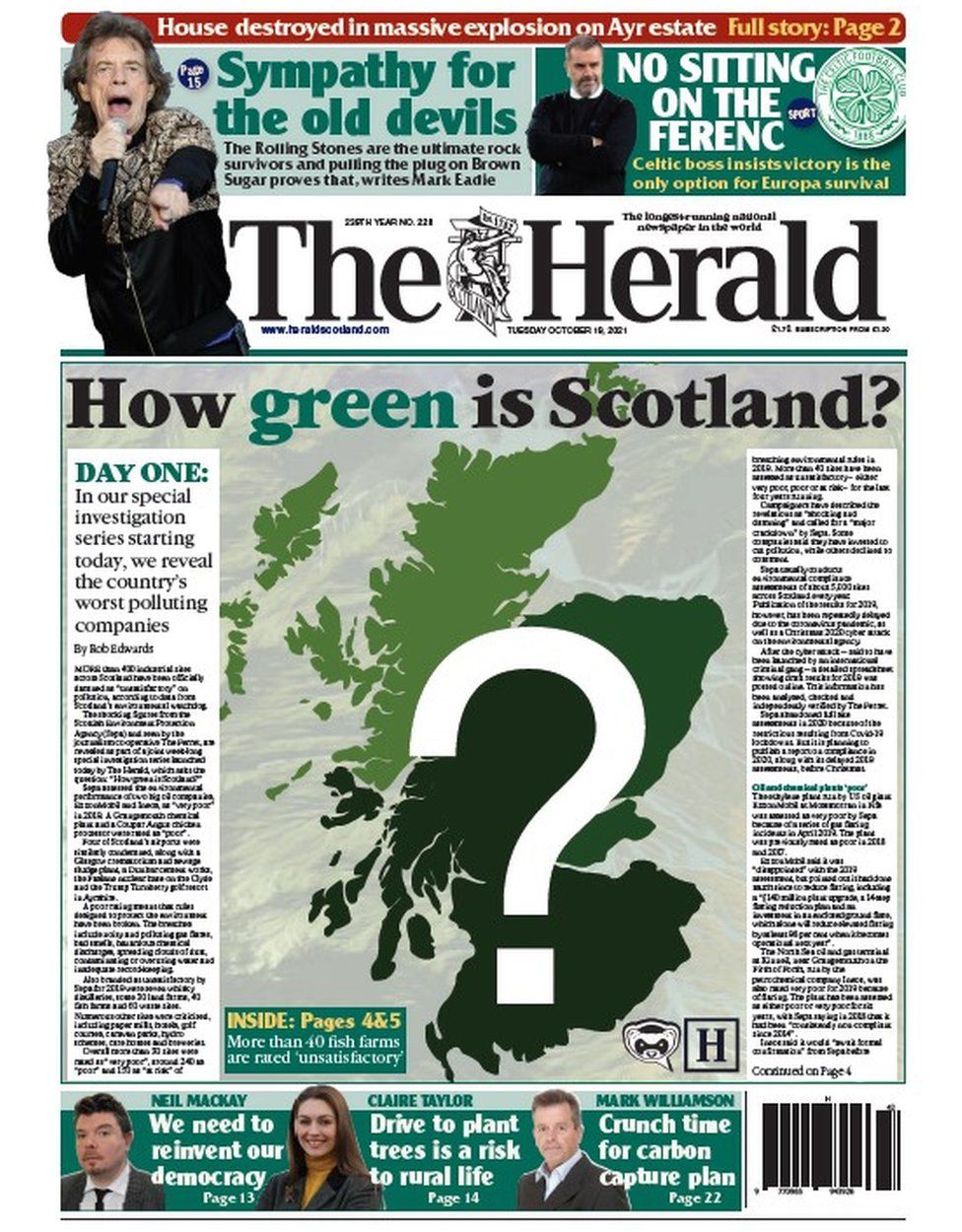 It's all about choices. There's so much you could write about and you choose, as COP26 approaches and the Conservative Government's hopeless performance on the environment awaits global exposure, anything negative you can find on your own country.
I have no doubt we have polluters and polluted waters but I'm sure England is far worse and on the other side, energy production, Scotland is a model for the rest of the UK as Lord Deben, chair of the Climate Change Committee and former UK Environment Secretary told Holyrood in 2021.
What could our media report on if they wanted to be fair rather than scare?
First on water pollution:
2015, I know but according to the Environment Agency reported on the BBC UK website last July (2020):
[In England] there were 56 serious pollution incidents last year [2018], rising from 52 in 2017, the agency's annual report said. Only one of the nine major water companies in England is performing at the expected level, with most likely to miss 2020 targets, the agency added. The report follows the agency's announcement that Southern Water is facing prosecution after it was hit with a record £126m penalty package over "shocking" failures in its sewage treatment sites.
https://www.bbc.co.uk/news/uk-england-48934421
Meanwhile in Scotland, according to SEPA:
In 2017, for the first time in a number of years, Scottish Water was not responsible for any category 1, serious pollution incidents.
A report in Open Democracy attributes the situation in England to privatisation:
The dire state of our rivers is just one of the many, many failures of water and sewerage privatisation. It is just one example of what happens when we hand over not just time-limited contracts for delivering water and sewerage services, but the actual assets themselves – the pipes, the infrastructure – to private companies to milk for profit.
https://www.opendemocracy.net/en/oureconomy/when-we-own-it-public-ownership-water-21st-century/
The resulting customer satisfaction:
In a ComRes survey of 199 Scots, published in July 2020, we see:
Thinking generally about the company that provides your water and sewerage services, do you or do you not trust your water company? UK 86% Scotland 94%
Do you or do you not trust your water company to… Provide a reliable service? UK 90% Scotland 96%
Do you or do you not trust your water company to… Ensure good quality of water? UK 90% Scotland 95%
Do you or do you not trust your water company to… Fix water pipe leaks in public areas (e.g. in roads, not in the home)? UK 81% Scotland 93%
Do you or do you not trust your water company to… Take action to protect and improve the environment? UK 78% Scotland 87%
Do you or do you not trust your water company to… Take away wastewater and sewage and deal with it responsibly? UK 88% Scotland 93%
Do you or do you not trust your water company to… Provide good value for money to customers? UK 72% Scotland 88%
Do you or do you not trust your water company to… Pay an appropriate amount of tax? UK 78% Scotland 87%
Do you or do you not trust your water company to… Invest sufficient money on the water network? UK 73% Scotland 86%.
Let me think, who deserves the credit for preventing privatisation?
Second, on Green energy production:
Country
% of electricity from renewables
Norway
110.82
Iceland
100.64
Scotland 97%
Albania
88.45
Austria
75.14
Sweden
71.19
Denmark
65.35
Portugal
53.77
Latvia
53.42
Montenegro
52.66
Croatia
49.78
Bosnia and Herzogvina
45.48
Romania
41.71
Germany
40.82
Finland
38.07
Spain
36.93
Ireland
36.49
Italy
34.97
UK
34.77
Scotland has been catapulted to the top of the tables in Europe for countries who produce electricity from renewables – with latest available figures placing Scotland into the top three.
Scottish Government figures for 2020 show 97% of electricity in Scotland is produced from renewables.
When compared with the latest data from Eurostat for 2019, it takes Scotland into the top three of nations in Europe producing clean electricity.
In 2019, only Norway and Iceland produced more electricity from renewables than Scotland. Other nations behind Scotland in the table include Sweden, Denmark and Germany. It also puts Scotland way ahead of the UK as a whole which produces just 35% of electricity from renewables.
Full Eurostat numbers can be found here with numbers extracted below
 
Latest Scottish renewables data can be found here
And: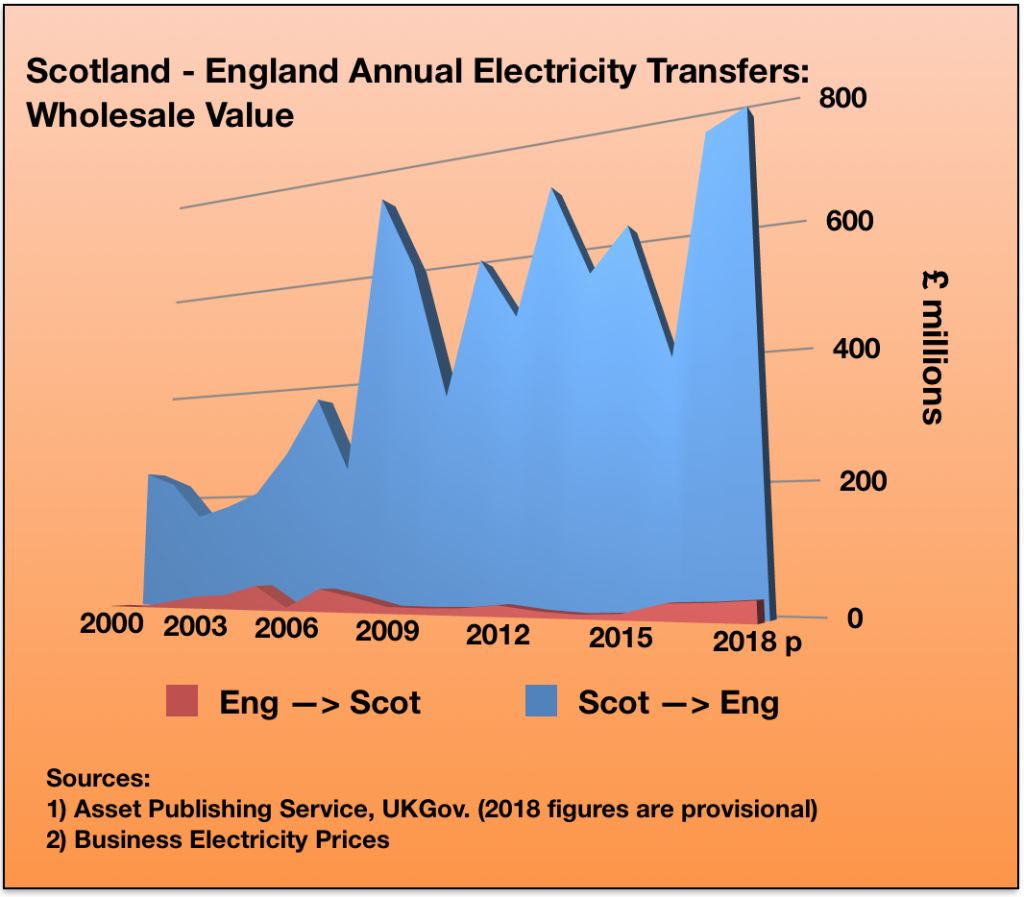 Government figures reveal the massive and increasing level of transfer of electricity from Scotland to England. In 2018 only, the transfer rate increased from 13 512 GWh to nearly 25 000 GWh. 1 GWh would heat 700 000 homes! This 83% increase is hidden in the above 53.8% increase total adopted.
https://assets.publishing.service.gov.uk/government/uploads/system/uploads/attachment_data/file/766380/ET_5.6.xls
Note that the ratio of transfers from Scotland to England compared with those from England to Scotland is 25 to 1!
Finally, Green Trees:
From NFI woodland ecological condition in Great Britain: Classification Results in February 2020, we can see one more indicator of Scotland's healthy economy which, together with others below, mean so much more than the macro-economic theory base don GDP of Prof Ronald McDonald.
So 8% of the population, 46% of the trees
Or
In 2019, 84% of all new UK woodland was planted in Scotland.