From the Herald's Tom Gordon, fed by one or other opposition party and with another schoolboy photographer triumph:
HUMZA Yousaf has been accused of presiding over a "terrifying" and "unmitigated disaster" after Scotland's A&E waiting times hit yet another record low.

Opposition parties blamed inaction by the Health Secretary for a dramatic slump in the number of people seen on time last week.

https://www.heraldscotland.com/politics/19641119.e-waiting-time-performance-scotland-hits-terrifying-new-low/
In NHS Scotland for the week-ending 3rd October 2021, 71.3% of patients were seen in 4 hours.
NHS England and Wales do not do weekly reports but in August, the most recent figures available:
NHS Scotland's A&E department's saw 77.8% within 4 hours.
In the same period, NHS England saw, on average, only 66.2% and NHS Wales saw only 60.1%.
NHS Scotland is thus 17.5% faster (11.6% of 66.2) than England and 26.5% faster than Wales.
The real gap with England is probably even greater as NHS England cheats. NHS England starts the clock again after patients are admitted while NHS Scotland counts from arrival in A&E.
MSM in England and Wales are neither reporting these even more terrifying figures and certainly not, they never do, using photographs of their health secretaries to do so.
Shoddiest of all, Tom Gordon writes:
The army added only 1.8% to ambulance driver pool and they could not even do emergencies. There is no evidence of even one Scottish A&E unit overflowing. If there was the Herald would have a photograph like this from Cambridge: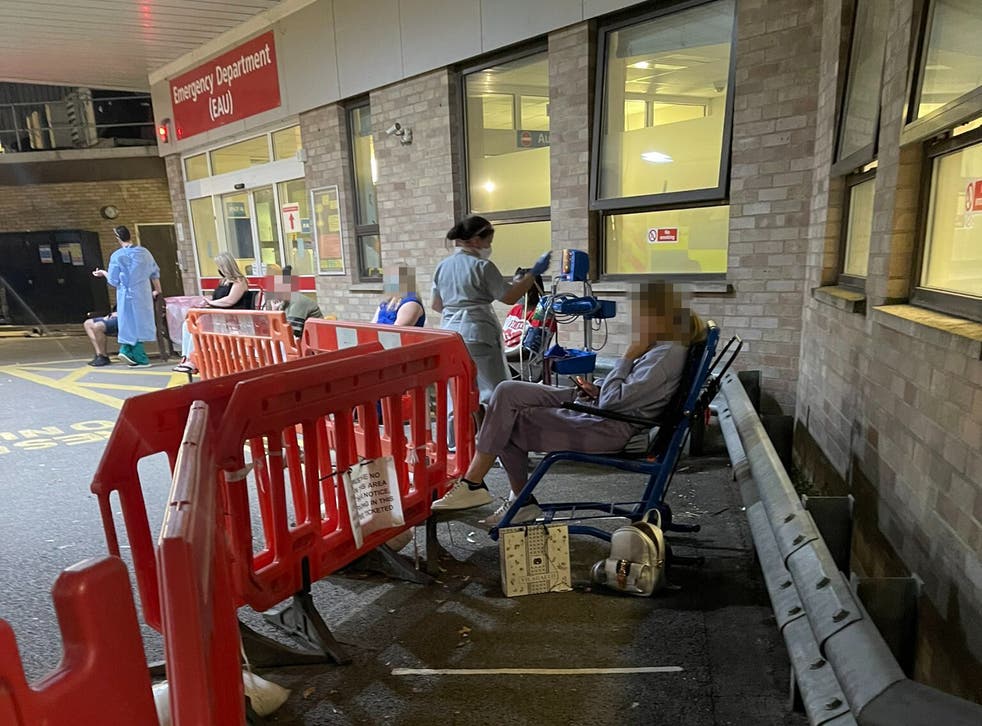 To paraphrase the Dead Kennedys, 'What you need my friend is holiday in Cambridge!'
More on demonising:
Sources:
https://www.publichealthscotland.scot/publications/nhs-performs-weekly-update-of-emergency-department-activity-and-waiting-time-statistics/nhs-performs-weekly-update-of-emergency-department-activity-and-waiting-time-statistics-week-ending-3-october-2021/
https://www.publichealthscotland.scot/publications/ae-activity-and-waiting-times/ae-activity-and-waiting-times-month-ending-31-august-2021/
https://www.england.nhs.uk/statistics/statistical-work-areas/ae-waiting-times-and-activity/
https://statswales.gov.wales/Catalogue/Health-and-Social-Care/NHS-Hospital-Waiting-Times/Accident-and-Emergency/performanceagainst4hourtargetallemergencycarefacilities-by-localhealthboard
https://inews.co.uk/news/health/nhs-england-covering-up-true-scale-of-12-hour-hospital-waits-1335856