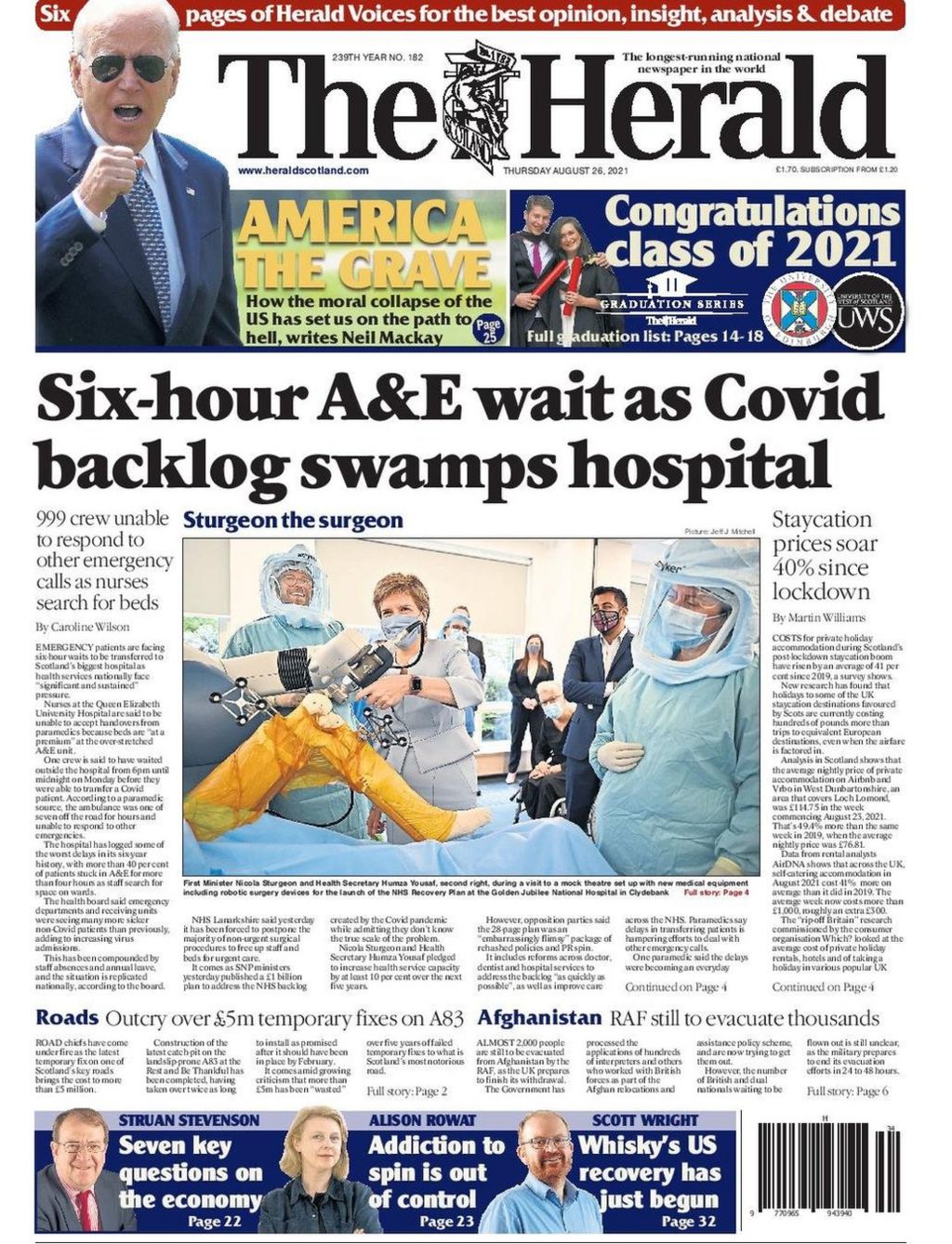 Here's the Herald, today, picking out one hospital and selecting one or two cases from hundreds to imply a wider crisis and, as only the Scottish media do, putting a politician in the frame.
Remember the Herald's claim?
This falls well short of 'trusted' or 'quality.'
What are readers to make of A&E in their area from such selective sensationalism? Don't go? Take a chance?
Here's a more useful, informative and trusted piece of information:
In July 2021 (most recent comparable data) NHS Scotland saw 80% in 4 hours or less, compared to only 67% in NHS England. Some Welsh hospitals were struggling to hit 50%. NHS Greater Glasgow and Clyde saw 84.1% in 4 hours.
If you want to pick out one hospital, how about NHS Tayside's A&E department which saw 97.5% in 4 hours or less and which over a longer term is easily the UK's best performing large A&E department, outside the wee rural ones like Orkney. No one ever sees fit to tell us about NHS Tayside unless they can fake a scare story.
As for the framing of the story around an image of the First Minister, connecting her directly with the selected evidence, this done only in Scotland.
In NHS Wales, there have been 3 recent cases of patients dying as they awaited an ambulance. BBC Wales has not once linked the stories to the Health Secretary there. No one is likely to even know her name there.
In April and May 2021, there were 8 deaths through malpractice in a Blackpool hospital and a report of patient safety secret reports being 'buried' by doctors in several hospitals. The then Health Secretary, Matt Hancock, did not feature in any BBC England reports.
This demonising of SNP politicians by Scotland's media goes back through Humza Yousaf, Jeanne Freeman, Shona Robison and all the way back to Alex Salmond in 2014.