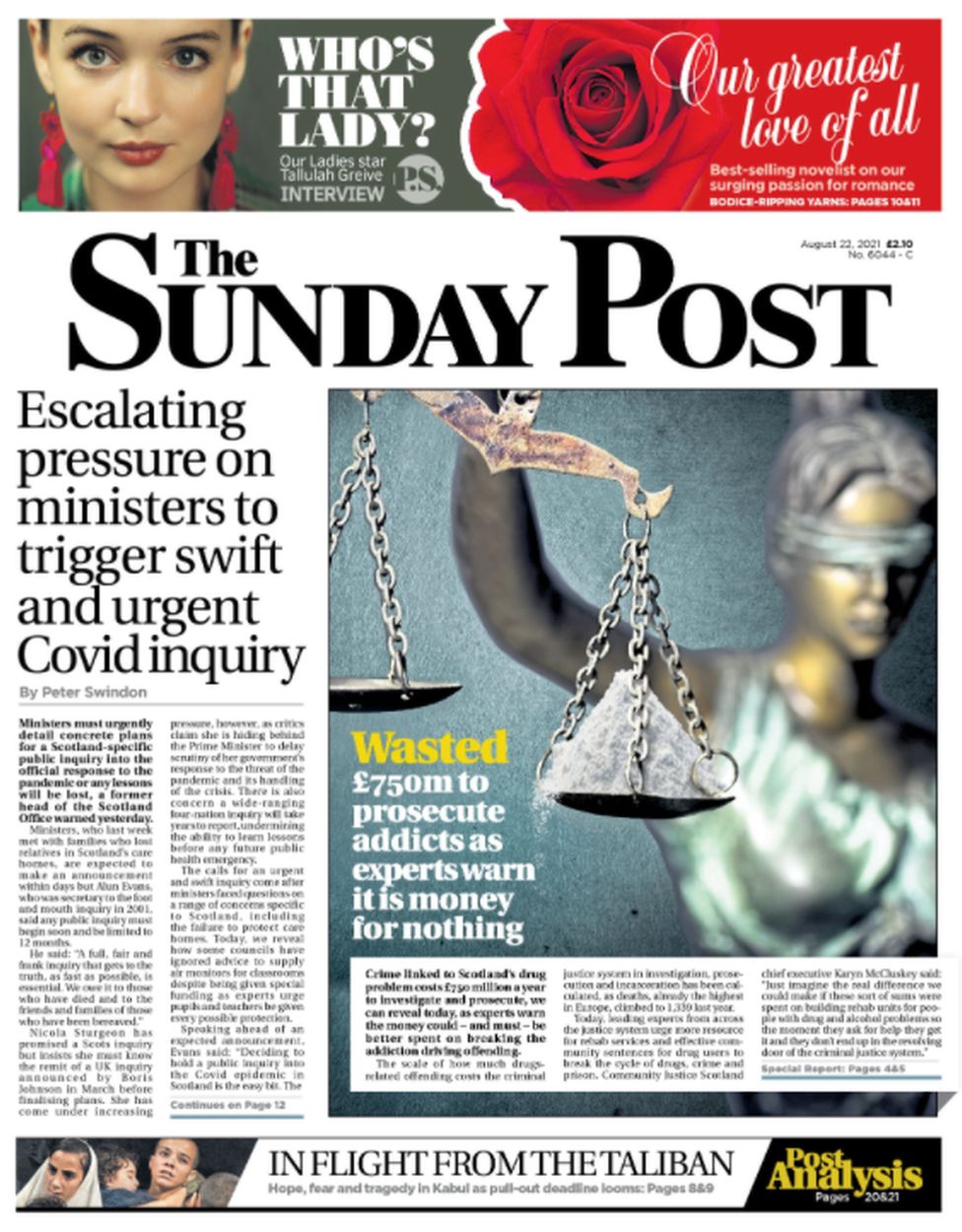 The Sunday Post is not always rubbish but this headline story is.
We all, nearly, agree that prosecuting and jailing addicts is a waste of time, money and lives.
From BBC Glasgow & West only last month:
It is now more than four years since Glasgow City Council first proposed allowing users to take their own drugs under the supervision of medical staff at a special facility in the city.

The idea is to encourage users who inject heroin or cocaine on Glasgow's streets to enter a safe and clean environment.

It is hoped the special room would encourage addicts into treatment, cut down on heroin needles on city streets and counter the spread of diseases such as HIV.

The so-called "fix rooms" are already operating in some overseas countries but this would be the first of its kind in the UK.

They have the support of the Scottish government but drug laws are reserved to Westminster.

The House of Commons committee that investigated Scotland's drug crisis recommended new legislation to provide for safe drug consumption facilities but it was rejected in the UK government's response to its report.

https://www.bbc.co.uk/news/uk-scotland-glasgow-west-48921696
and:
All UK drugs misuse legislation is currently reserved to Westminster.

The 1971 Misuse of Drugs Act bans the possession, supply, manufacture, import and export of controlled drugs except by licence.

A cross-party Westminster committee – chaired by SNP MP Pete Wishart but including four Conservative MPs, three Labour members, two Lib Dems and two other SNP MPs – found that decriminalisation was a "public health" approach that could cut the stigma around problem drug use and encourage people to seek treatment.

Schemes elsewhere channel drug addicts committing low level crimes into treatment instead of jail.

Police Scotland's Assistant Chief Constable Steve Johnson called for radical reform, saying politicians should have the "confidence and courage" to decriminalise.

He said the criminal justice process was actually pushing people into a place where there was more harm.

The woman leading the Scottish government's drugs taskforce, Prof Catriona Matheson, told BBC Scotland the evidence for decriminalisation was strong.

She said: "It is about not putting these marginalised drug users into prison because that further marginalises them and that makes the recovery all the more difficult."

The UK government later rejected the report's recommendation to reform the 1971 Misuse of Drugs Act and decriminalise drugs for personal use.

https://www.bbc.co.uk/news/uk-scotland-glasgow-west-48921696
Is BBC Glasgow & West unsupervised by Sarah?
Is there any point in the Post article?