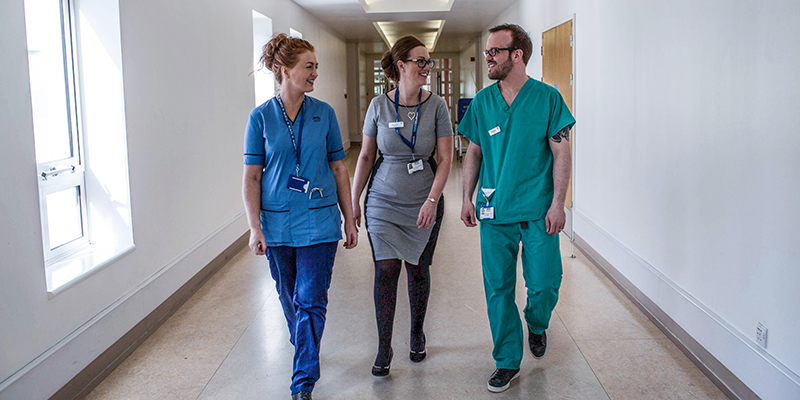 By stewartb
This is the second blog post using findings from a recent (April 2021) report from the Institute for Government (IfG). Covering the post-devolution period from 1999 to the start of the coronavirus pandemic in March 2020, the IfG has examined the actions taken by the governments in Belfast, Cardiff, Edinburgh and London regarding public services. Specifically, the IfG examines three areas: (i) health and the NHS, (ii) adult social care, and (iii) education. The IfG points to a diversity of policy choices and to a mixed record of performance.
In this contribution the focus is on health and the NHS – on spending, management and performance. The objective here is to contribute to much needed context and perspective as a counter to relentless negative framing in much of Scotland's mainstream media. The advantage of using the IfG as a source comes from undoubted British 'establishment' credentials.
Policy progress and practices
Whilst identifying different policy choices by governments post devolution, the IfG notes: 'There was greater policy convergence in the 2010s, as all four nations have sought to find ways to encourage collaboration and integration between health and social care services.' However, there have been differences in pace.
In assessing the integration between health and social care, it characterises the current status as follows: England is proposing integration; Scotland already operates with 'integration authorities', Wales is consulting on integration proposals, and NI has long had integration.
The report notes that in contrast to England:
Scotland has placed greater emphasis on partnerships between health and social care providers, and less on competition and the private sector, in the 2000s (my emphasis)
Scotland removed the internal market in 2004 by abolishing the purchaser/provider split

the Scottish government combined acute and primary services in 15 health boards in 2000

the Scottish government created 'community health partnerships' in 2004 – the latter designed to improve integration between health and social care – 'an early example of integration that became a key goal in the 2010s'.
The IfG argues that Scotland's strategy to improve quality of care and patient outcomes also differs to that of the other three nations:
'It has a long-standing relationship with the Institute for Healthcare Improvement in Boston in the US, which helped design and run the Scottish Patient Safety Programme from 2008′
in contrast to a primarily centralised change programmes in England, Scotland uses 'model of small-scale testing and revision of new quality improvement initiatives, and a relatively informal approval and expansion of initiatives'
Scottish health policy since devolution has been remarkably stable, despite the change in political control at Holyrood in 2007, in contrast to near-constant change in English health policy
Scottish policies have emphasised collaboration in both the 2000s and 2010s, although health and social care have been administratively integrated only since 2016.
Spending
The IfG notes that health spending – including on medical equipment, outpatient services, hospitals, public health, and research and development – was notably differently during the first two decades of devolution. 'In the first decade (1999 to 2009), there was rapid growth in spending, but in the second decade (2010 to 2019) spending rose much more slowly.'
Notwithstanding these decadal shifts, it argues that health spending has evolved similarly in all four nations, with one notable exception: 'Wales cut spending the most at the start of the 2010s, reducing spending per person by 3.4% in real terms between 2010/11 and 2013/14 to protect spending on local government and social care. The intention was to focus on wider public health and prevention – but perceived poor performance and media pressure led the Welsh government to reverse course from 2014/15.'
The IfG's comparative analyses finds that:
of the four nations, Scotland spends the most per person and England the least

England's lower spending is partly explained by its comparatively healthier and younger population – the populations of the devolved nations have higher health needs than the population of England overall.
Staffing
The IfG reports that Scotland has long had the highest number of hospital doctors relative to population size.
On GPs, the IfG states: 'The number of GPs – which cannot account for any differences in how many hours GPs work in each nation – suggests that Scotland has the most GPs per person, and that England and Wales have a similar number per person. Data on the full-time equivalent number of GPs available between 2009 and 2011 also suggests that Scotland had the highest number a decade ago.'
On nurses and other health care professionals, the IfG notes: 'Scotland also has the highest number of qualified nurses, midwives and health visitors per person. The trends in the three devolved nations compared here are again similar, but unlike hospital doctors, there was no increase in the number of nurses during the 2010s. England has significantly fewer nurses – both because of England's lower spending, and because it relies on support staff, such as health care assistants, more than the other nations.'
Hospital beds
The IfG's research reveals that Scotland has consistently had the most hospital beds per person since devolution, and England the lowest. It explains the downward trend in the graph below: 'The gradual fall in all four nations reflects medical innovations that have enabled less invasive surgery and shortened recovery time (meaning that hospitals require fewer beds to provide a similar amount of care), and a shared policy of moving care out of hospitals and into community settings where possible.'
Overall NHS performance
The IfG acknowledges the difficulty in comparing the 'performance' of health systems in the four nations. Comparisons of efficiency of the systems, the effectiveness of care provided, or how satisfied patients are with the care they receive is difficult as the IfG argues that there is no single objective measure of health performance. Moreover, the four nations have prioritised different goals.
It chose to analyse 'a variety of indicators primarily attributable to the health system itself and broadly comparable across the four nations, looking at waiting times, patient satisfaction and treatable mortality.'
Interestingly on waiting times for hospital treatment, it does NOT chart Scotland's performance data alongside the other nations as 'Scotland's waiting times data were measured differently and are not directly comparable'. It does suggest that England has been the most successful in waiting time reduction over the period studied but then notes: 'There is some evidence that hospitals in England manipulated waiting list data, and cancelled or delayed follow-up appointments to meet their targets. Approximately 100,000 fewer people were accepted for treatment (put on the waiting list) in the period 2000–03 compared to 1997–99. As it is unlikely that the need for treatment declined significantly between these periods, this suggests hospitals may not have been accepting patients for treatment that they previously would have to reduce waiting lists.'
(At around this same time, the IfG points to evidence of 'gaming' in England over data on ambulance response times!)
A&E performance
Noting that all four nations have had a long-standing target that 95% of A&E patients should be admitted, discharged or transferred within four hours the IfG reports that: 'Scotland has had the best A&E performance'. It adds: 'The trends in the four nations are very similar: a gradual but consistent decline during the 2010s, at least partly explained by tight funding.'
Other measures
The IfG reports that:
the trend in Scotland's elective waiting times is similar to England between 2012 and 2020, showing slightly lengthening waiting times.
patient experience surveys in England and Scotland are the only ones that can be easily compared. Inpatient surveys suggest that patients in England and Scotland are broadly equally satisfied, 'although patients in Scotland reported being more satisfied in 2018'
patients' satisfaction with their GP is similar in both England and Scotland, declining during the 2010s
'treatable mortality' approximates how much health care reduces mortality. Northern Ireland has improved the most since 2001, and Wales the least. In Wales in the 2010s, treatable mortality among both men and women barely improved. England and Scotland have improved at similar rates.
Comments
Here are some personal observations based on these health-related findings:
on a number of important measures – funding, clinical staffing levels, hospital bed numbers, A&E waiting times etc. – Scotland's NHS is, and has long been, performing well relative to the systems in the other UK nations: Holyrood government has been good for Scotland
on policy approaches, Scotland's health system is characterised as favouring collaborative/partnership working and is relatively well advanced in delivering on health and social care integration
on certain long term health trends, some relatively adverse statistics around mortality have been evident for some considerable time: achieving improvement relative to other UK nations is evident in for example age standardised treatable mortality. However, in general such trends are hard to shift with limited ability to finance step change in either health care or perhaps more crucially, the underlying economic and social conditions experienced by the nation's population
based on all the comparative evidence available from the IfG two things – as the barest minimum – seem clear: (i) relative to the health systems in the other UK nations, there is no sense whatsoever that Scotland's NHS merits the relentless negative framing which characterises corporate media and BBC coverage in Scotland; and (ii) there is no sense whatsoever that we in Scotland are being 'deprived' of a more effective health system because we don't have a Tory, or indeed a Labour, administration in Holyrood! The IfG's evidence over the past c. 10 years from England and from Wales would give the lie to any contrary claim.
Reference:
Atkins et al (2021) Devolved public services – The NHS, schools and social care in the four nations. Institute for Government report. (https://www.instituteforgovernment.org.uk/publications/devolved-public-services )