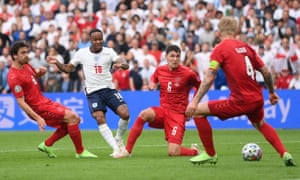 By stewartb
So, based on the output of every UK terrestrial TV channel this evening it's clear, beyond doubt: 'England' is a 'nation' AND 'England' is a 'country'. The success of the England football team is uniting this 'nation' (of England?) and it is uniting this 'country' (of England?).
How might a 'one nation' Tory explain this? By considering NI, Wales and Scotland as part of the nation and country of England? And so in turn, equating England with the UK? I'm unsure what mental gymnastics they would opt for: it's evidently quite a difficult matter. As I posted btl on TuS a couple of days ago, even the monarch seems unsure.
The BBC News website recently had the headline: 'Royals celebrate NHS anniversary with George Cross and tea party'. Helpfully, the BBC reproduced the monarch's hand written note which announced the GC award. But is it not a curious note?
See: https://www.bbc.co.uk/news/uk-57714088
From the second line of the note we read this: "It is with great pleasure, on behalf of A GRATEFUL NATION, that I award the George Cross to the National Health Services of the United Kingdom." (My emphasis) Note the singular 'nation' and the plural "Services'.
However, in the fifth line of the same note there is this: "The award recognises all NHS staff , past and present, across all disciplines and all FOUR nations'.
So within these four lines of one short note the writer seemingly can't decide whether to be the constitutional head of ONE nation or FOUR nations!
I've previously on TuS commented on significant changes to how The Commonwealth – of which the UK monarch is head – describes the UK state. 'Scotland' was described as a 'country' on its website around a year ago but no longer!
See: https://talkingupscotlandtwo.com/2021/06/08/and-so-it-begins/