I'm not going to write anything new about Oliver. He's not worth it. I don't need to. Here's a wee reminder of his achievements:
NEIL OLIVER DUMPED ON BY EINSTEIN!
In the Herald today, Neil Oliver:
Neil Oliver has said that he believes Scotland choosing independence would be a "step backwards" and would 'infringe' on his human rights. Speaking to Unlocked the Coast presenter said: "For me to draw a new hard-line separating Scotland from England in that formal sense is a backwards step. I prefer what I've always had and I bridle at the thought that someone can take away my nationality and replace it with another.
What is Unlocked? It's a proudly 'common sense' Youtube TV news broadcaster:
A new common-sense media channel for those abandoned by the MSM. Fast-moving & fearless, we speak Britain's language.
When I hear people claim authority based on 'common sense', I reach for my……google quotations. Here's a good one: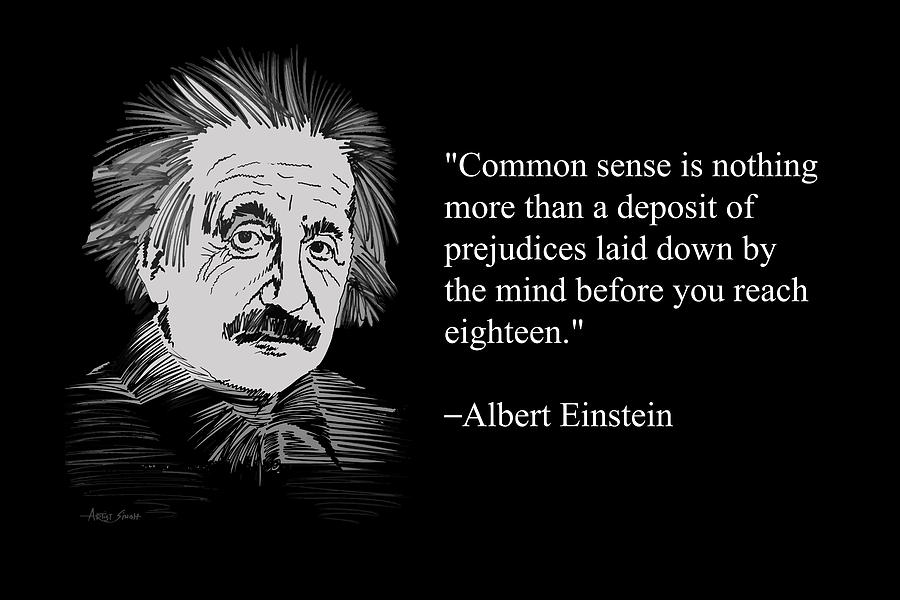 And, back to this human rights thing. What about my human rights? I don't want to be British. What about the millions like me?
And, backwards step? How is becoming a small, more democratic, pacificist, non-nuclear state a step back from being only half-democratic, militaristic and with a policy of wiping out your neighbours?
NEIL OLIVER'S 'MIDDLE OF THE ROAD' CANCEROUS THOUGHTS
Readers will remember Oliver's suggestion that a second independence referendum was a cancerous presence, that FM Alex Salmond was 'round' and that Professor Tom Devine looked like an old man in the Muppets.
It's ironic that Oliver bemoans comments on his appearance when unable to come back at academic criticism he, himself, quickly falls back on personal abuse.
Most entertaining, however, in the light of his choice of 'cancerous' to describe the democratic wishes of millions, and his defence of the racist TV historian David Starkey, is his assertion that he has held "very middle of the road" views all his life.
I suppose if you've held right-wing, imperialist views for a long time then have had to moderate them just a touch to keep your job at the BBC, you start to forget what you are.