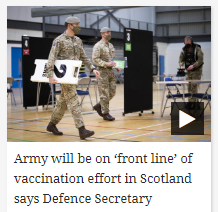 The claims of the Defence Secretary seem exaggerated. A poll by Talking-up Scotland found that only 0.5% of them had been vaccinated by a soldier and only 2.7% had even seen soldiers at the centre they attended.
There were 557 respondents to the the poll. 29 of them made comments.
One nurse wrote:
I worked with the British Army for a week. They didn't want to be there and to be honest weren't much use anyway.
Others wrote:
As far as I'm aware there's been no army assistance in the Scottish Borders area at all.
Saw 6 of them hanging about like spare p***ks at a wedding while SNHS actually did the work…maybe there for a photo op.
How desperate are the Westminster Government ? The army have been used in areas where they have been able to add expertise i.e. logistics planning. They are also providing mobile capacity. The vast majority of vaccinators are NHS. Why try to claim otherwise about our troops?
And insightfully:
To be fair they wear a lot of camouflage. There might have been hundreds there .