From BBC Scotland, a classic display of 'balanced' reporting to completely distort the truth:
The Scottish government said the agreement announced on Thursday was "a bad deal for fishing". But the UK government has insisted the deal will allow Scotland's fishermen to flourish outside the EU. Until the end of this year, the UK will be bound by the EU's rules including the Common Fisheries Policy (CFP). There will then be a five-and-a-half year transition period for the fishing industry. Asked where the biggest compromises had been made, Prime Minister Boris Johnson said the UK had wanted "complete control over our fisheries from the get-go. The EU began with wanting a transition period of 14 years, we wanted three years," he said, describing the final agreement as "reasonable".
Alister Jack even gets to say, unchallenged:
We have an agreement on fisheries which will ensure that our fishermen, and our coastal communities, will flourish outside of the EU's unfair Common Fisheries Policy. The UK will once more be a sovereign coastal state.
Then:
He added that the deal would protect famous Scottish products such as whisky, Arbroath smokies and Orkney cheddar.
Should that 'such as' be 'only?'
But, in an 'analysis' by Glenn Campbell, we read:
Meanwhile The Scottish Fishermen's Federation said the government had not yet provided the full text of the agreement but, on the surface, it did not appear to "deliver on the industry's aspirations".
Would the SFF use terms like 'on the surface?' Would they be so hesitant? Why not quote them? Did Douglas Ross draft this for him?
Here's what the SFF really expect to find: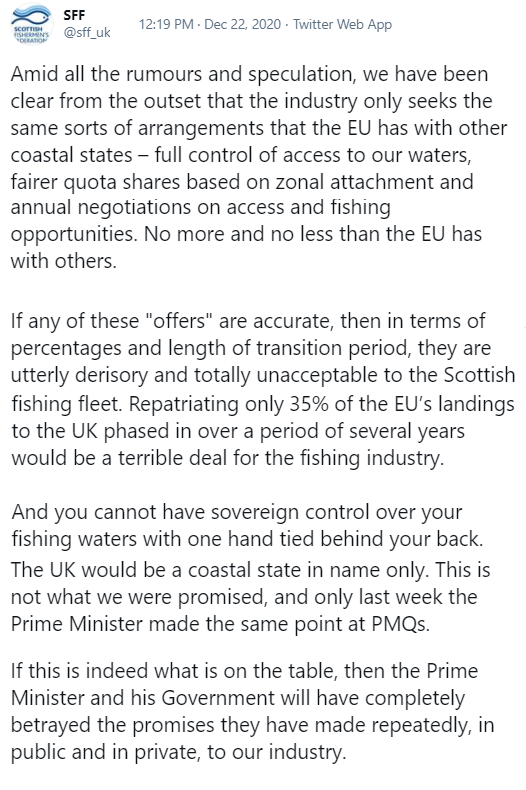 Already, it seems, on the surface, even worse. I understand that 35% will only be 25%!
Presenting this deal with a sequence of 'they said this' and 'the others said that' statements, to suggest it's only a matter of opinion, is like having balanced reporting on the dangers of smoking. All the experts know this deal is bad for the UK.
As a parting gift the EU experts have provided this nice graphic so that you can see what Boris has got for us: