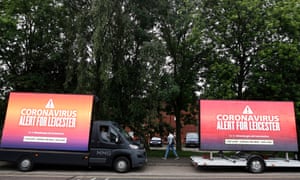 Too busy frothing over imagined quarantining of UK tourists on the one hand and an imagined failure to quarantine overseas air travellers, on the other, the Scottish Tories are as quiet on Leicester as they tried to be on Dominic Cummings.
While there will be attempts to scapegoat Leicester's ethnic minority groups for having to live in cramped housing and being forced to go to work in sweatshops throughout the peak, the truth will out though it may not be spread as much as we'd like.
From the Guardian today, it's clear that the huge spike, 944 in the last 2 weeks, out of the total of 3 216 cases, was in some part, due to Johnson's premature relaxing of lock-down, gung-ho speeches and lack of clarity in messaging.
Further the statistics from drive-through and home testing, revealing that the city had four times the average rate, took 11 days to reach Leicester's health department. 11 days!?
Imagine Jackson Carlaw's reaction to that?
https://www.theguardian.com/commentisfree/2020/jul/05/government-errors-leicester-covid-19-spike
Who runs the testing?
Run in partnership with private firms including the pharmaceutical giants GlaxoSmithKline and AstraZeneca, the four existing Lighthouse labs in England and Scotland have been dogged by reports of thousands of lost and voided samples, slow turnaround times, and a failure to share data on results with GPs and local authorities.
https://www.theguardian.com/world/2020/jul/02/uk-set-to-award-covid-19-testing-contracts-worth-5bn-to-private-bidders