Readers will remember Professor Dev Sridhar on BBC Scotland in the early days of the pandemic until she complimented the FM and the Scottish strategy before Murdo Fraser and others blew up in indignation at her interfering. Professor Linda Bauld then became ubiquitous until she too made the mistake of pointing to official statistics revealing lower infection rates in Scotland and since has become rare at Pacific Quay.
For months now, we've had Jill Evans, not a prof or an epidemiologist, but head of health intelligence at NHS Grampian, on a regular basis to advise us on Covid developments without ever straying into comparisons with England but, yesterday, on Good Morning Scotland, she seems to have forgotten where she was and said:
Advice from the scientific community and the WHO (World Health Organization) is when you're coming out of a peak or a spike, you do so slowly and you do so cautiously. I would argue at this point in time, certainly the potential of removal of self-isolation would be a step too far. The worst thing that could happen is that we remove things too quickly and we end up undoing a lot of the good that we've done and worked so hard for.
This flies in the face of the recent announcement by the PM of the UK that we would end self-isolation if you test positive, by the end of this month and, even more shockingly, questions the integrity of Kaye Adam's radio call-in dog-whistle to re regulars on the very same topic: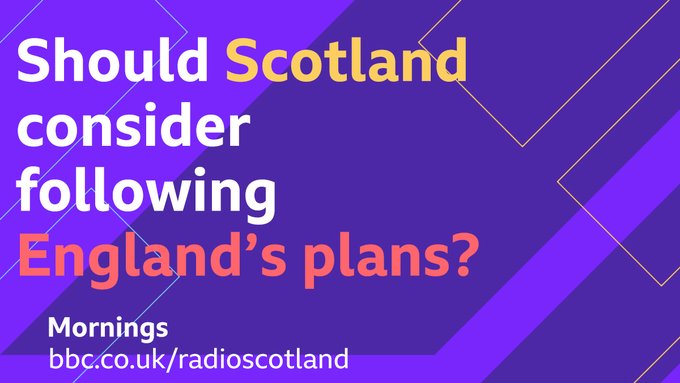 She may get another chance but forcing Reporting Scotland remind viewers that is a dispute between Humza Yousaf and Boris Johnson with no objective science on either side involved, will cost her, I fear.