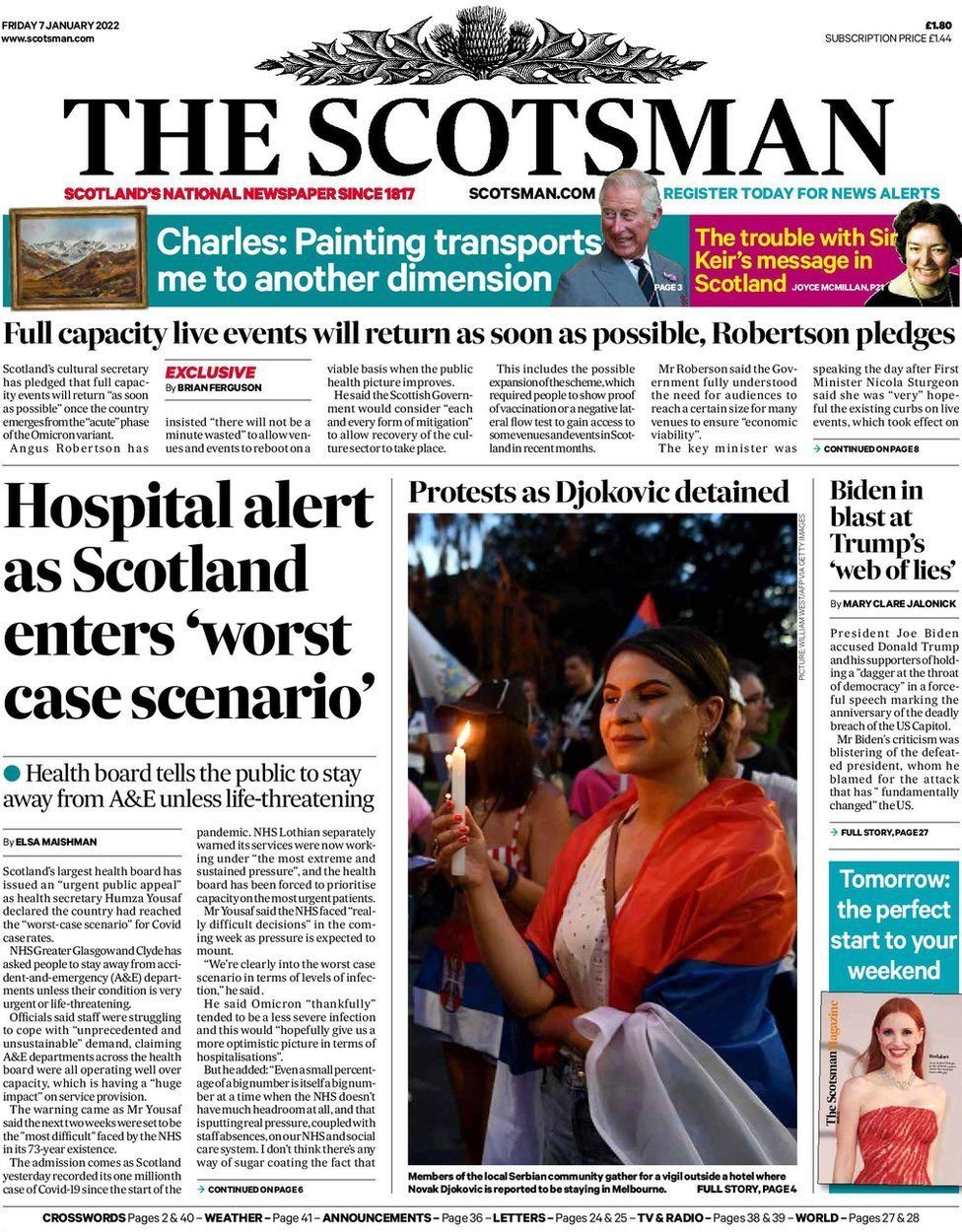 As 24 English health trusts declare 'critical incidents' (Guardian yesterday) and none in Scotland do, the Scottish media desperately scrabbles around for evidence that Scotland is just as bad, before anyone suggests the Scottish Government has managed its NHS better.
NHS Greater Glasgow and Clyde is the preferred target and its announcement, in common with hundreds of top medics across the UK, that folk should only turn up at A&E if they have an emergency , has been pounced on and linked to the health secretary's rather more limited comment that we are in a worst case scenario, for Omicron cases not for the NHS overall.
However, the data don't support the case.
In the week-ending 26 December 2021 (the most recent) Glasgow hospital saw 82% at A&E services within 4 hours, above the national figure of 80.2% and in the last full month, November, they saw 76.7%, just above the average of 75.9%.
For context, Glasgow's A&E performance is nearly 20% better than NHS England and a staggering 44% better than NHS N Ireland.
We have no 'critical incidents.'
A critical incident is defined clearly as:
Critical incidents are declared by NHS trusts when they believe they may no longer be able to provide a range of critical services. Declaring an incident enables local health chiefs to call for help from staff and other organisations, and creates a formal interim emergency governance structure to make prioritisation decisions at speed, for example redeploying staff or reprioritising services.

https://www.theguardian.com/society/2022/jan/03/several-nhs-trusts-declare-critical-incidents-amid-covid-staff-crisis
https://www.publichealthscotland.scot/publications/nhs-performs-weekly-update-of-emergency-department-activity-and-waiting-time-statistics/nhs-performs-weekly-update-of-emergency-department-activity-and-waiting-time-statistics-week-ending-26-december-2021
https://www.publichealthscotland.scot/publications/ae-activity-and-waiting-times/ae-activity-and-waiting-times-month-ending-30-november-2021/