From the Stand-in
Thanks for your kind words and best wishes for 'the prof'. He's not 'the prof' round here.
Today, this, based on his 'rough outline':
In a report by BBC Scotland typically framed to suggest another imagined failure by the SNP Government's exams agency the SQA, we read that 13 out 3 483 appeals resulted in downgrading because, we must presume, the moderators felt the work submitted did not come up to standard for the grade suggested by teachers in the submitting school.
Again, typically, as in the regular reports of single hospital patients, out of hundreds of thousands, unhappy with their treatments, 13 out of 1 383 is statistically, vanishingly, insignificant at less than 1%.
Remember that assessment is now done entirely by teachers working closely with the pupils in the same school and in regular contact with often very demanding parents, who might apply subconscious or even explicit pressure, for higher grades than perhaps the work merits.
In England, the head of Ofqual, suggested with careful euphemisms:
Teachers' judgement was considered to be "pretty reliable". But he urged parents not to put teachers under pressure or make them "uncomfortable" over grade decisions. The acting chief regulator was giving evidence to the Commons Education Select Committee on Tuesday. He told MPs: "We've created a system in which I think there are good incentives to allow teacher judgment to flourish and we've all got to play our part to support that." He added: "I also think it's very important that parents give teachers the space to do it, because it's always a worry that parents get terribly involved and teachers feel uncomfortable and there's an intrusive interest so I think that's a really important point."

and speaking of the exam board role:

He said these structures would help teachers not to "bow to the various pressures that they will undoubtedly come under" from pupils and parents.

https://www.bbc.co.uk/news/education-56332429
Readers may remember that MSM have tended in this pandemic period to the accuse the SQA of the opposite tendency: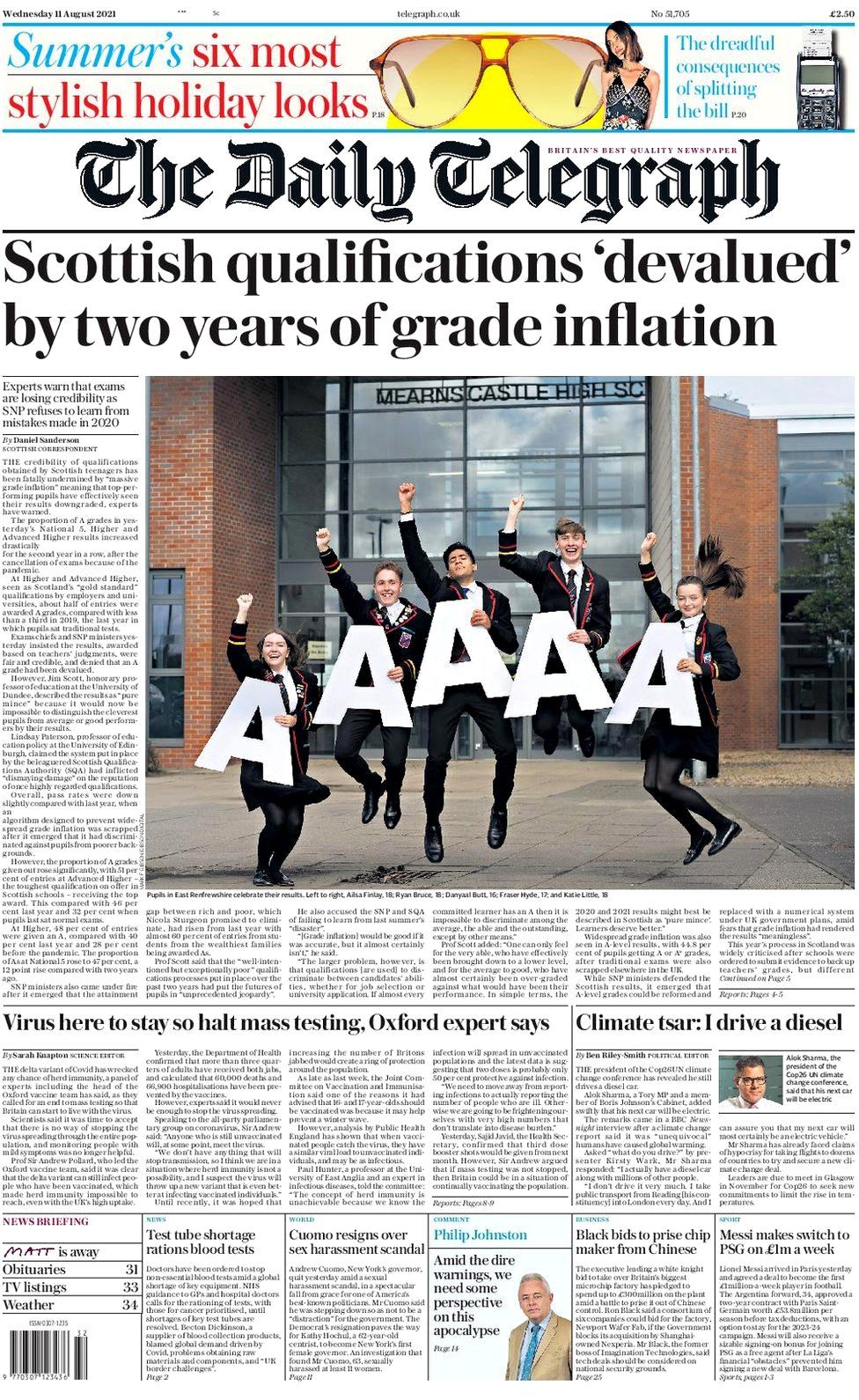 So, on these downgrades, SQA, well done.
Footnote: The editor is no weel but expects to recover soon.
.