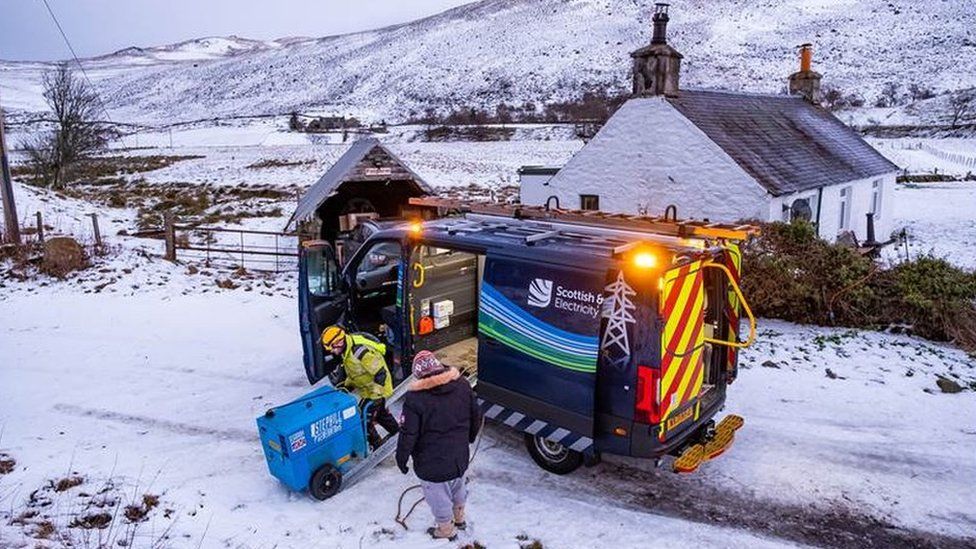 According to BBC Scotland, 1 hour ago:
The final few homes in Scotland left without power after Storm Arwen are being reconnected to the power grid.

Scottish and Southern Electricity Networks (SSEN) said that as of 22:00 on Saturday about 30 homes were still without power.

The firm said poor weather on Saturday prevented them reconnecting the homes but work would continue overnight.

https://www.bbc.co.uk/news/uk-scotland-north-east-orkney-shetland-59538274
According to BBC Tyne & Wear, 9 minutes ago:
Power cuts from Storm Arwen that have lasted more than a week are "completely unacceptable", a minister said.

As of 23:00 GMT on Saturday, some 3,900 homes in North East England remained without power after winds of 98mph tore down lines causing cuts on 26 November.

On a visit to St John's Chapel in County Durham, Business Secretary Kwasi Kwarteng said the performance of power firms would be reviewed.

https://www.bbc.co.uk/news/uk-england-tyne-59538471
Perhaps Scottish regiments should called in top help them?