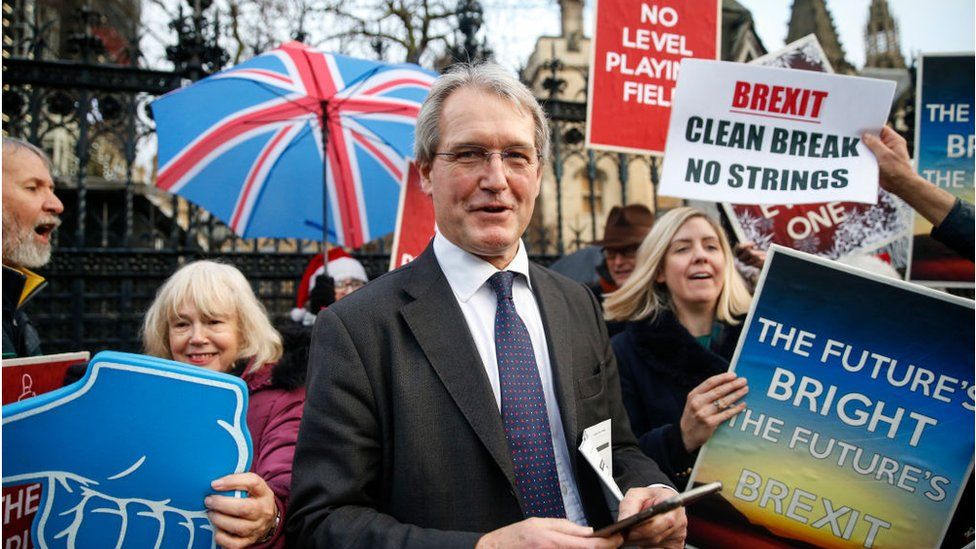 Owen Paterson above has been a paid consultant for Randox Laboratories and Lynn's Country Foods. He is paid £8,333 a month by Randox for 16 hours work and £2,000 every other month from Lynn's Country Foods for four hours work. That wasn't in itself illegal but:
He was investigated by the Commissioner for Parliamentary Standards after being accused of breaking lobbying rules for MPs.

The commissioner found that, on behalf of the companies, he approached and met officials at the Food Standards Agency and ministers at the Department for International Development a number of times.

He also used his parliamentary office and stationery for his consultancy work and failed to declare his interests in some meetings, the report said.

The commissioner decided that the contact with officials and ministers were "serious breaches" of the rules.

https://www.bbc.co.uk/news/explainers-59147044
The BBC is no friend of right-wing Tories like those in the current regime and will expose them if they think they can get a way with it. The BBC leadership still long for Tony Blair and that kind of faux compassion for the poor as long as they and their kids can still be favoured above them.
In the 90s they were relatively brave.
I'm grateful to friend RH for this material from a 1994 'Have I Got News For You' book:
And yesterday, at least online, they were prepared to list MPs paid for consultancy:
Andrew Mitchell (Conservative) holds six consultancy jobs, supporting investment banks and accountancy firms. He has registered more than £180,000 for 34.5 days' work
Julian Smith (Conservative) is earning £144,000 for 62-84 hours' work for three companies, including advising on energy and renewable fuels
Former transport and justice secretary Chris Grayling (Conservative) earns £100,000 to advise Hutchison Ports
Mark Garnier (Conservative) is paid to sit on the advisory boards of two companies in the space and satellite industry, committing 20 hours a month for an annual payment of £90,000
Sir Ed Davey (Lib Dem) works as a consultant for two firms alongside his job as leader of the Liberal Democrats. He says his extra £78,000 income goes towards supporting his disabled son
Alun Cairns (Conservative), who left his post as Welsh Secretary in 2019, earns £60,000 advising three companies
Ruth Edwards (Conservative), who has represented Rushcliffe since 2019, commits to 192 hours for £60,000 per year, advising a software company
Stephen Hammond (Conservative) advises an investment company on political issues for £60,000 a year
Since leaving his role as health minister in 2019, Steve Brine (Conservative) has joined three firms, including Sigma Pharmaceuticals. He earns almost £60,000 for 288 hours
David Davis (Conservative) earns just over £50,000 as an adviser to two German companies
John Hayes (Conservative) offers up to 90 hours of his time annually to international energy company BB Energy Trading, earning £50,000
Former party leader and cabinet minister Iain Duncan Smith (Conservative) advises two health companies for £45,000
Damian Green (Conservative) advises transport company Abellio on rail policy for 288 hours and £40,000 annually
Tim Loughton (Conservative) receives £37,000 for advising a children's services provider
Daniel Kawczynski (Conservative) provides "general advice" to an American mining firm, earning £36,000 a year
Andrew Percy (Conservative) receives £36,000 a year for advising a Canadian clean energy company for six hours a month
Khalid Mahmood (Labour) has committed up to 15 hours a month advising the Policy Exchange think tank on issues including extremism. He receives a salary of £25,000 a year
Laurence Robertson (Conservative) advises the Betting and Gaming Council for £24,000 a year. He is expected to commit 10 hours a month
Richard Fuller's (Conservative) outside earnings include £20,000 as an advisory director of an investment company
Chair of the House of Commons justice committee Sir Bob Neill (Conservative) has been receiving almost £20,000 for two consultancy roles, including a law firm. One of the roles ended earlier this year
Royston Smith (Conservative) has received £18,000 since May 2020 for 30 hours' work as a consultant for a property company
Until earlier this year, Mark Pritchard (Conservative) was earning £18,000 a year for advice by the Consumer Credit Association
Sir Greg Knight (Conservative) advises a bank for £16,000 a year on "general business and public relations"
Until earlier this year, Ben Everitt (Conservative) committed 60 to 80 hours a year to advising the Institute of Chartered Accountants of England and Wales for £15,000
Andrew Bridgen (Conservative) offers political advice for £12,000 a year, to a company which grows teak in Ghana
Philip Davies (Conservative) earns £12,000 annually as a parliamentary adviser to the National Pawnbroking Association
Sir Graham Brady (Conservative) earns £10,000 a year for 12 hours' work as a strategic adviser
Former universities minister Chris Skidmore (Conservative) provides advice on higher education for £10,000 a year
Paul Maynard (Conservative) earns £6,250 a year as a consultant to a banking services company. He says his earnings go straight to charity
John Redwood (Conservative) is an adviser for a private equity fund, for which he earns £5,000
Until earlier this year, Andrew Lewer (Conservative) provided public policy advice to a property firm for £4,800 per year
Dean Russell (Conservative) has received just over £2,000 in 2021 as a consultant for a business training company
The letters SNP do not occur. I understand that Ian Blackford, contrary to some reports, gave up such work before becoming an MP.
The letters LABOUR appear only once. I'm surprised.