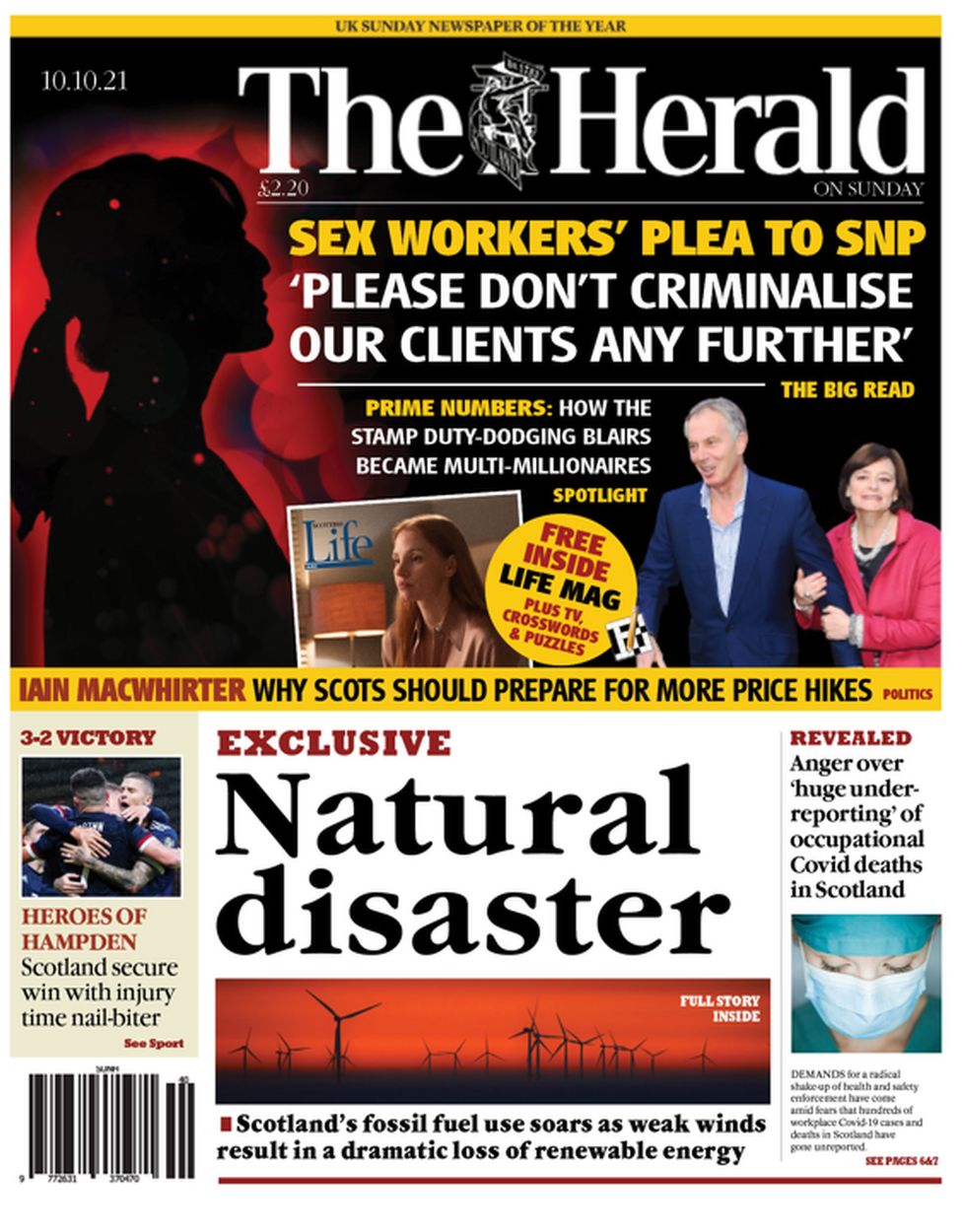 Gordon Bennet! That's a corker of a front page. Will it work? Will it attract or repel Sunday-readers?
Natural disaster? What, really? Have the wind turbines killed all our birdlife? Are they causing a surge in ear cancer? Are they attracting UFOs? Is the headline a bit National Enquirer?
Seriously though, this is another disgraceful piece of misrepresentation by the Herald.
Leaving aside the irrelevant references to job creation, the headline above and the sub are based on UK data from the UK Department for Business Energy, for April to June 2021, indicating a fall of 9.6% across the UK for renewable energy generation with no data for Scotland and using that to associate Scotland with a UK surge in fossil fuel power generation.
Remember, for the Herald won't remind you:
Scotland has risen up the rankings of European countries that produce electricity from renewables – with the latest available figures placing Scotland in the top three.

Scottish Government figures for 2020 show 97% of electricity in Scotland is gleaned from renewable sources. According to European figures, in 2019, only Norway and Iceland produced more electricity from renewables than Scotland.

Other nations behind Scotland in the table include Sweden, Denmark and Germany. It also puts Scotland way ahead of the UK as a whole, as it produces just 35% of electricity from renewables.

https://www.thescottishfarmer.co.uk/news/19504045.scotland-reaches-renewables-top-three/
Or this:
15.6 GWh of electricity was transferred from Scotland to England in 2019 and is likely to increase to around 18GWh in 2020.

1GWh is enough to power around 725 000 homes. 18GWh will power 13 million homes. There are around 2.5 million households in Scotland and 28 million in England.

https://assets.publishing.service.gov.uk/government/uploads/system/uploads/attachment_data/file/920617/ET_5.6_SEP_20.xls
And as for coping with less wind:
From Recharge in April 2021, on a deal, to wire together wind, solar and battery facilities to generate industrial-scale volumes of H² (hydrogen):
The Whitelee-connected project, which will produce some 8 tonnes of H2 per day, will also be to Green Hydrogen for Glasgow, a scheme to deliver carbon-free transport for the Scottish city, as well as meeting growing industrial hydrogen demand in the region.

tps://www.rechargenews.com/energy-transition/scotlands-giant-whitelee-wind-farm-in-frame-to-power-hybrid-iberdrola-hydrogen-complex/2-1-994403
This is, of course, only the latest in a stream of developments which is turning Scotland into a renewables powerhouse which will supply green energy to its neighbours: