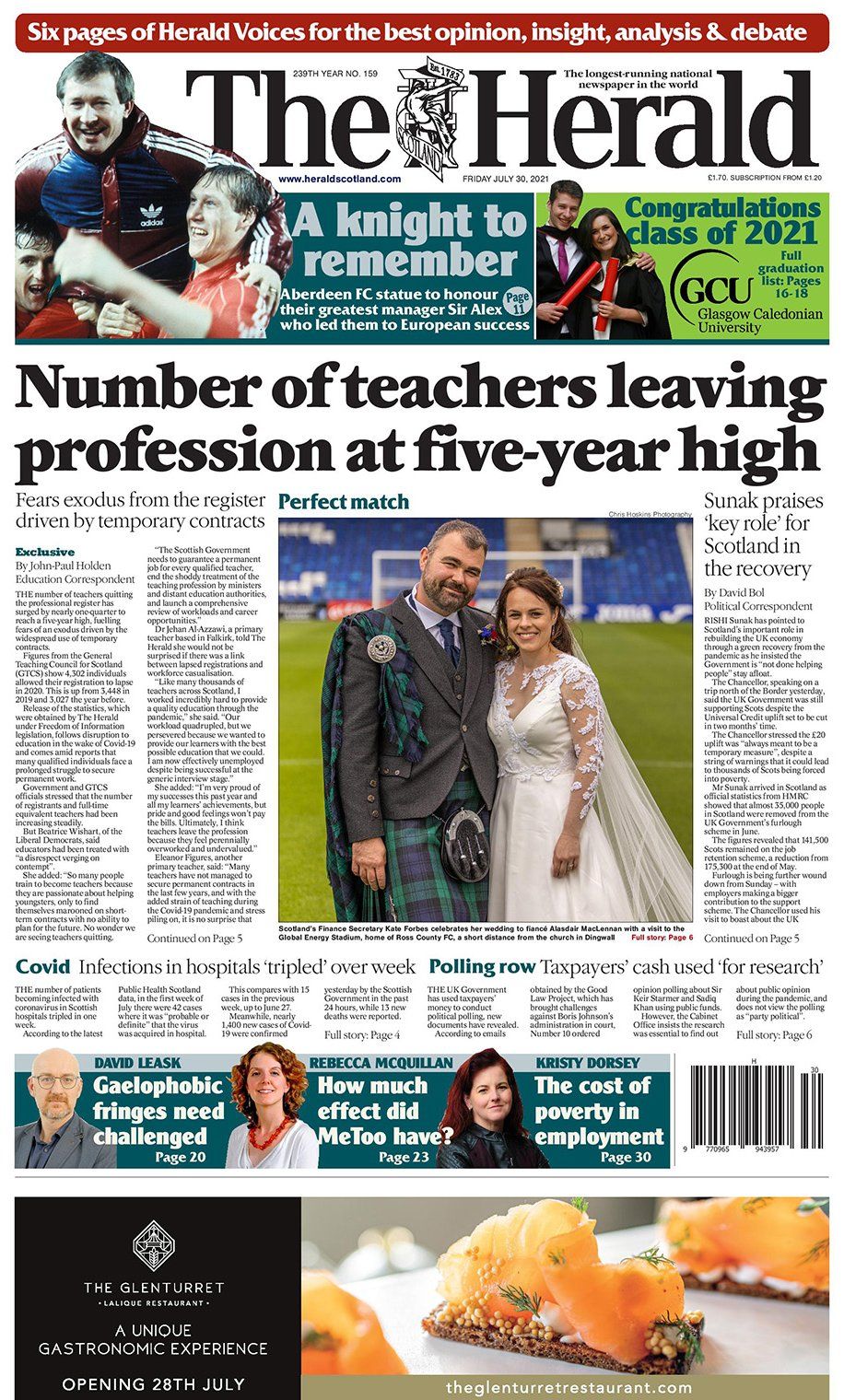 The Herald gives the wee Lib Dems the platform to accuse that SNP Scottish Government of causing an exodus of teachers and sacrificing the futures of our weans or bairns.
It's true, more left in 2020 than in the previous years but, hey, here's a thought, maybe the 'SNP' has replaced them all and more?
In December 2020, the Scotsman's Scott McNab, no SNP supporter he, revealed:
Teaching numbers in Scotland's schools have risen to their highest level in more than a decade, official figures show. It comes after hundreds of additional teachers were recruited to address concerns over burgeoning workloads associated with the demands facing the profession during the Covid-19 pandemic.
https://www.scotsman.com/news/politics/scottish-teacher-numbers-hit-highest-level-over-decade-3067957
Now, dare I compare with England where, for example, John Beattie says everything is going swimmingly?
I will.
If it was bad, they would.
In Scotland:
The total number of full time equivalent teachers has risen to its highest figure since 2008, official statistics confirm. New figures have revealed that there were 53,400 teachers employed in early learning and childcare, primary, secondary and special schools or centrally employed.
This is 1,153 more than the 2019 total (52,247). Average class size in primary schools fell to their smallest since 2012, down to 23.1 from 23.5 in 2019. The 2020 pupil teacher ratio for all publicly funded schools was 13.3, an improvement on 2019 when it was 13.6.
https://www.gov.scot/publications/summary-statistics-schools-scotland-2020/
The ratio in Primary schools is now 15.4 pupils to 1 teacher and in Secondary schools, 12.5 to 1.
In England:
In state-funded primary schools, the PTR has remained at 20.9 in both 2018 and 2019 despite a continued increased in pupil numbers.
In state-funded secondary schools, the PTR has risen from 16.3 in 2018 to 16.6 in 2019, continuing the trend of year-on-year increases seen since 2012.
https://explore-education-statistics.service.gov.uk/find-statistics/school-workforce-in-england
Note, the English figures include unqualified teachers (!)