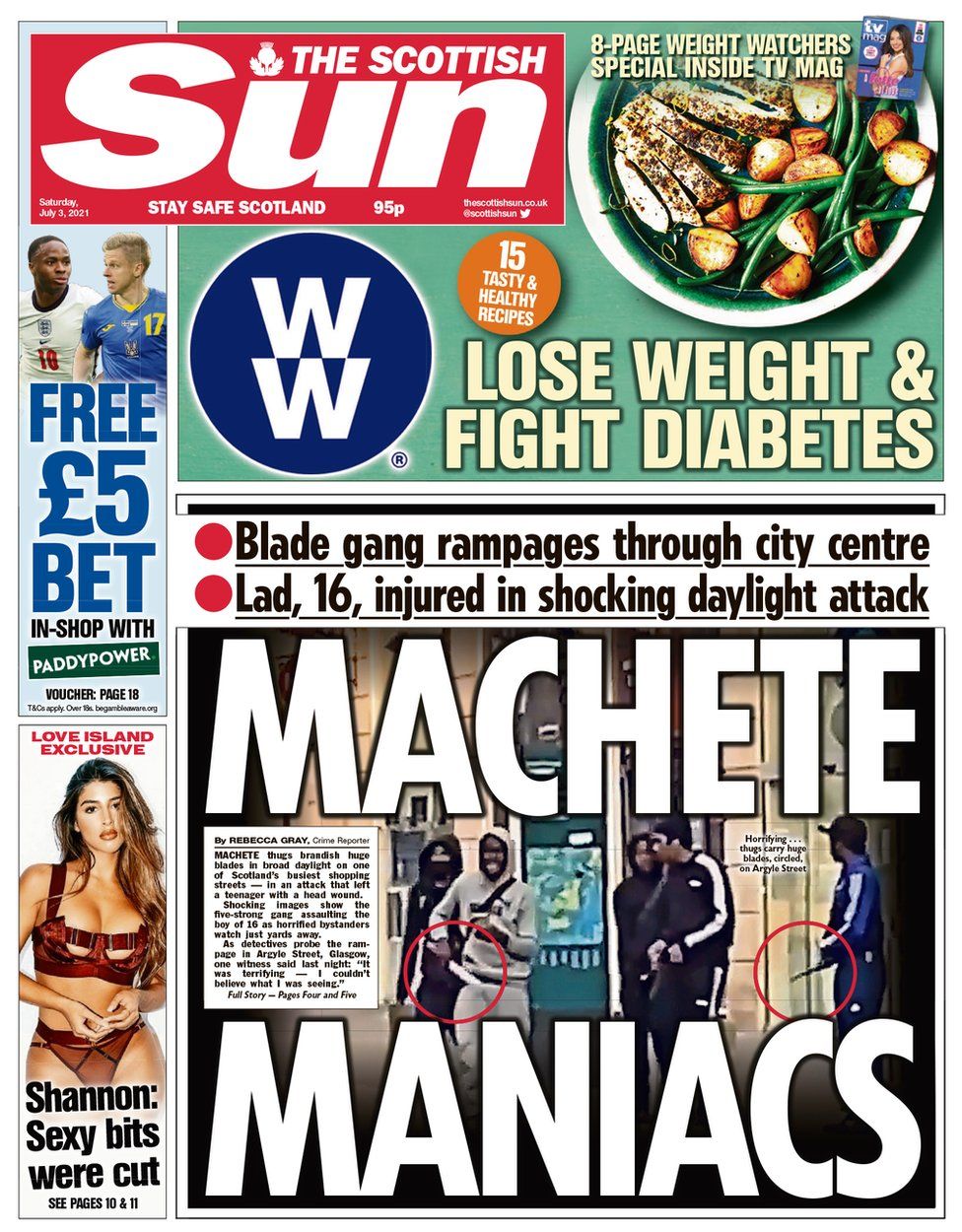 I'm grateful to regular, Cameron Brodie, for spotting this.
Researchers at the University of the West of Scotland have confirmed that Scotland's drug problem is now almost entirely fed by supplies arriving from England and Northern Ireland.
While the violence by young black males with clear English accents, last Thursday, may be unconnected, it may equally be an unusually public display of conflict between 'County Line' gangs based in large English cities and bringing misery to Scotland.
The UWS research notes:
International importation into Scotland directly is uncommon, according to participants who maintain that points of drug entry are in England or Northern Ireland. Don, who collects for a large wholesale Serious and Organised Crime Groups (SOCG), states: [Individual from English OCG] always meets me . . . [He doesn't] meet us half-way or nothing. I drive right to [Merseyside area] . . . [we don't always rendezvous] at same place . . . I hand over [money], no[t] to him in his hands . . . [I] put it somewhere . . . mostly [in his] car trunk . . . [or] leave it [at arranged location] . . . [and] he leaves with it . . . [once back in Glasgow] I
make a drop off to [an associate], and they hold onto it.

Scotland, in recent years, has seen growth of OCGs from England bypassing Glasgow and the West Coast and extending their drug lines to rural sites such as Peterhead and Fraserburgh.

The NCA (2017) claims to have identified 720 lines operating over England and Wales, most of which originate in the alleged export hub of London.

https://journals.sagepub.com/doi/pdf/10.1177/1473225420902850
And 'lads?'
Lad describes only a male, and it tends to be used as a vocative only in the northern half of England.

https://english.stackexchange.com/questions/137091/whats-the-difference-between-lad-and-mate-in-british-english
BBC Scotland and the Herald have ignored the story and the Scotsman has made little of it. Imagine if some of the Scots in London last week had used blades against a passer-by?
This tendency to ignore the County Lines drug gangs offering support for a hard border with the rUK goes back
Police Scotland reported the problem as early as January 2019:
The charity Crime-stoppers is today 14th January 2019 launching a campaign to highlight the pain and suffering that criminals from English cities are inflicting on vulnerable people in Scotland's rural and coastal towns. The campaign aims to raise awareness of County Lines, which is when criminals from major cities such as Liverpool, Manchester, London and Birmingham are expanding their drug networks to other areas, bringing with it serious criminal behaviour such as violence, exploitation and abuse. The term County Lines refers to the use of a single telephone number to order drugs, operated from outside the local area. This is having a massive impact on rural communities and also on vulnerable children and adults who are being recruited in cities such as Manchester and Liverpool.
https://www.scotland.police.uk/whats-happening/news/2019/january/campaign-launched-appeal-for-help-tackling-county-lines-drug-networks
Only the Sunday Post reported this at the time though the Times newspaper had a story of arrests in the previous October:
So, a Police Scotland announcement and clearly some media aware of it. Why have BBC Scotland not considered it in the public interest when it sounds eminently so? Are they worried it would seem anti-English?
This is by, any churnalist standard, newsworthy. Some one is deciding to not report it.