Having misquoted the First Minister on hospital discharges into care homes, where outbreaks have been shown in 5 research reports to have been caused inadvertently by agency staff and not by the discharges, BBC Scotland headlines newly published details so as to again imply Scottish Government responsibility, just over two weeks before the election.
Note the link to a Glenn Campbell piece misinterpreting deliberately the words of the Health Secretary on the 8th April.
What the data reveal is proof that the causal factor in the rate of death is ownership. Almost without exception the toll of death was greatest, by far, in the private sector and, especially in those larger homes owned by corporations such as HC-One, which we know demanded full resident occupancy of their managers and control of costs, in terms of staff wages and PPE, and so relied, more than the council or voluntary sector, on, agency temporary staff. The latter travelled between homes spreading the virus.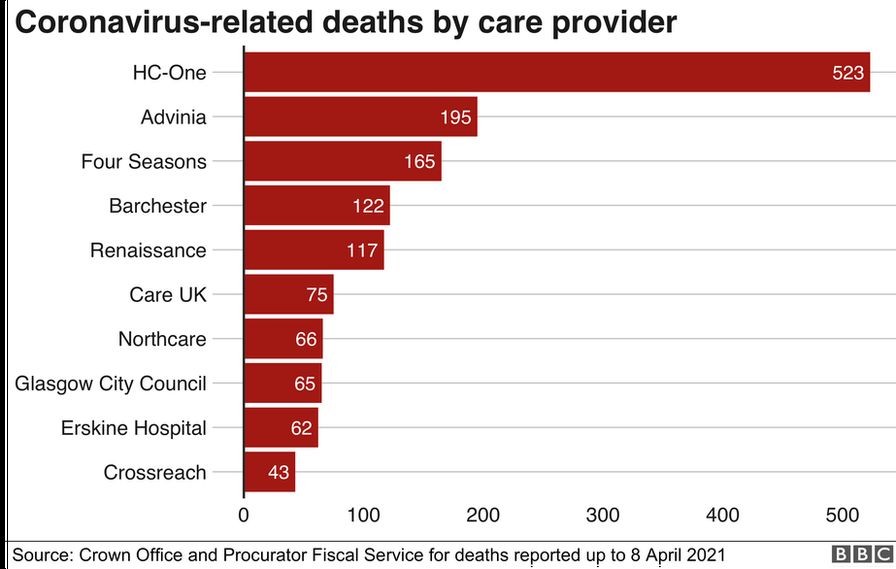 523 of the total 3 292 care home deaths took place in HC-One homes. HC-One has 29 care homes in Scotland.
There are around 1 100 care homes in Scotland so 16% of all the care home deaths took place in 2.6% of the care homes.
To be clear, there is a problem in that care homes are of differing sizes and the HC-One homes will be among the largest, but crudely, the death rate in HC-One was SIX times higher than it might, statistically, have been expected to be.
The top 7 with the most deaths were all corporations.
We really need the ratio of deaths to total residents within the homes of a provider but I don't see that available here:
https://public.tableau.com/profile/marc.ellison8696#!/vizhome/CHD_16154580881600/TrackingcarehomedeathsinScotland?publish=yes