Former adviser to Jack McConnell, Susan Dalgety, writing in the right-wing Tory rag, the Spectator, once edited by Johnson, casts doubt on the First Minister's progressiveness and at the same time looks down her nose at a council house / comprehensive school background in North Ayrshire.
There was a time when coming from a 'modest background' and getting on was perceived as something to be proud of in the Labour Party. I claim a modest background.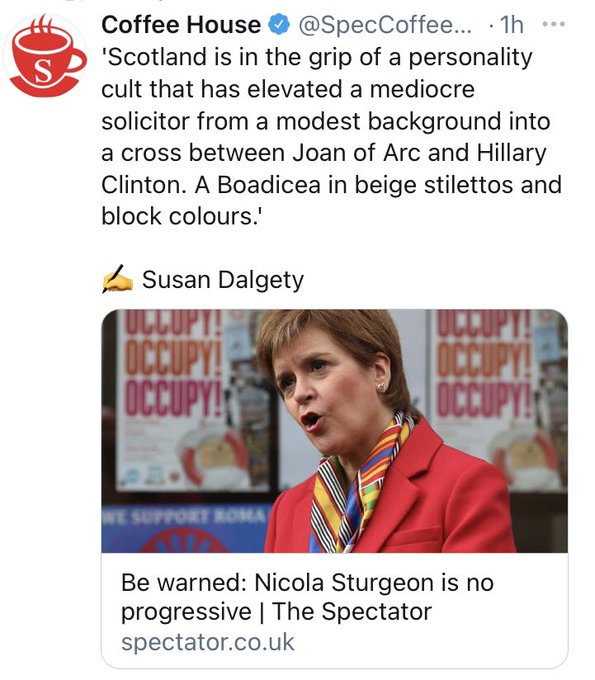 Susan Dalgety has a trail of nasty personal attacks on Sturgeon.
In November 2020, she dissected the body of cancer victim, Tracey Emin, to help the reader feel the full horror of the most extreme case before applying that image, heartlessly, to all other cancer cases, then shockingly, blame the First Minister for the deaths of thousands still to come because of the treatment delays due to her Covid strategy. There are of course no statistics supporting that bloody accusation.
Then, perhaps revealing the ability to compartmentalise of the sociopathic mind, Dalgety writes:
My daughter-in-law, a mobile hairdresser, has just been told by the First Minister to stop working, with no apparent safety net to compensate for her loss of income. Her experience is replicated across the hospitality sector with people and businesses thrown on the scrapheap without, it seems, a scintilla of sympathy.
Does the mobile hairdresser have receipts and a tax return? If so, I feel sure compensation is available. Did she pay any tax?
And, sympathy? Has Dalgety seen none of the briefings?
Progressive?
On taxation, benefits, education, women's rights, the environment, discrimination, nuclear weapons, the evidence is clear. I won't list it all. It's here:
The SNP, not Labour, is the real radical and progressive party