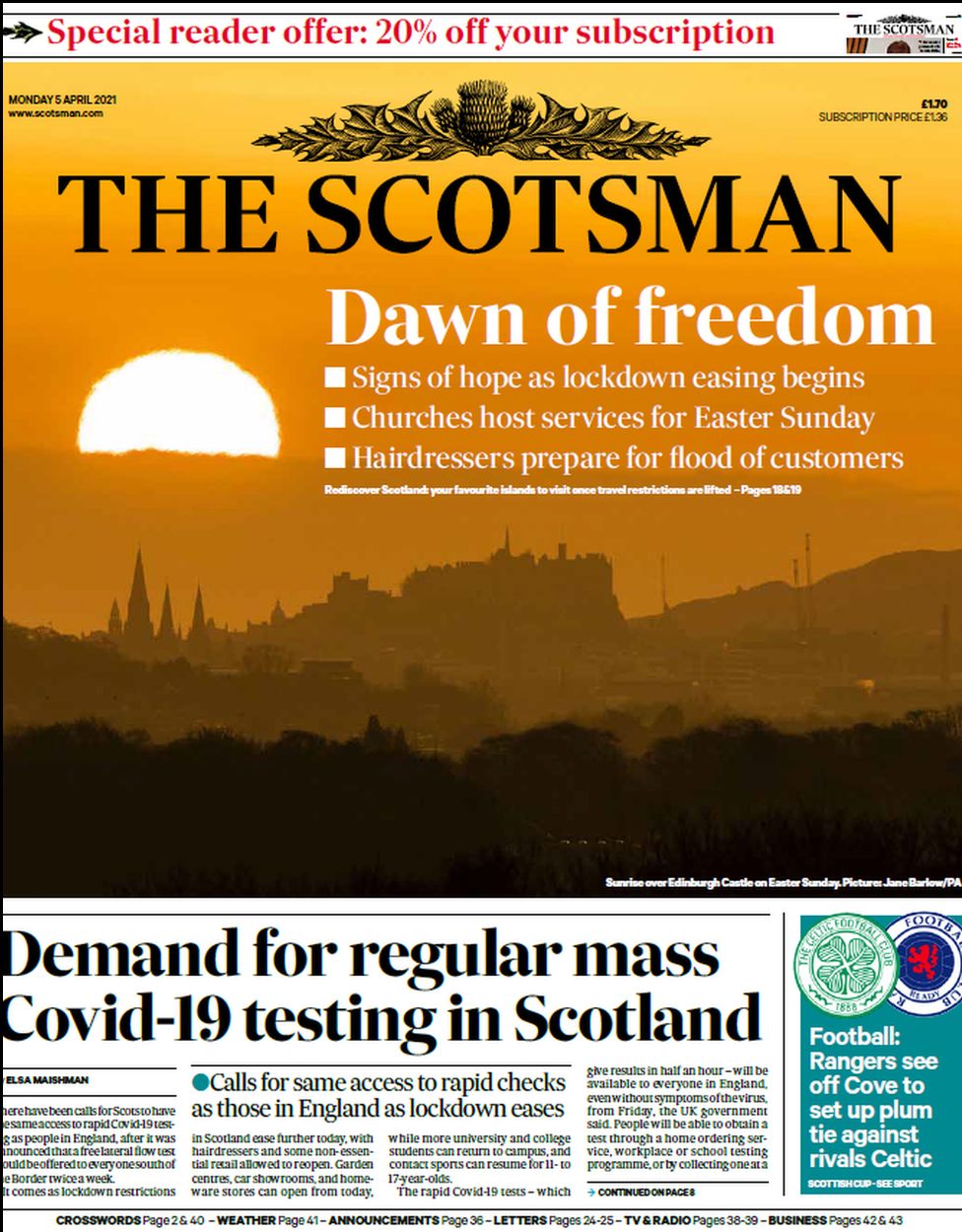 In the early hours, the Scotsman tells us that there is a demand for mass regular testing in Scotland. Oooh, where is this demand coming from? Is it the people? The source doesn't make it to the front page so I can't see who it is. Do I care enough to find out? No. Anas Sarwar?
As if by magic, the demand makes its way to headline on Reporting Scotland at 1pm:
And, twice weekly coronavirus tests will be offered to people in England – will the same happen here?
Oooh, again! They get everything, like that 'Operation Moonshot' mass testing last year which….oh no…didn't happen at all.
Then David comes on to tell us about the exciting new developments from England:
We don't get a reminder of any of the previous big launches by Boris and Matt which have come to nothing and/or cost billions but we do hear that the Scottish Government will face calls to do something similar here. By whom? Oh, you'll need to ask the guy at the Scotsman who made up the story in the first place. Just say Anas Sarwar and leave it at that?
Missing from both reports, of course, will be this:
The rapid test kits most widely used in UK universities, schools, and care homes detect just 48.89% of covid-19 infections in asymptomatic people when compared with a polymerase chain reaction (PCR) test, real world data from the Liverpool pilot have shown.
https://www.bmj.com/content/371/bmj.m4848
BBC UK do tell the truth, eventually, right at the bottom of the page:
"Mass testing is a scandalous waste of money," said Allyson Pollock, professor of public health at Newcastle University. "When the prevalence rate of coronavirus falls as low as it is at the moment then an increasing proportion of cases are likely to be false positives meaning that cases and contacts will self isolate unnecessarily." Prof Pollock said it is likely that mass testing "is going to do more harm than good" and there had been no evaluation of mass testing programmes by the government.