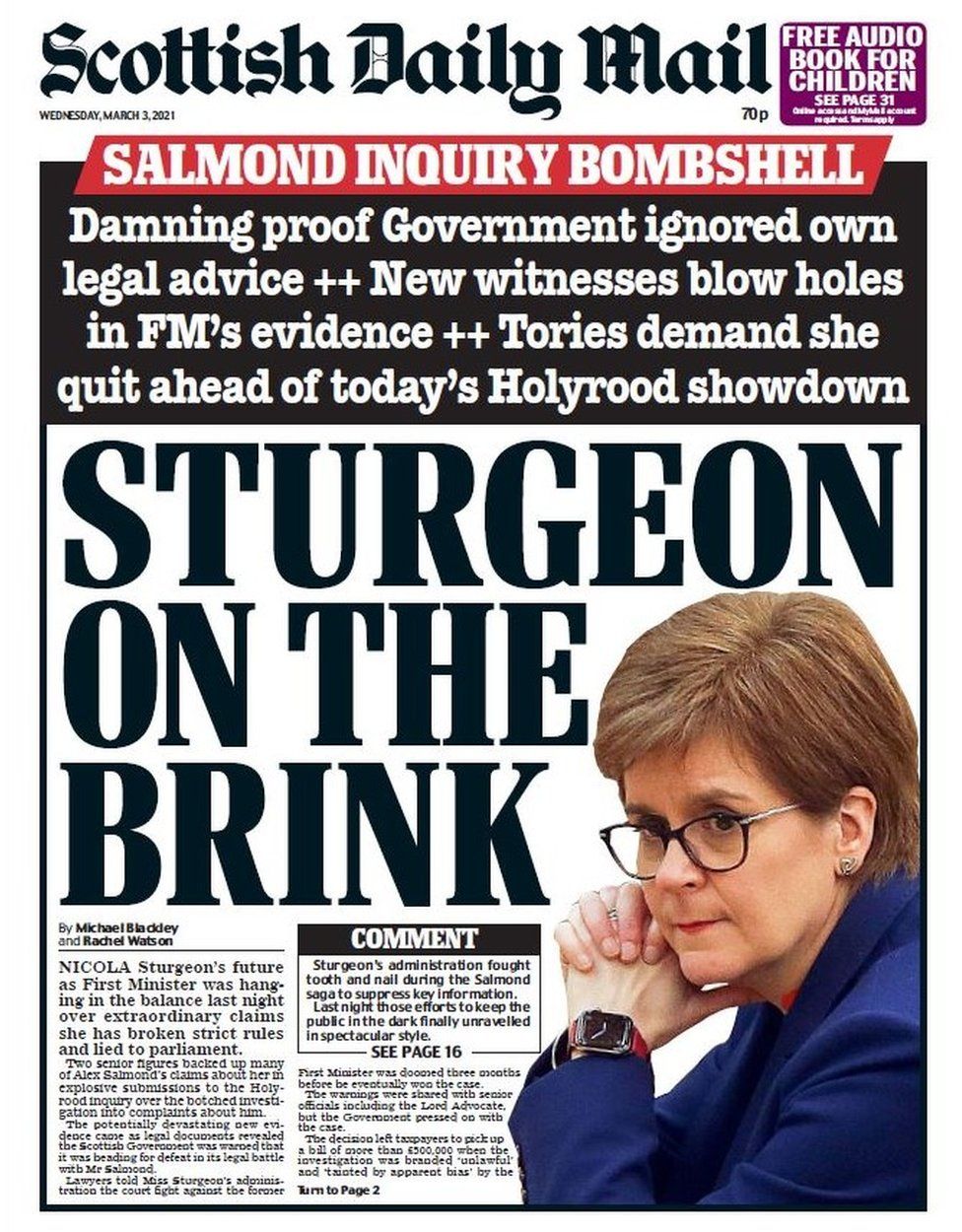 The hacks at the Mail know they're writing mince. They have to be. Otherwise they have serious mental health issues.
There is not a chance in hell of the First Minister being toppled after this but one or two senior civil servants and one chief executive need to be gone pronto.
In the Times, Magnus Linklater, no friend of independence nor of the SNP, could see what had happened and wrote:

Nicola Sturgeon has survived. Perhaps more than that, she will emerge from about six hours of interrogation with her reputation largely intact. There were weaknesses in her evidence, some points where questions were left lingering, and one exchange which could yet damage her, but on the key issues which could have led to her resignation, she fended off the most serious of the accusations against her, not just with confidence but, perhaps more importantly, with passion.
And in the Herald, Dr Nick McKerrell wrote:
Alongside the more balanced reading of the legal advice, it would suggest that it is difficult to say that the Scottish Government blundered recklessly into the defeat of the court action in January 2019. So the charges under the ministerial code would be difficult to stick and this explains the confident rebuttal by Nicola Sturgeon.
Alex Salmond, by force of intellect and will, took us from nowhere to the gates of independence only to be failed by our chicken-hearted. He uniquely stood up against British militarism in 2003 and may have been the victim of a revenge attack by the UK establishment/intelligence community in the form of senior civil servants' behaviour in pushing the complainants forward. More serious offences by UK politicians have been swept under the carpet but he should still apologise more fully. I'd love to see him return perhaps as Foreign Secretary.
Nicola Sturgeon played no part in the case. She is currently a major asset in the push for independence. She must stay and lead that final push.
Now is the time to save our ammunition for the Unionists and only for them.