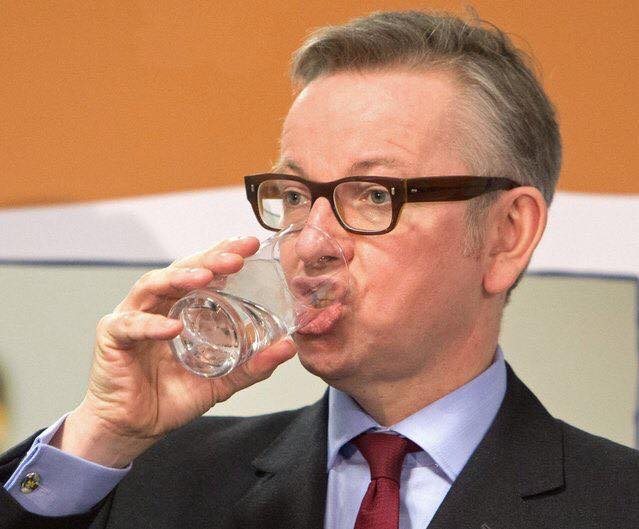 A BBC Scotland reporter doing such a job on a UK Tory leader is a rare thing so we find it difficult to explain but it's worth preserving here given the treatment it is likely to get at the hands of the Reporting Scotland editor, tonight.
Michael Gove: Vaccination and Brexit
GMS: Wednesday 03 February 2021: 08m10
Presenter: Gary Robertson
Well let's speak to the Cabinet Office Minister, Michael Gove who joins us now. Good morning to you.
Michael Gove
Good morning, Gary. How are you?
Presenter
I'm good, thank you. This offer of help in the vaccination programme, have you made the same offer to the Irish and Welsh governments, the Northern Irish and Welsh governments?
Michael Gove
Yes, we are working as one United Kingdom in order to make sure that the Oxford AstraZeneca vaccine – and I was interested to hear the report that you had on earlier pointing out that it is highly effective in reducing transmission, we want to make sure that vaccine is available to citizens across the UK. And Jason Leitch was saying yesterday, obviously one of the Scottish Government's principal advisors on medicine, that the vaccine rollout in Scotland had not been perhaps as quick as it might have been, so we're doing everything we can to help.
Presenter
Well what the Scottish Government says is that it's followed the JCVI recommendation of prioritising care homes which takes longer due to the vulnerable nature of the population and we look at the figures for Scotland's care homes compared to England's care homes and actually things have been much better here. Just give us the number of people who have been vaccinated in England's care homes.
Michael Gove
Well I think it is the case, isn't it, that we've seen a significantly higher number of people across England and in other parts of the United Kingdom vaccinated in Scotland? We're all – [CROSSTALK]
Presenter
But I asked you specifically about the care homes because you keep talking about how many vaccines have been offered to residents. How many have actually gone into residents' arms? Because we're up at beyond 95 per cent in Scotland.
Michael Gove
Well it is the case, Gary, as Jason Leitch has acknowledged and as I think everyone knows, the overall number of vaccinations has been lower as a percentage in Scotland – [CROSSTALK]
Presenter
But I'm asking you specifically about care homes in England, Mr Gove. If you don't know the number then that's absolutely fine but given that you're critical of the Scottish Government, wouldn't it be incumbent upon you to tell us that?
Michael Gove
Well I'm not critical of anyone. I'm just stressing that it's important that we all work together. It is the case that every care home resident in England has been offered the vaccine.
Presenter
So how many have got it?
Michael Gove
It's also the case – it's also the case that every part of the United Kingdom is following the JCVI recommendations and it is also the case that in Scotland, fewer people have been vaccinated so far than in the rest of the UK.
Presenter
And it's also the case, according to the ONS figures, that England recently had twice the infection rate of Scotland and also a higher number of deaths in care homes in January. It sounds as though the UK Government could do with some advice from Scotland on that front?
Michael Gove
Well we take advice from one another. It's certainly the case that we do all work together across the United Kingdom in order to make sure we're doing our best in the fight against the virus but I think it's important to recognise that we wouldn't have this vaccine if it weren't for the UK Government's investment in science, were it not for the fact that the UK Government's vaccine taskforce worked with Oxford AstraZeneca and scientists across the UK. We wouldn't have the effective rollout that we have were it not for our NHS and also for the British Armed Forces and again, when people are asking questions, across the United Kingdom, about the rollout of the vaccine, I think it's important that we all learn from one another and work together.
Presenter
Well some of that vaccine of course is being developed here in Scotland at Valneva's plant in Livingston, West Lothian and the Prime Minister was there only last week and it now turns out that they had had an outbreak and they told the Prime Minister, they told Downing Street ahead of the trip of this virus outbreak at the factory, yet he went ahead anyway. It's fairly reckless, isn't it?
Michael Gove
No, it was COVID secure. The visit was entirely COVID secure and safe. And you're absolutely right, it's great that the Valneva factory will be producing vaccines but again, that is more evidence of the UK Government's investment in scientific research in the universities and technical centres across the United Kingdom and we should be celebrating the fact that the United Kingdom collectively is vaccinating more people.
Presenter
But 14 COVID-19 cases – 14 COVID-19 cases in 24 hours before the Prime Minister arrived. That should have been Downing Street's cue to call off this non-essential visit.
Michael Gove
Well it was an essential visit because the Prime Minister, as Prime Minister of the whole United Kingdom, wants to make sure we learn from different aspects of the vaccine rollout. You made the point earlier that in different parts of the UK, we're doing things in slightly different ways albeit within the gambit of the JCVI guidance. It's important that the Prime Minister learns from every part of the United Kingdom how the rollout is going and the visit was safe and secure and so there was absolutely no risk to anyone as a consequence of it.
Presenter
We know from Nicola Sturgeon's statement yesterday that the Scottish Government is going to introduce a stronger form of quarantine than your government is proposing. Ultimately, she's saying rather than a list of countries where people need to quarantine if they've come from, then all overseas visitors to Scotland need to use these quarantine hotels. Will your government consider stricter measures along the same lines?
Michael Gove
Well it's our government, Gary. I mean the whole point is that it's the government of the whole United Kingdom, but the point I'd make about travel from abroad is of course, we keep constantly under review and we're guided by the science, what the steps are that we should take. It's already the case that before you come to any part of the United Kingdom, you need to have had a negative COVID test and it's also the case before you get into the United Kingdom, you have to acknowledge that you will isolate for a period and there are strict penalties if you break that isolation. Managed isolation is an additional measure and of course, we review all of the countries that people are coming from in order to make sure that we are vigilant against any new strain of the virus.
Presenter
But if Scotland wants to put in place this regime where everyone who arrives in Scotland from abroad quarantines, can you guarantee that if someone arrives in England from abroad that they cannot travel to Scotland and get around the rules north of the border?
Michael Gove
Yes, people shouldn't be travelling in that way.
Presenter
Let me ask you about the issue of Brexit. You're having to offer compensation payments to Scottish seafood fishermen because of the Brexit trade issues. It does look, on the face of it, that all the promises that were made about Brexit have been missed, haven't they?
Michael Gove
No.
Presenter
To fishermen.
Michael Gove
No, absolutely not. I think it is the case, as you know, that the quota uplift that we enjoy as a result of leaving the EU is significant. We're outside the Common Fisheries Policy. I think the Scottish Government wants to take us back in. But it is also the case that, as we can see over the course of the last few days and I don't take any pleasure in it, I think people comparing the European Union's performance on vaccination with the UK's performance on vaccination would think the UK, all four nations of the UK, are performing better and I think that's a vindication of the United Kingdom working together, stronger together, but also nimbly and effectively evading some of the regulations that have held others back.
Presenter
Well there's nothing nimble about having to get good into Northern Ireland, for instance. People might look at your performance on that and say that's not been very nimble.
Michael Gove
I think people looking at the situation in Northern Ireland will have concluded that the European Commission last week were trying to erect a harsh border on the island of Ireland. That was a mistake, but the parties in Northern Ireland and the UK Government are working together in order to make sure we can both have a strong UK internal market and also do our bit to help the EU protect its internal market as well and I think in that joint endeavour, I think in the last few days… and again, I take no pleasure in it, in the last few days UK politicians from all parties and from all parts of the United Kingdom, have shown the importance of working together.
Presenter
Michael Gove, we have to leave things there. We're out of time, but thank you very much. That's the Cabinet Office Minister, Michael Gove.
[END]