I suspect some former readers may have tired of my worrying of the Herald. I have stopped chasing the Scotsman around the field of media because it's a hopeless case but the Herald is not all bad for the cause.
So, I'm going to keep on nipping at its heels (heels like you know who) for now.
The above is a well-rotted piece that needs nipped off toot suit.
It's just this kind of thing:
One secondary teacher told the Herald
It comes amid claims
There have also been reports
"I think we're all feeling that nobody cares about us," said the teacher
Members had raised fears
Not in the Herald report, this:
A summary of the latest evidence on coronavirus (COVID-19) in schools has been published. The paper, from the COVID-19 Advisory Sub-Group on Education and Children's Issues, looks at the risks posed by the virus to pupils and staff, and the benefits to children and young people of schools remaining open.
It shows:
the rate of coronavirus-related sickness among pupils is low across the country – at 12 November, this represented about 0.1% of all pupils
there is no direct evidence that transmission of the virus within schools plays a significant role in driving rates of infection among children
data found there is no difference between COVID-19 positivity rates in teachers and school staff relative to other worker groups of the same age
closing schools presents a serious risk of harm to the wellbeing of children and young people, particularly those who are vulnerable
more than 75% of schools in Scotland did not have any pupils who tested positive for COVID-19 in the first term of the school year. Rises in positive cases in the last three weeks of term coincided with an increase in community prevalence across all adult age groups.
Professor Devi Sridhar, Chair of Global Public Health at the University of Edinburgh and a member of the COVID-19 Sub-Group, said:
The overwhelming evidence from across the world is that children are safest in school and that school closures increase educational inequalities and have long-term detrimental outcomes for young people. Scotland's success in providing primary and secondary children full-time, in-person learning from mid-August should be an example for other countries in the world deciding their schools policy. The key factor in keeping schools open and safe is to reduce community prevalence by ensuring appropriate public health measures and restrictions are put in place to reduce community transmission.
https://www.gov.scot/news/coronavirus-covid-19-in-schools/
Or this?
Based on some 'new figures' where of course we don't get to see the raw numbers, the Herald/EIS team is pushing hard on closing schools and closing down the SNP Government's reputation for pandemic management while just ignoring yesterday's report revealing that only 0.1% of pupils were infected, that 75% of schools had no infections and that teachers were no more at risk than any other workers.
After shocking us with the news that, as cases, were surging across the country, they were also up in Schools, they present their top piece of evidence:
The highest positive test rates are seen among S5/6 pupils where in October they reached 129 per 100 000.
Here's some background.
There are less than 100 000, S5/6 pupils, spread across 357 schools in Scotland.
They're often taught in much smaller classes than other levels so that spacing is feasible.
Senior pupils are expected to wear face masks in Leve 3 and 4 areas.
Finally, how does 129 per 100 000 compare with the rates faced by the communities outside of those classrooms?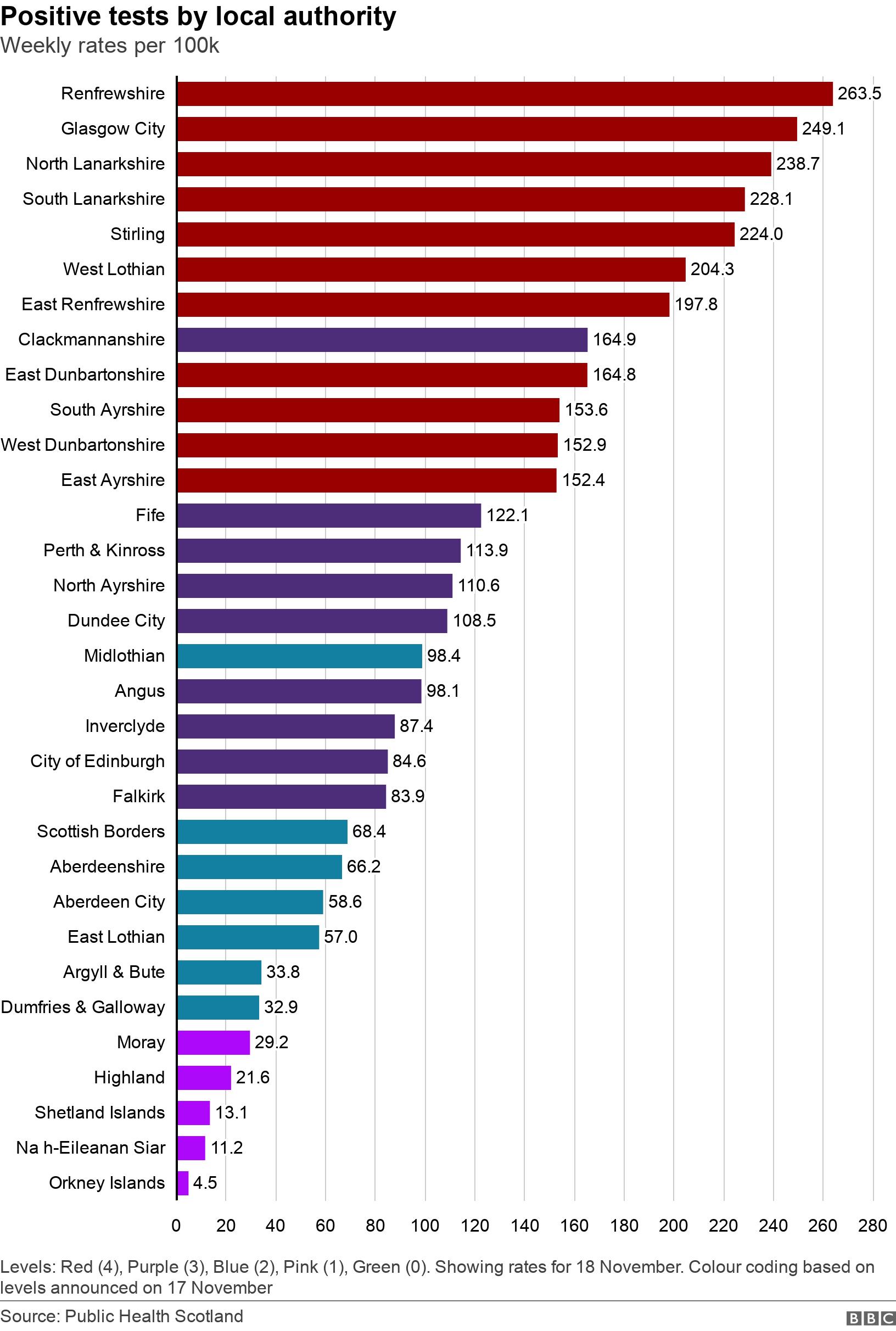 So, infection levels in a typical S5/6 class with 10 or so pupils, spaced out, wearing face masks and not shouting, we hope, like those in the garage or warehouse nearby, are much lower than those outside?