Discharges from hospitals to care homes, in Scotland, were made by professionals in both locations with a view to saving lives. The Scottish Government did not interfere other than to remind care homes of their longstanding responsibilities to protect residents by implementing the isolation procedures they should have had ready after decades of flu outbreaks.
The Scottish health secretary, contrary to her English equivalent, ensured earlier vaccination in care homes, in line with the JCVI guidance, to do so before all other groups and, consequently achieve a far lower death rate: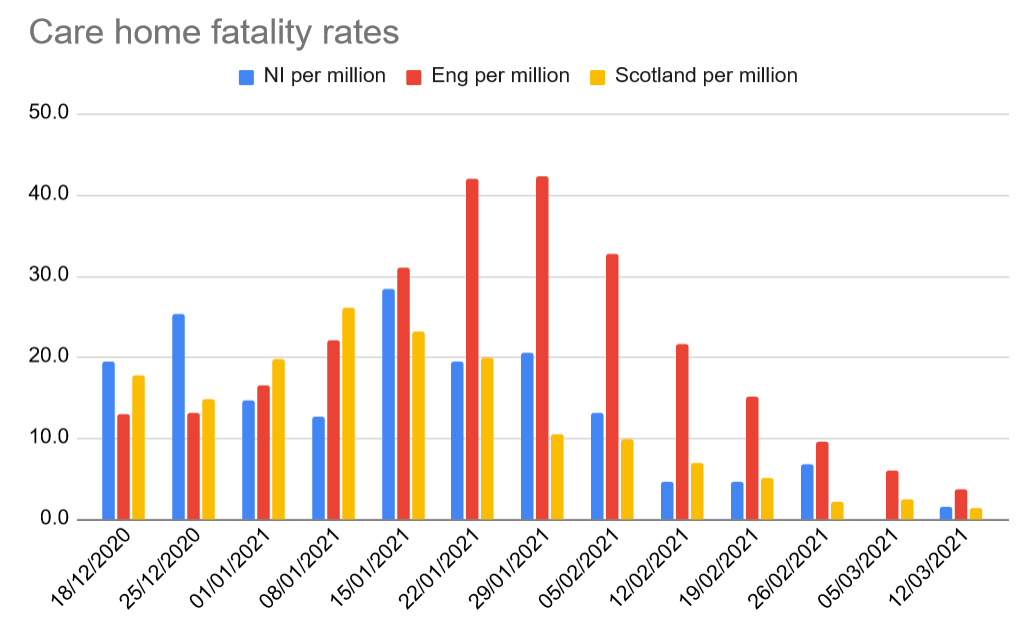 The above graph revealing starkly the cost in lives of the failure in England to fully implement the JCVI guidance and vaccinate care home residents before all other groups was compiled by Na Sirf Musiqi https://twitter.com/nasirfmusiqi from official sources.
It's a story never told on MSM. It's a far greater sin than wasting money on wallpaper.
This shows the impact of the vaccinations as the began to confer immunity on many in Scottish care homes from the middle of January 2021: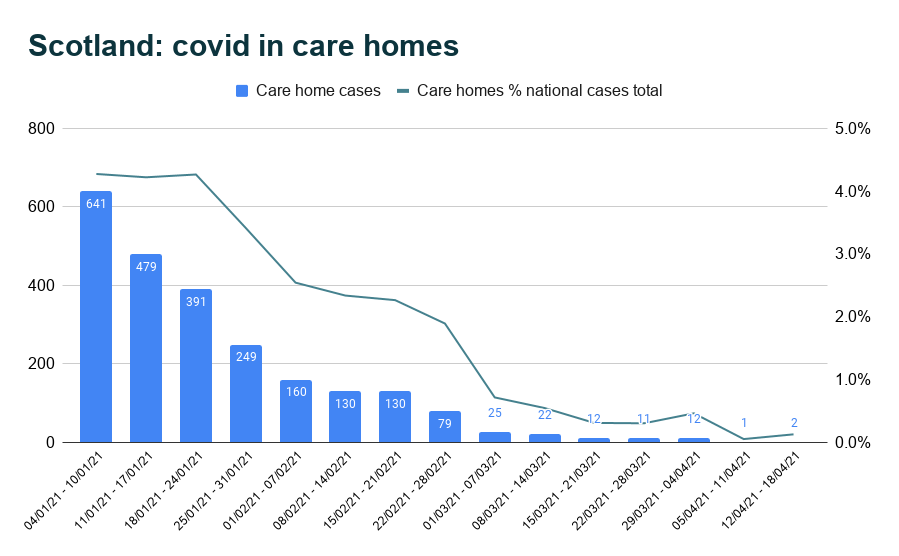 The contrast was stark in the first few months:
From the 1st of January 2021 until the 26th February, 9 088 care home residents in England died from confirmed Covid-19.
From the 1st of January 2021 until the 28th February, 532 care home residents in Scotland died from confirmed Covid-19.
England has ten times the population so pro-rata might have been expected to have ten times as many deaths, 5 320, but had around 3 700 more.
Had NHS England, followed the JCVI advice and vaccinated care home residents as a priority above all others, 3 700 lives might have been saved.
Who told them not to follow the JCVI advice? Who told NHS Scotland to follow it?
We know. Will the UK media tell everyone else?
Sources:
https://www.ons.gov.uk/peoplepopulationandcommunity/birthsdeathsandmarriages/deaths/datasets/numberofdeathsincarehomesnotifiedtothecarequalitycommissionengland
https://www.gov.scot/publications/coronavirus-covid-19-additional-data-about-adult-care-homes-in-scotland/