Raw sewage, microplastics and slurry are coursing through all of England's rivers, putting health and nature at risk, a parliamentary report concludes.

Agriculture and water companies are the biggest contributors to this "chemical cocktail", the Environmental Audit Committee warns.

Car tyre particles, oils and wet wipes are also clogging waterways.

People across the country using rivers for activities ranging from sports and swimming to fishing risk falling ill from bacteria in sewage and slurry.

https://www.bbc.co.uk/news/science-environment-59955624
There's only one comment about Scotland in the report:
Scottish Water is publicly-owned and directly accountable to Scottish ministers.

https://committees.parliament.uk/publications/8460/documents/85659/default/
Will that have mattered we wonder? Needless to say, I've covered this recently so a quick re-paste from October 2021: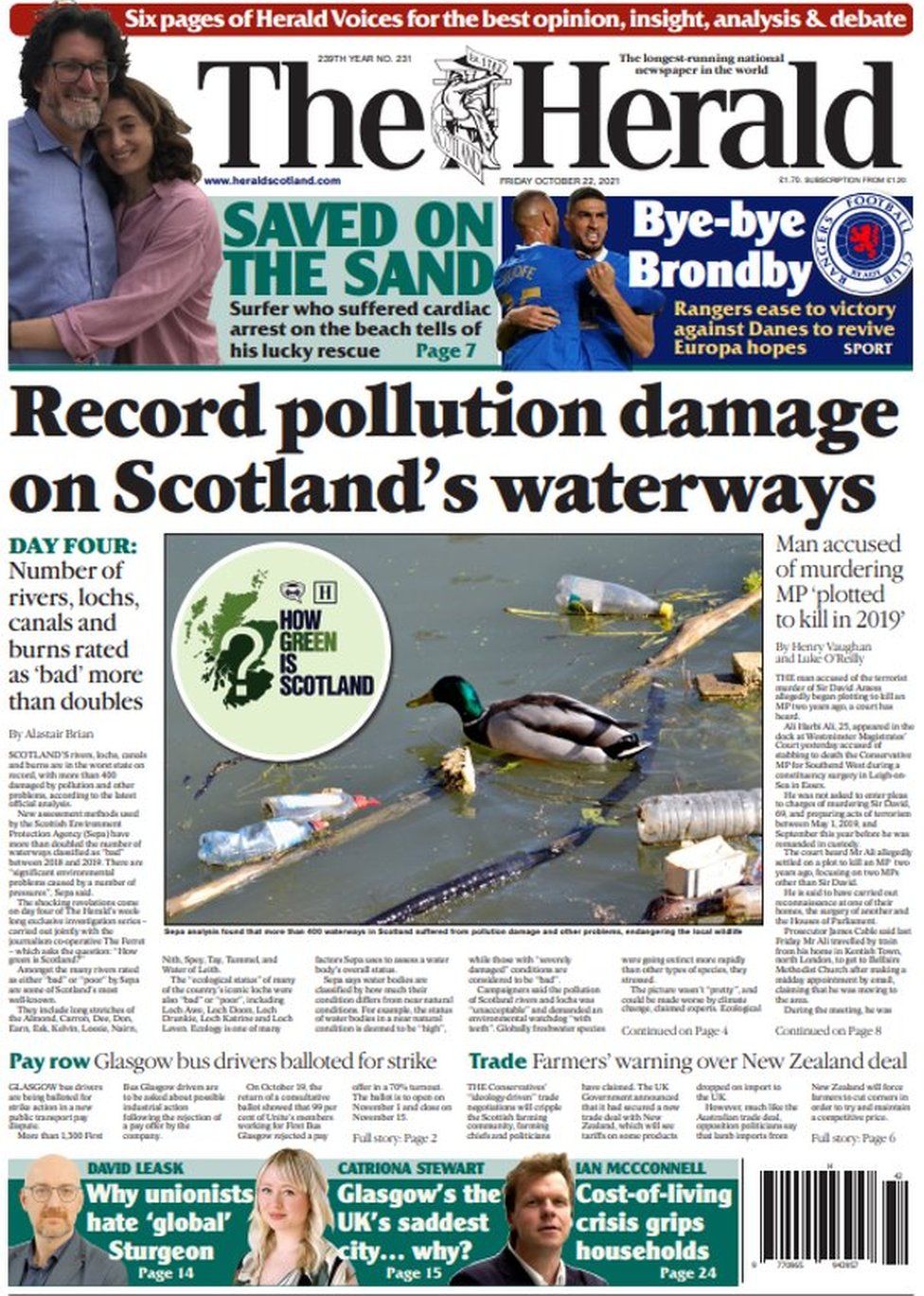 On Day 4 of the Herald/Labour/Ferret hatchet job on the SNP Government's record in protecting the environment, as we approach COP26:
Scotland's rivers, lochs, canals and burns are in the worst state on record, with more than 400 damaged by pollution and other problems, according to the latest official analysis.

https://www.heraldscotland.com/news/homenews/19660883.scotlands-rivers-lochs-worst-state-record/
But, in paragraph two we read:
So, this record pollution is not an actual physical increase but a change in reporting. Until the latest change, SEPA show this:
Note a decline in reported pollution levels from 1999 to 2012, then new standards increasing the level of pollution reported, before falling slightly again to 2018.
Here's how SEPSA explain this:
In light of increasing data and understanding about environmental pressures and ecological impact, two of the Water Framework Directive standards used in the indicator calculation were changed in 2013. These were invertebrates and phosphorus. In 2013, the indicator was calculated with both the old and the new standards in order that a comparison could be made. The proportion of river length assessed as slightly polluted, polluted or severely polluted in 2013 was 3.4% using the old standards and 3.7% using the new standards.
Note the Herald/Ferret are using the two-year-old 2019 data but don't seem to have the actual percentage for that year to compare with the recent 'worst' in 1999 (?). Perhaps a reader can find it?
This seems to be a classic change due to reporting rather than a change in the physical quality of our water.
I note that SEPA, currently states:
The water environment in Scotland is generally in good condition.

https://www.sepa.org.uk/environment/water/
And, for context, in the Times on September 18 2020:
Every river and lake in England fails pollution test. All rivers and lakes monitored in England have failed tests for chemical pollution and 84 per cent do not meet the government's target of good ecological status, official figures reveal.

There has been no progress in the past four years towards meeting the government's long-term target that at least three quarters of water bodies, including rivers, lakes, canals, coastal waters and groundwater, will be restored to be as close as possible to their natural state.

In Scotland 66 per cent of water bodies are healthy, with 46 per cent of rivers healthy in Wales and 31 per cent in Northern Ireland.

https://www.thetimes.co.uk/article/every-river-and-lake-in-england-fails-pollution-test-0ln58q0fg#:~:text=All%20rivers%20and%20lakes%20monitored,ecological%20status%2C%20official%20figures%20reveal.&text=In%20Scotland%2066%20per%20cent,per%20cent%20in%20Northern%20Ireland.