NICOLA Sturgeon will consider opening public buildings this winter to help rough sleepers receive support amid concern over many people being forced onto the streets this Christmas.

The First Minister was pressed by Scottish Labour leader Anas Sarwar over the number of rough sleepers in Scotland and thousands of families staying in temporary accommodation for an average of a year.

https://www.heraldscotland.com/politics/19805852.nicola-sturgeon-pressure-bring-forward-real-action-end-homelessness/
Sarwar, as you know, is a millionaire and shareholder in a food-production company, run by his mum, which does not pay the living wage, forcing employees to rely on top-up benefits and, ironically, food banks.
The Herald report by David Balls does not consider the latest research on the worst form of homelessness, 'rough sleeping.'
How about this on November 24, 2021?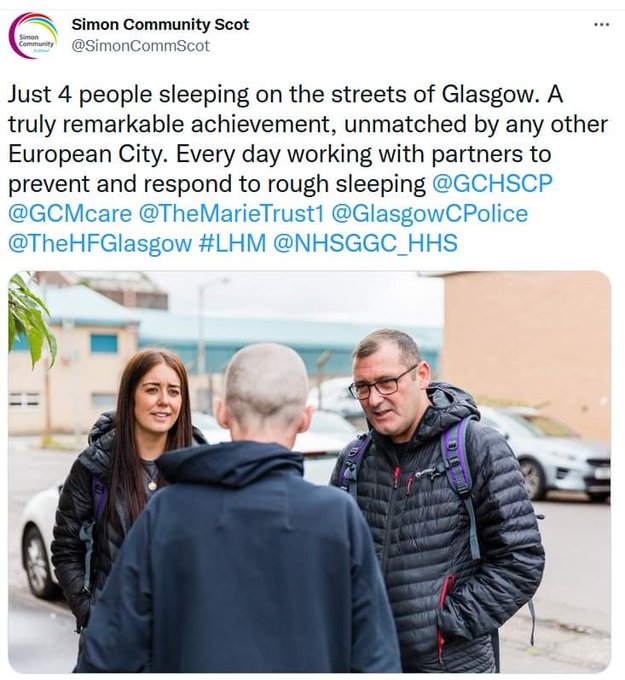 Or this on September 29 2021?
Almost one in 100 households in England (0.94%) were experiencing what the charity Crisis called "forms of core homelessness" – such as sleeping on the streets, sofa surfing, or staying in either unsuitable temporary accommodation like B&Bs or living in garages or industrial premises

That rate compares to 0.66% of households in Wales and 0.57% in Scotland, Crisis said.

The charity put this down in part to Scottish ministers having the "right political will" to tackle the problem.

And the Crisis chief executive, Jon Sparkes, said if plans north of the border to strengthen the law in terms of preventing homelessness were implemented, then Scotland could become a "world leader".

His comments came after research for Crisis found that since 2012 England has had consistently higher rates of "core homelessness" than both Scotland and Wales – with rates growing faster in England over that time.

Scotland, meanwhile, became the first part of the UK to publish a plan to end homelessness, with the Scottish Government and local authority organisation Cosla joining forces on this.

https://www.denbighshirefreepress.co.uk/news/national/19611471.homeless-rate-scotland-half-england-says-crisis/
It seems that the SNP Government in Scotland, unlike Labour in Wales or the Cons in England, has brought forward 'real action.'