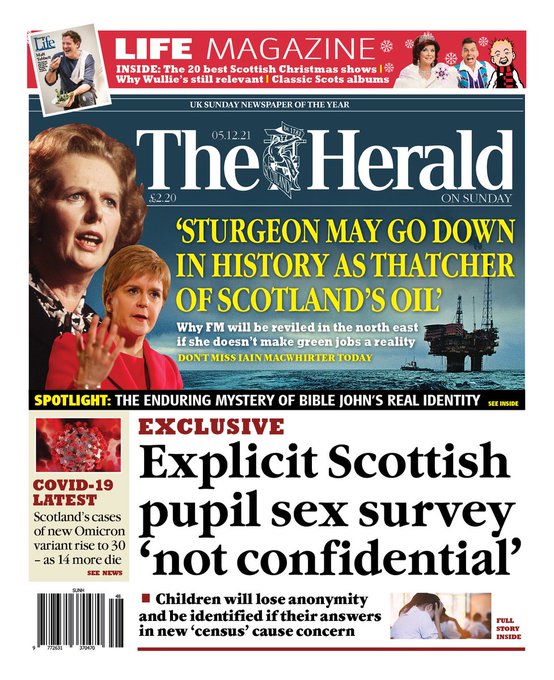 I understand how your energy levels can dip as you age, all-too-well, but a well-paid writer jumping on the bandwagon, with several other old guys in the Tory press, of Alex Salmond's odd suggestion that the FM is the Margaret Thatcher of Scotland's oil, suggests a tired mix of cynicism with his usual dash of misogyny . Try Googling 'Macwhirter Sturgeon' and get 60 300 hits but, with Sarwar, only 13 400. Ross doesn't work because there's a Ross Macwhirter.
I know corporate hacks have to stretch things to trick readers into clicking or buying, but there's a bit of over-reach here, no?
Permission for Cambo is for BJ alone to give or to deny, like the permission to de-industrialise Scottish industry, destroy communities and use the oil money to pay for it, was entirely within Thatcher's power, forty years ago. The FM only expressed an opinion increasingly shared by the majority but not, only, in Macwhirter's grey, crusty and Unionist cohort.
What Thatcher did, harmed millions and created a legacy of health problems and drug deaths only now diminishing. If the UK Government denies Cambo to begin the decline of oil production, a few thousand will suffer, I agree, but hopefully most will have somewhere else to go in the renewables boom. Little revenue that could be spent on hospitals or schools will be lost because the Treasury has long since stopped gathering it. We'd get nothing from Cambo.
See this from Leah Gunn Barret in August 2021:
There is another reason to leave Cambo oil under the sea (Editorial, August 17). The chief developer of this oil field, Siccar Point Energy, is owned by a company registered in Luxembourg, Siccar Point Luxembourg SCA. What this means is that all profits, interest payments, supply and even labour chain contracts will flow through Luxembourg, not the UK.

So since there won't be any UK tax revenue there is no economic case for developing this oil field. And the environmental consequences of doing so would be catastrophic.  Friends of the Earth Scotland has estimated that extracting and burning Cambo oil would result in carbon emissions ten times greater than Scotland's annual emissions.

Contrast the UK Government's mismanagement of Scotland's oil with what Norway did. The UK Government wasted North Sea oil revenues on short-term consumerist policies such as mortgage tax relief and slashing national borrowing while selling off state-owned British Petroleum and British Gas. It then eliminated tax on Big Oil in 2016, effectively subsidising the obscene profits of an industry that is threatening life on the planet. These Big Oil tax rebates show up in Scotland's national accounts as a 'loss.' 

Norway taxed oil companies for the privilege of operating offshore and had the foresight to create the world's largest sovereign wealth fund. It retained a majority stake in its state energy company and has generated £386bn more than the UK in tax revenues since the production of oil and gas began. Citizens, not shareholders, benefited. 

Herein lies the case for restoring Scotland's independence. The SNP Government only needs to make it.