BBC Scotland headed their September 16 report with 'Sturgeon under fire over 'in crisis' ambulance service' and gave Douglas Ross the leading role. They had no photos and no data on ambulances waiting outside A&E but faux angry tirades from three opposition politicians.
https://www.bbc.co.uk/news/live/uk-scotland-58574791
BBC Cornwall report today:
The Royal Cornwall Hospitals Trust (RCHT) has declared a critical incident due to the pressures it is facing.

A critical incident allows all health and care organisations to work together and focus on resolving the situation.

The trust reported up to 100 people were waiting to be seen in the emergency department on Wednesday, with 25 ambulances waiting outside.

Managers contacted staff asking them to work extra hours to help handle "intense pressures".

The trust said the emergency department is designed to accommodate up to 40 people at any one time.

https://www.bbc.co.uk/news/uk-england-cornwall-58996914
Boris Johnson gets no mention neither does the Health Minister Savid Javid. No politician is mentioned. No Labour politician blames the PM or the Minister. The ambulance service CEO and the local health board blame exceptional pressure as if it were an Act of God they could not be expected to have to manage.
This the latest of many examples of how only BBC Scotland politicises health problems and uses them to platform opposition accusations levelled against the Scotland.
Here's the trail building again [regulars can exit here]:
From the head of Scotland's ambulance service yesterday:
"I want to apologise to anyone who has experienced a delay."

https://www.bbc.co.uk/news/uk-scotland-58519296
Not reported of course:
The Scottish Ambulance Service changed the way it responds to the most unwell patients in 2016 with 999 call handlers giving the highest ­priority to incidents such as cardiac arrests. An evaluation of the changes has found the system has saved the equivalent of 1182 lives. Under the new system, call handlers are taking longer on the phone to despatch paramedics and some lower priority calls are waiting longer for an ambulance. A Freedom of Information request by the Scottish Conservatives revealed that an additional 62 patients were saved in Lothian as a result of the changes in 2017.
https://www.edinburghnews.scotsman.com/health/hundreds-saved-scotlands-new-ambulance-response-system-106900
Now, I wonder, what's been happening in BBC Walesland? How good are their ambulances?
Apologies to regulars:
SEARCH
Nothing proves BBC Scotland's bias more clearly than BBC Wales
From BBC Wales this morning:
As lockdown restrictions have eased ambulance staff are having the busiest summer of their lives.

Some have said they were "broken" by spending so much time queuing outside A&Es unable to respond to new calls.

According to them, it has been the busiest period in their careers.

BBC Wales' health correspondent Owain Clarke has been given special access to crews, call managers and senior paramedics.
The health secretary/minister for Wales is not asked to explain this. They're certainly not accused of any failure by opposition parties or asked to resign. They're not mentioned at all. Do the people of Wales know who they are?
Imagine, just imagine, Scottish opposition politicians, hearing that?
They don't get a mention nor do opposition politicians in these earlier reports suggesting a crisis is building in Wales, unreported as such by BBC Wales:
On July 27th and today, 29th, only two days later, we read of two incidents of failure leading to unnecessary deaths after delays by ambulances, reported by BBC Wales.
Astonishingly, neither report mentions that current Welsh Minister for Health is Eluned Morgan MS. Do BBC Wales know of him. Do the Welsh people know? Does Welsh Labour know?
Sorry its 'her':
She's not mentioned at all in the BBC reports of a clearly emerging crisis in NHS Wales.
Welsh Ambulance operations director, Lee Brooks, is mentioned: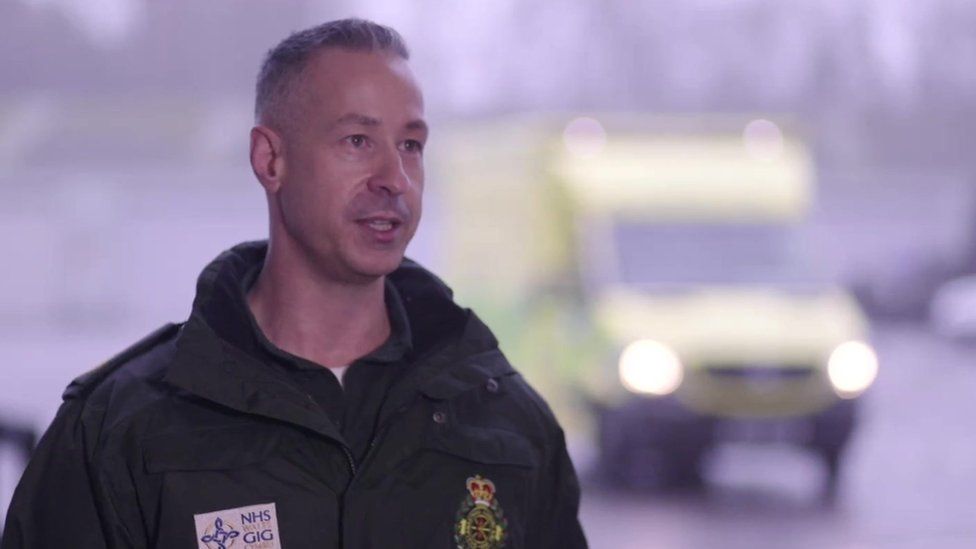 Actually, there are no calls for him to go. The opposition parties in Wales seem to have nothing to say and he just says he's sorry.
Contrast this with the media profile of Humza Yousaf if so much as paper clips go missing from an NHS office.
AND, it's not even the first time. In 2019:
Then, Jason Killens, chief executive:
"We are sorry that our response took longer than we would have liked on this occasion. "Lengthy waits for an ambulance are a sign of pressures across the whole unscheduled care system, not just in Wales but across the UK.
Imagine, just imagine, Scottish opposition politicians, hearing that?
And that's just the ambulance service
This is a long tale, adding to the evidence of BBC Scotland clear partisan perspective, ever ready to do Scotland, the Scottish Government and the SNP down.
In April 2021:
Above, BBC Wales headlines Tory corruption and chumocracy casting doubt on the value of the Union, again.
BBC England ignores the story:
BBC Northern Ireland don't surrender their love for Britain yet:
BBC Scotland, that centre for quality, critical, fair journalism? Ha! Don't make us laugh:
This is only the latest in the signs of BBC Wales going 'rogue'. Likeable rogue that is!
Also in April:
Comparing the reporting of BBC Wales with that of BBC Scotland is one of the more convenient and objective measures of the biases in the latter.
Today BBC Wales has foregrounded an academic supporting the Welsh Government's more cautious approach to coming out of lockdown and questioning the approach in England.
In Sharp contrast, BBC Scotland took a pub-owner's side and headlined this yesterday:
This morning they invited the public to call in to their radio show on the initial premise that Scotland is 'missing out' on the benefits of the approach in England
It's their preferred position.
In December 2020:
Not for the first time BBC Wales shows itself to be a very different kind of organisation. Today, they posted this: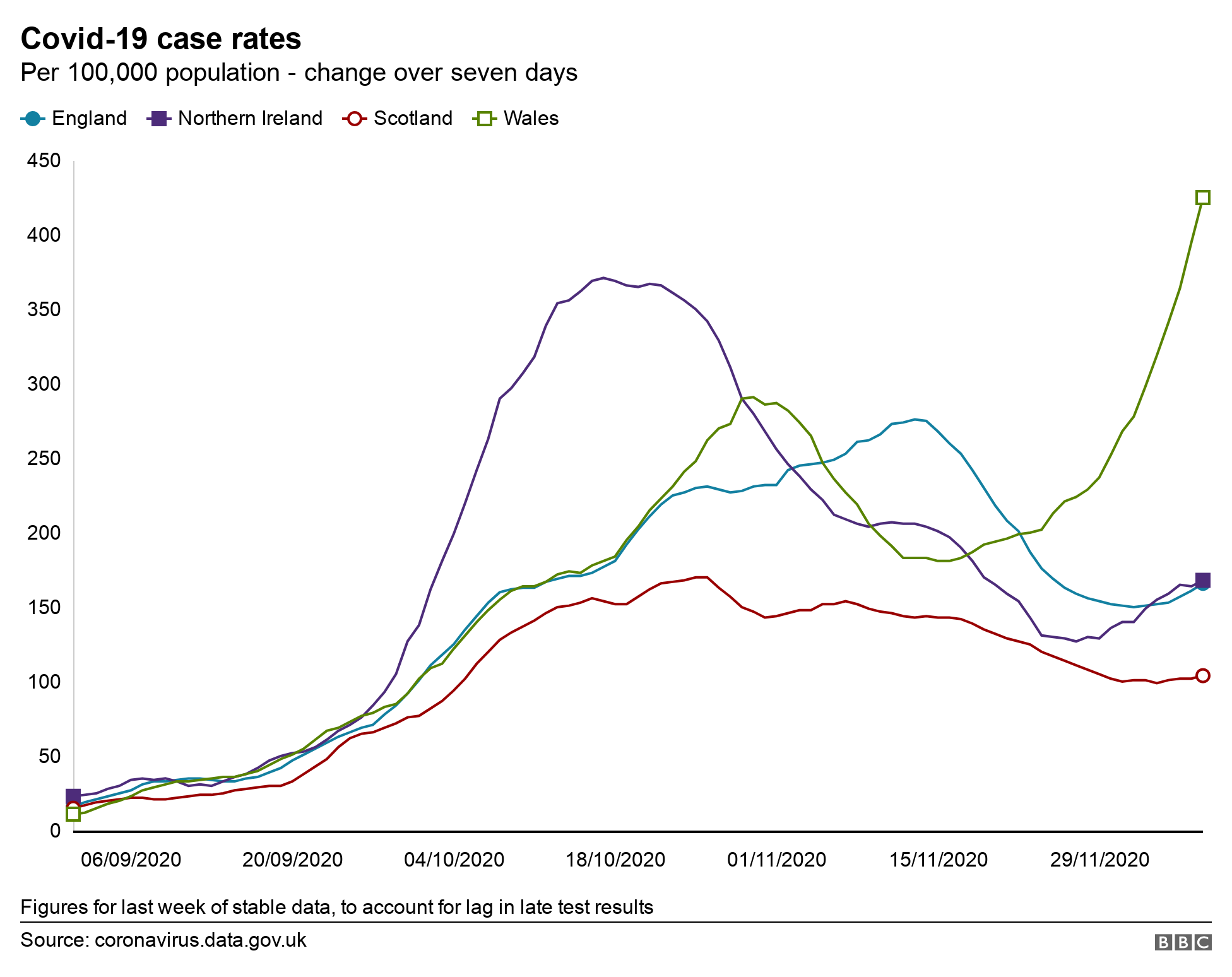 Of course, had Scotland performed as badly as Wales has in failing to control the Covid outbreak, BBC Scotland might have been more keen to let us have the above comparison.
Scotland has, thanks to our collective efforts and the actions of our devolved government, done much better than the other parts of the UK, so you won't be seeing that graph on Reporting Scotland or hearing those data discussed on Good Morning Scotland or by John Beattie.
Instead you'll get the raw data with no context to tell you that the trend is down or that the level is only half of that in England. It wouldn't be in the public interests, your interest.
Using BBC Wales as a mirror has been useful many times before.
In September:
On Monday 21st, MSM_Monitor spotted the BBC double standards, in only BBC Scotland and opposition parties seeing the need to 'politicise a health briefing during a pandemic' and effectively 'provide a platform for the new Scottish Tory leader.'
BBC Wales did not do the same to their Labour FM and there was, to my knowledge, no pressure from the pro-independence opposition demanding the right to provide 'other voices and perspectives' as Donalda MacKinnon, BBC Scotland director claimed were needed here.
Yesterday, we could see evidence of the same double standards in action.
In Covid-19 in Wales: What do the stats tell us? we find this:
We seem to be bombarded with different measures, but what do they mean and how does Wales compare with other parts of the UK?
and this: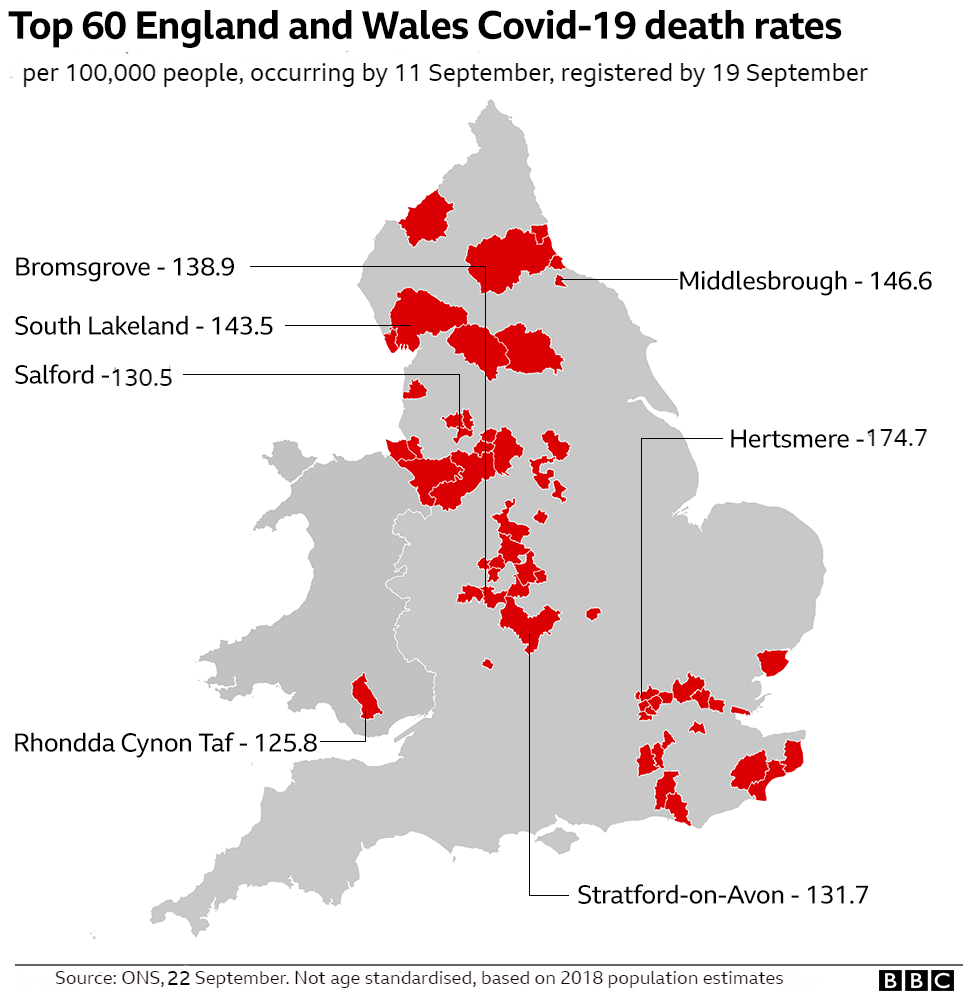 and this:
The point is clear: Compared with much of England, Wales is doing not too badly.
On the same day, BBC Scotland offered us Coronavirus in Scotland: Where are the latest cases?
https://www.bbc.co.uk/news/uk-scotland-53511877
The word England does not appear at all. To my knowledge BBC Scotland does not indulge in such comparison.
When I make such comparisons, as I often do, to highlight relatively better performance in Scotland, accusations of statistical meaninglessness, schadenfreude and whitabootery arrive.
So when I write:
Look, over the six months of the pandemic, the infection level has been 35% higher [5 849 per 1m in England compared to 4 315 per 1m in Scotland] and the death level has been 45% higher [658 per 1m compared to 458 per 1m].
I hear:
'You can't compare England and Scotland. They're too different'
or
'None of that matters. Scotland is still not good enough.'
In July:
In the wake of BBC Scotland's Disclosure series misrepresenting the deaths in Scotland's care homes:
[https://talkingupscotlandtwo.com/2020/07/28/alert-bbc-scotland-disclosure-tonight-on-care-homes-likely-to-miss-the-point/],
the excellent MSM_Monitor has drawn attention to the clearly different agendas of BBC Wales under Labour and BBC Scotland under the SNP.
I was reminded of previous examples and the value of building up a portfolio of the evidence to counter the defence of it being accidental.
So, working backward, see this from April 1st 2020 and note the choice of image they have chosen to associate with the covid-19 deaths:
Depoliticised in Labour Wales.
Politicised and demonising in SNP Scotland.
On the 30th October, BBC Wales reported on a Norovirus outbreak closing four hospitals and two care homes like this:
Depoliticised in Labour Wales but in the previous month in Scotland:
The classic example of politicised and personalised reporting by BBC Scotland.
Then earlier in September 2019, on a different topic, drug gangs, bias by omission:
While BBC Wales reported:
Police forces across north Wales, Merseyside and Scotland have launched a series of dawn raids targeting "county lines" drugs gangs. Searches were carried out at 24 properties at 07:15 BST in Flintshire, Conwy, and Anglesey in north Wales, and in Liverpool and Scotland. North Wales Police said more than 300 officers from three forces have taken part in the operation.
https://www.bbc.co.uk/news/uk-wales-49591405
and Police Scotland had been reporting the problem from January that year:
The charity Crime-stoppers is today 14th January 2019 launching a campaign to highlight the pain and suffering that criminals from English cities are inflicting on vulnerable people in Scotland's rural and coastal towns.
https://www.scotland.police.uk/whats-happening/news/2019/january/campaign-launched-appeal-for-help-tackling-county-lines-drug-networks
BBC Scotland did not touch the story.
Returning to BBC Scotland's troubled Disclosure series, in December 2018 they were pursuing their preferred quarry, old folk who will tell sad stories to camera:
BBC Scotland's team, fresh from following the wrong lorry of calves to Spain, had taken considerable risks by accessing the online waiting list target data from the NHS Scotland Information Services Division and then interviewing old folk over a cup of teas and an empire biscuit.
In sharp contrast BBC Wales Investigates had exposed the secret mountain village location of a cell of violent thugs whom the Home Office wants to ban: