A report in the Guardian today:
Climate campaigners are worried an influx of officers from elsewhere in the UK will undermine Police Scotland's commitment to rights-based policing of protests at Cop26.

Groups planning protests around the critical November conference have told the Guardian they are concerned about the presence of officers from forces known for their use of heavy-handed tactics and that it is unclear how they will be held to account for their behaviour.

https://www.theguardian.com/environment/2021/oct/07/cop26-activists-fear-influx-english-police-mar-friendly-approach-protest
has prompted former Trump security advisor, D J Tulloch Jnr, now resident in Achiltibue, to repeat his advice to the Scottish Government on the need for a hard border with England.
Three years ago, we reported:
D J Tulloch Jnr
Talking-up Scotland managed to get an exclusive interview with Duncan Jock Tulloch Jnr, former aide to the US President, before both of us lost consciousness on a trip to one of Scotland's distilleries. Having just seen BBC Scotland's dramatic disclosure of English-based gangs taking over the drug-trade in Fraserburgh and Peterhead, the great, great, great-grandson of a Peterboro' (sick) fisherman, was incensed and so upset, he had to drink even more. TuS manage to get this however:
'The English are not your friends, believe me. They're bringing drugs. They're bringing crime. They're rapists. And some, I assume, are good people!'
and:
'The border is wide open for cartels and terrorists. Secure your border now. Build a massive wall and deduct the costs from English taxation!'
TuS has already researched and published on this topic. See:
Better together? As crime falls in Scotland, English drug gangs invade Scotland. Build a wall?
Only a few days before, we featured this:
A single case of BSE has emerged in the Huntly area and has been dealt with resulting in no further risk. Scotland and Northern Ireland were given Bovine Spongiform Encephalopathy (BSE) negligible risk status in May 2017. The last confirmed case in Scotland was in 2002. The last case in Wales was only last year and the last in England was in 2012. England and Wales are not due to have their status reconsidered before 2020 at the earliest.
Previously, the Scottish Association of Meat Wholesalers submitted the application for re-grading with the help of the Cabinet Secretary for Rural Economy and Connectivity. In March 2017, they noted:
'We applaud the work done by Fergus Ewing and his officials in advancing and pursuing 'negligible risk' case on the industry's behalf and look forward to being free to trade under our new status as early as the summer.'
Some readers may remember how BSE started. If not see this from Frederick A. Murphy, DVM, PhD, Dean of the School of Veterinary Medicine at the University of California in mad-cow.org:
'In the early 1980s in England the rendering process (by which livestock carcasses are converted to various products, including protein supplements for livestock feed) was changed. Earlier, a solvent extraction step had been used to extract fats (tallow); this step was stopped when the price of the petroleum-based solvents used to extract fats went up. The infectious agent is solvent-sensitive. Otherwise, the infectious agent is extremely hardy — it can survive boiling and many disinfectants but is readily destroyed by extremely high temperature (such as in an autoclave), or by oxidizing agents, or by solvents.'
The first reported case was in West Sussex in 1986.
http://meatinfo.co.uk/news/fullstory.php/aid/20923/Scotland_92s_wholesalers_welcome_BSE_breakthrough.html
Given the likely source of the disease in the 'unclean' parts of England or Wales, Professor John Robertson, author of Dirty Globalisation: Drugs, Human Pandemics, Industrial Waste and Mad Cows, has called for a hard border with armed guards to preserve Scotland's square sausage production chain and, of course, to prepare for Scottish independence post-Brexit.
In July this year, fears were raised again: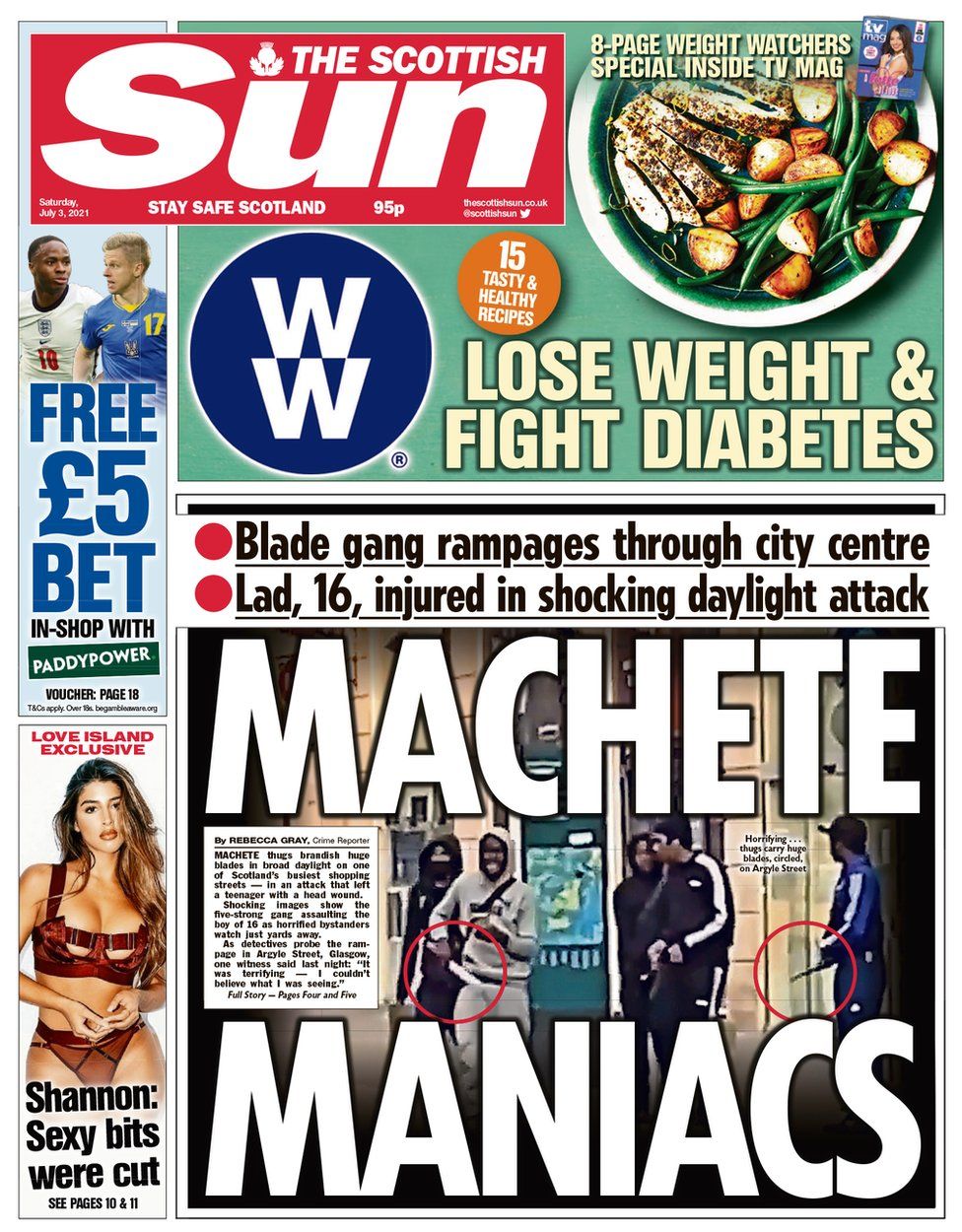 I'm grateful to regular, Cameron Brodie, for spotting this.
Researchers at the University of the West of Scotland have confirmed that Scotland's drug problem is now almost entirely fed by supplies arriving from England and Northern Ireland.
While the violence by young black males with clear English accents, last Thursday, may be unconnected, it may equally be an unusually public display of conflict between 'County Line' gangs based in large English cities and bringing misery to Scotland.
The UWS research notes:
International importation into Scotland directly is uncommon, according to participants who maintain that points of drug entry are in England or Northern Ireland. Don, who collects for a large wholesale Serious and Organised Crime Groups (SOCG), states: [Individual from English OCG] always meets me . . . [He doesn't] meet us half-way or nothing. I drive right to [Merseyside area] . . . [we don't always rendezvous] at same place . . . I hand over [money], no[t] to him in his hands . . . [I] put it somewhere . . . mostly [in his] car trunk . . . [or] leave it [at arranged location] . . . [and] he leaves with it . . . [once back in Glasgow] I
make a drop off to [an associate], and they hold onto it.

Scotland, in recent years, has seen growth of OCGs from England bypassing Glasgow and the West Coast and extending their drug lines to rural sites such as Peterhead and Fraserburgh.

The NCA (2017) claims to have identified 720 lines operating over England and Wales, most of which originate in the alleged export hub of London.

https://journals.sagepub.com/doi/pdf/10.1177/1473225420902850
And 'lads?'
Lad describes only a male, and it tends to be used as a vocative only in the northern half of England.

https://english.stackexchange.com/questions/137091/whats-the-difference-between-lad-and-mate-in-british-english
BBC Scotland and the Herald have ignored the story and the Scotsman has made little of it. Imagine if some of the Scots in London last week had used blades against a passer-by?
This tendency to ignore the County Lines drug gangs offering support for a hard border with the rUK goes back
Police Scotland reported the problem as early as January 2019:
The charity Crime-stoppers is today 14th January 2019 launching a campaign to highlight the pain and suffering that criminals from English cities are inflicting on vulnerable people in Scotland's rural and coastal towns. The campaign aims to raise awareness of County Lines, which is when criminals from major cities such as Liverpool, Manchester, London and Birmingham are expanding their drug networks to other areas, bringing with it serious criminal behaviour such as violence, exploitation and abuse. The term County Lines refers to the use of a single telephone number to order drugs, operated from outside the local area. This is having a massive impact on rural communities and also on vulnerable children and adults who are being recruited in cities such as Manchester and Liverpool.
https://www.scotland.police.uk/whats-happening/news/2019/january/campaign-launched-appeal-for-help-tackling-county-lines-drug-networks
Only the Sunday Post reported this at the time though the Times newspaper had a story of arrests in the previous October:
So, a Police Scotland announcement and clearly some media aware of it. Why have BBC Scotland not considered it in the public interest when it sounds eminently so? Are they worried it would seem anti-English?
This is by, any churnalist standard, newsworthy. Some one is deciding to not report it.
What do YOU think? Does Scotland need a hard border with England? Should there be a wall? How high? Who should pay for it? What percentage of the English are good people? Write in and tell us what YOU think. For the best letter there'll be a smiley face.