Some readers will remember in May 2020, the sole Scottish Labour MP trying to convince his largely Tory constituents that the Scottish Government had put them at risk by covering up a Covid-19 outbreak, in late February, at a Nike conference in Edinburgh:
I've received considerable correspondence from constituents who are seeking answers to why they weren't informed of the Covid-19 "ground zero" outbreak from a conference at a hotel in central Edinburgh in late February. I have written to the First Minister seeking answers.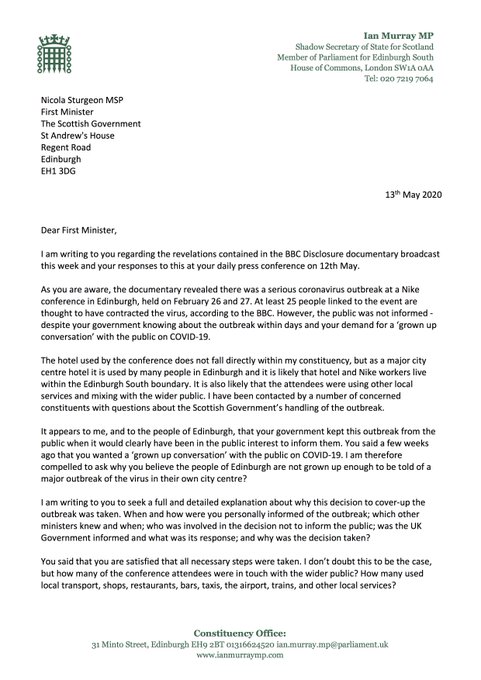 'Considerable correspondence' and 'the people of Edinburgh?' Hmmm.
Murray went on to suggest that lives had been put at risk but we see now:
No deaths were linked to the outbreak.

Experts concluded whole genome sequencing results "strongly suggest that the actions taken by the incident management team to manage the outbreak were successful in curtailing onward transmission."

The [PHS] report also said the sequence identified at the conference was not subsequently identified in Scotland.

"This represents one of several hundreds of introductions of SARS-CoV-2 into Scotland from February 2020 and there is no evidence of community transmission of this sub-lineage, which was not detected in Scotland after April 2020," it added.

https://www.bbc.co.uk/news/uk-scotland-58810370
Ian Murray proved wrong again. Who'd have thought that?