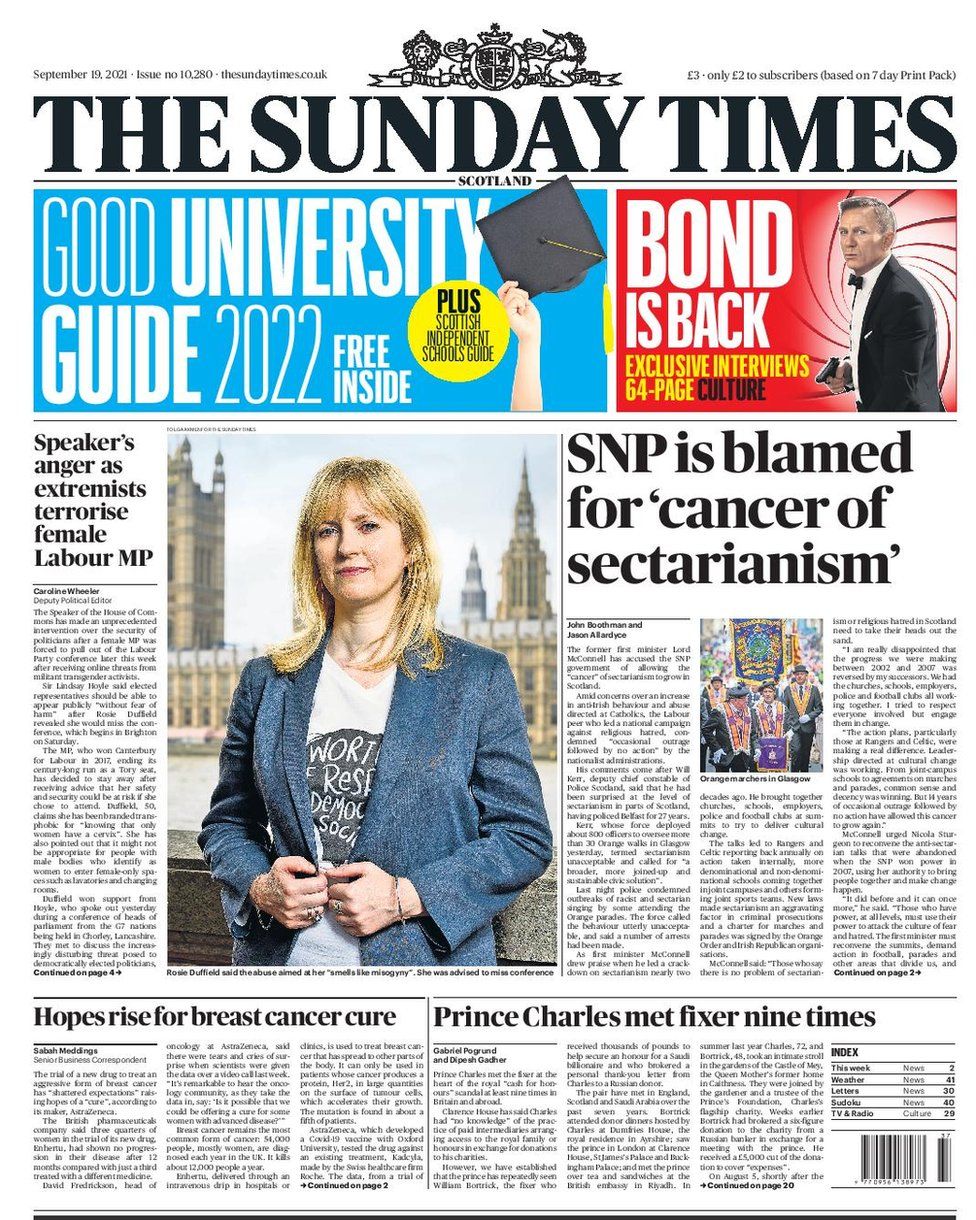 Lord McConnell surfaces to try to blame the SNP for 'the cancer of sectarianism' after 12 years in power.
That's a good one.
Doesn't the root go further back and to other parties? See this:
Needless to say, Orange and predominantly Protestant Labour-voting communities had to be treated with similar tact [to catholic communities], well illustrated by Dennis Canavan's experience in Falkirk in 1974 and, later, by the 'Sam Campbell Affair' in Midlothian in 1986 (the latter a Labour councillor who made anti-Catholic remarks at an Orange demonstration, for which he was disciplined by the party, but not expelled).

https://www.euppublishing.com/doi/full/10.3366/scot.2017.0186?widget=journaleditorialboard
or this:
Falkirk Council to cover Orange Order march costs worth thousands of pounds

Critics say the Orange Order arguably has a religious and political message.

A SCOTS council at the centre of a row over funding to the Orange Order is to provide thousands of pounds worth of assistance to other Loyalist parades.

The leadership of Labour-run Falkirk Council has blamed a "new position adopted by Police Scotland" over the handling of traffic issues at marches for its decision to cover the costs of a major Orange event in the town next month.

https://www.heraldscotland.com/news/14501503.falkirk-council-cover-orange-order-march-costs-worth-thousands-pounds/
or this more recently:
Police chief: Scottish football 'in crisis' – and repeal of Offensive Behaviour Act is to blame. A leading figure in the Scottish Police Federation has claimed the repeal of the Offensive Behaviour at Football Act (OBFA) [by Labour and the other unionist parties] is partly to blame for the rise in disorder at Scottish matches.

https://www.scotsman.com/sport/football/celtic/latest-celtic-news/police-chief-scottish-football-crisis-and-repeal-offensive-behaviour-act-blame-1420725
Even more obvious Jack, this lot, the Conservative and Unionist Party:
And it's not just him. It's part of their 'culture':
NEW Scottish Tory leader Ruth Davidson has become embroiled in a sectarianism row after one of her party's Holyrood staff posted song lyrics on Twitter glorifying Northern Irish terrorist group, the Ulster Volunteer Force.

Colin James Taylor, who is employed at the public's expense in the Tory Press and Research Unit (PRU) at Holyrood, also referred to Celtic Football Club as "tims" on the popular blogging website.

https://www.heraldscotland.com/news/13040028.outrage-davidson-aides-sectarian-tweet/
There's more:
Ruth Davidson has defended her decision to reinstate two Conservative councillors who posted anti-Catholic and racist tweets.

Alastair Majury and Robert Davies were both suspended shortly after being elected to Stirling Council in May.

Mr Majury tweeted in 2012: "Why is the Catholic Church against birth control? Because they'll run out of children to molest."

https://www.politicshome.com/news/article/ruth-davidson-defends-reinstatement-of-tory-councillors-in-sectarian-and-racist-tweets-row
I'll stop there. I feel a bit queasy.