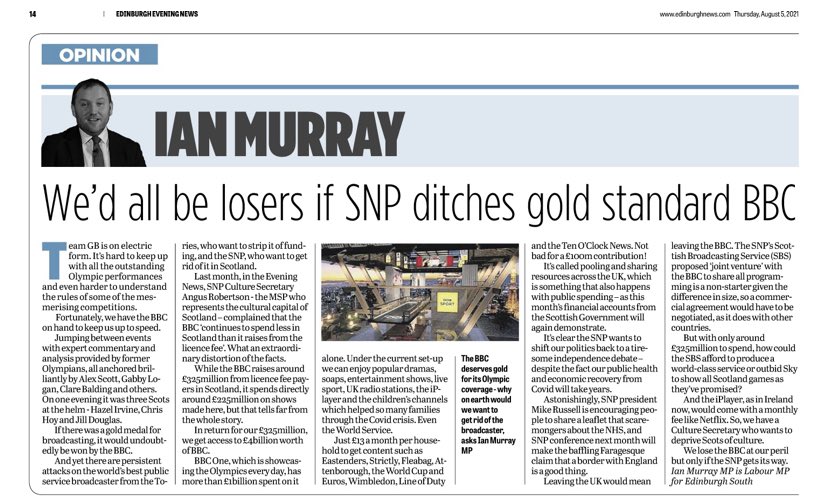 By Leah Gunn Barrett:
Ian Murray (Scotsman, August 5th) slavishly praises the British State broadcaster, the 2014 Project Fear cheerleader that lost any remaining trust it had in Scotland and has done nothing since to win it back.

The BBC is burnishing its Unionist credentials because it fears the Tories will deprive it of the license fee, a funding model that is a highly regressive broadcasting poll tax. Pensioner poverty is exacerbated now that over-75s are required to ante up for the £157 fee. It's no surprise that Scots are short-changed by the BBC, paying in more than they get back, because it's the same story with state pensions.

The BBC calls itself British in a nation where 62% of Scots identify as Scottish, not British. The BBC news is about England for the simple reason that 83% of the UK population lives south of the border where power lies. Scotland will never be an equal citizen in this Union. It's a numbers game. England dominates the state broadcaster in the same way it dominates the smaller nations in Westminster. 

The BBC has had more than 90 years to 'get' Scotland but hasn't. It's a massively over-centralised and unfair organisation, where the money lavished on England is raised on the backs of the smaller Celtic nations. It consistently undermines confidence, trust and support for the Scottish Government, with the ultimate goal of depriving Scots of their right to govern themselves.  

Scotland can do better with its own publicly funded state broadcaster that accurately and fairly covers and serves the interests of Scotland. To imply that Scotland is incapable of providing this service is another example of talking down Scotland, something at which Ian excels.