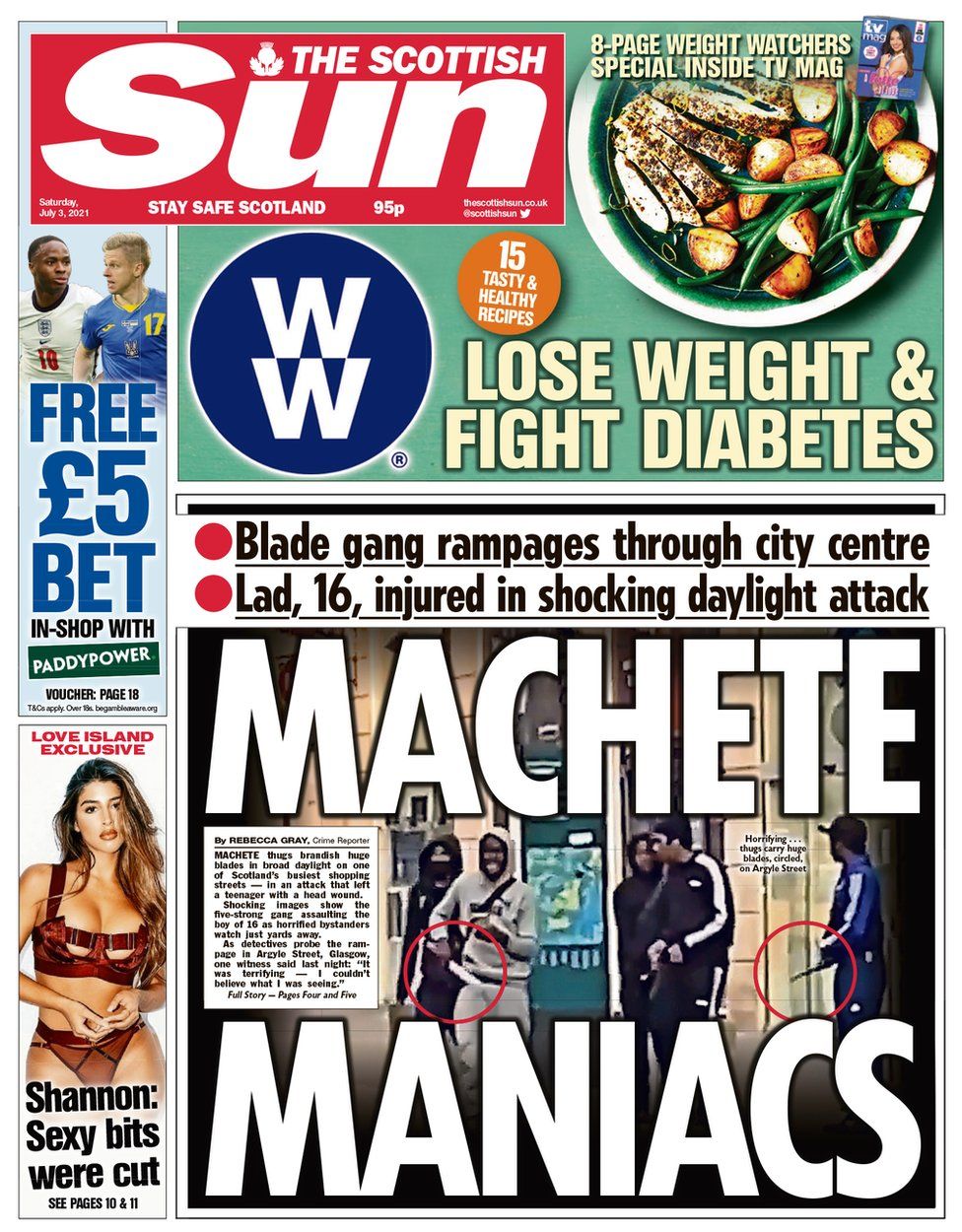 Yesterday, the Herald reported on six men 'arrested in Edinburgh and Wolverhampton on Wednesday and charged in connection with various drug offences.' None were 'from' Edinburgh.
Last week the Edinburgh Evening News reported 'the menace of County Lines drug dealing which is growing' and that these gangs are from London, Liverpool and the West Midlands.
Readers will remember the video of young men armed with knives and shouting in clear English accents in Glasgow only a few weeks ago.
Two Police Scotland warnings, in January and October 2019, referred to English County Lines drug gangs terrorising rural and small-town Scotland. Only the Sunday Post in February and the Daily Record in October reported them.
Even earlier, in a Scottish Government investigation from June 2018 (!) Community Experiences of Serious Organised Crime in Scotland:
Evidence from drug market research and policing suggests that the most common route for illicit commodities into Scotland is through the open border with England, with major drug supply routes entering the country by road and rail.
The profitability of the heroin trade has however led to an increase in SOC groups from England penetrating markets in north and rural Scotland. These groups use road, train, and bus routes to create steady supply routes in these areas, effectively 'bypassing' the traditional groups in Scotland's central belt and directly accessing other markets in rural areas. A police officer noted the regularity of the trade, with 'young people or low-level patsies acting as couriers'.
'There's an awful lot of folk coming up from [city in north England] and they'll target a house, they'll basically just come into the house and, and they'll take over the house while they're dealing their drugs and giving that tenant what they need so they can use their house and that… The best explanation that I've heard is [in] our area, there's not a firm, like, family that's in control of the drugs. So they're just coming up and taking advantage of that (Police Officer, National Diffuse).'
They [OCGs in the local area] are linked to a group in the north [of England] … the group have not come up to supplant the indigenous group as there are no turf wars. Rather they co-operate with drug supply, but also collaborate on some other criminal activities… [they] had a guy living in the area. What the group added was increased capacity in terms of supply and sourcing drugs and increased flexibility in terms of moving drugs north (Police Officer, National Diffuse).
BBC Scotland did not report any of these stories.
As far as I can see, they haver only twice reported on county lines gangs.
In May 2021 in Drugs seized in crackdown on county lines gangs, England is not mentioned. No English city is mentioned.
In October 2019, in 'County lines': Aberdeenshire, Perthshire and Highlands targeted by drugs gangs, we see only: DCI Alan Henderson, of Police Scotland, said: "Scotland is predominantly an importer of county lines. We don't export to England and Wales.
When Scotland was the source of violence, they loved it:
Why is BBC Scotland and to a large extent Scotland's MSM, so reluctant to investigate these stories and to inform the public?
Might they not be a good advert for the Union?