In the Guardian today:
Senior government officials have raised "urgent" concerns about the mass expansion of rapid coronavirus testing, estimating that as few as 2% to 10% of positive results may be accurate in places with low Covid rates, such as London. However, leaked emails seen by the Guardian show that senior officials are now considering scaling back the widespread testing of people without symptoms, due to a growing number of false positives. On 9 April, the day everyone in England was able to order twice-weekly lateral flow device (LFD) tests, Dyson wrote: "As of today, someone who gets a positive LFD result in (say) London has at best a 25% chance of it being a true positive, but if it is a self-reported test potentially as low as 10% (on an optimistic assumption about specificity) or as low as 2% (on a more pessimistic assumption)."
But from the BBC yesterday:
Most positive rapid coronavirus tests taken since 8 March appear to have returned a correct result, according to data seen by the BBC. Analysis of data from Public Health England shows 82% sent off for a confirmatory PCR test returned the same positive result. All secondary school pupils in England have been asked to carry out two tests a week since schools reopened. There had been concerns that many would have to self-isolate needlessly. But this data suggests these fears may be unfounded.
https://www.bbc.co.uk/news/health-56750460
So, they don't have a clue. Rapid or lateral flow tests are 2% accurate or 82% accurate depending on how and where the research was done.
In 2020, the BMJ and Professor Pollock warned us that these tests were unreliable and were being used by politicians as a tool to win public support.
Only just over a week ago, Scotland's media were implying, as they love to do, that Scotland was falling behind England on mass testing of this kind: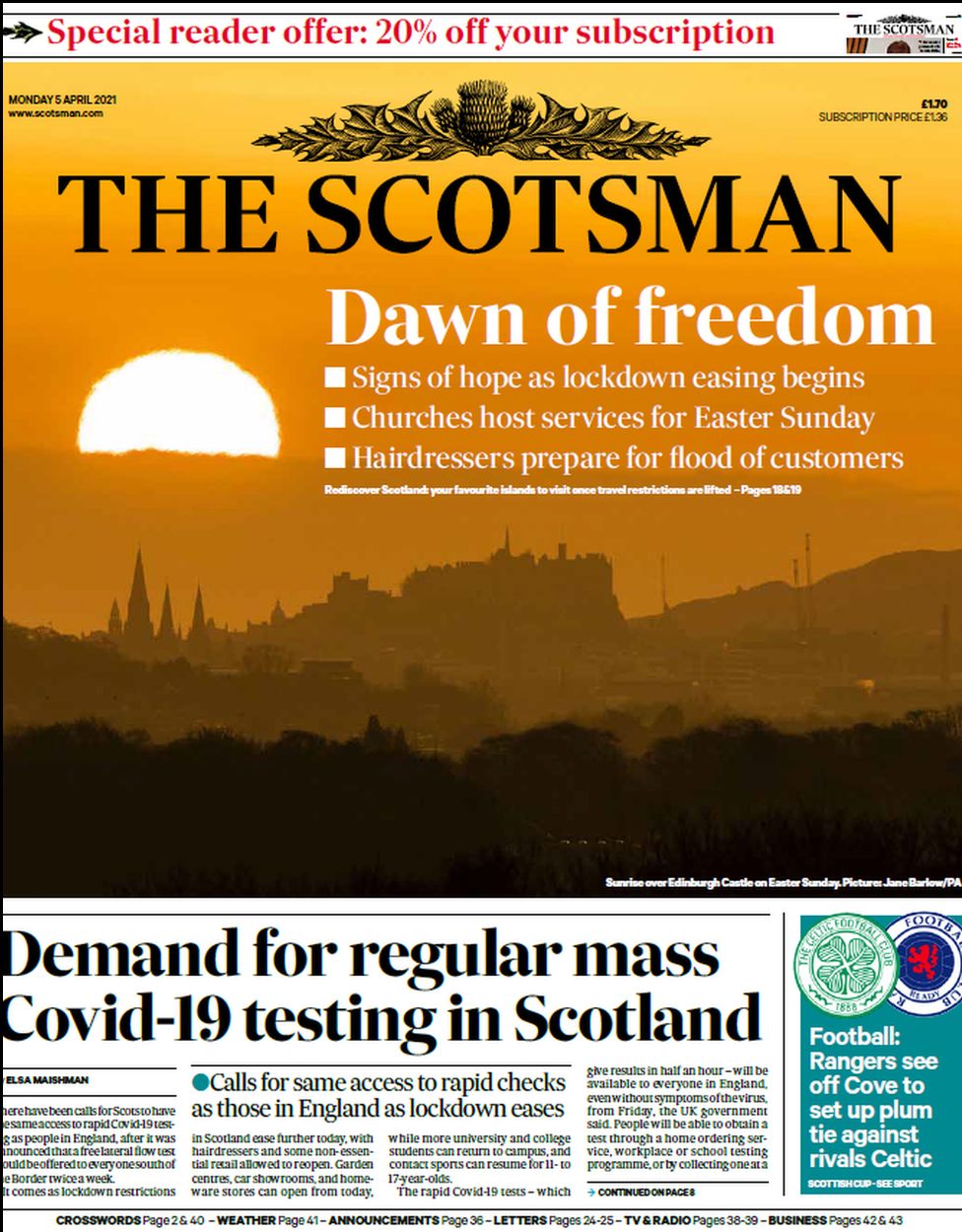 This, like the demands for earlier emergence from lockdown measures or faster vaccination of those less at risk, just reinforces the stupidity and potential damage that might be done by the Scottish media watching what the incompetent Johnson regime does and then pressing the Scottish Government to follow.
How many times have we heard questions at the Scottish Covid briefings along the lines of: 'People in England are getting this. Do you have plans to do the same here?'
Not just an agenda but also lazy journalism.