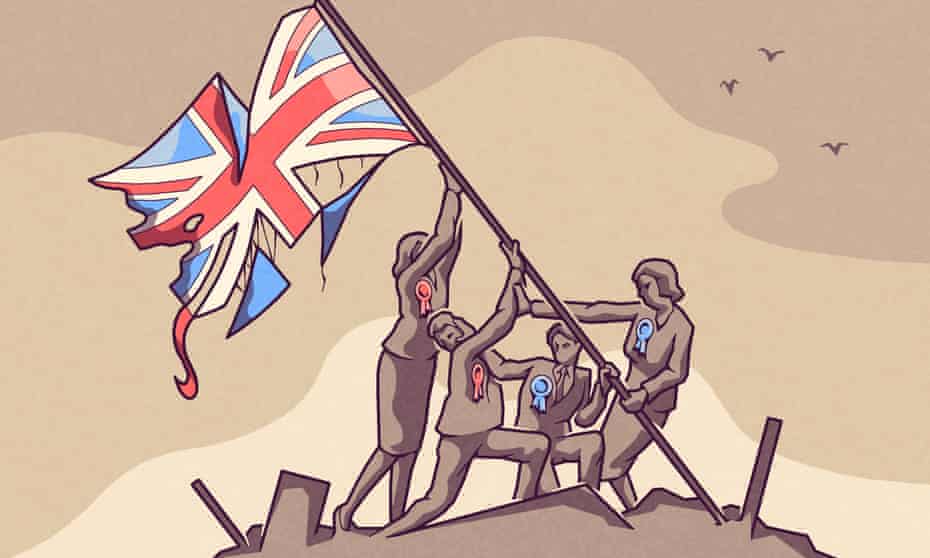 From Alasdair Galloway
Mike Small in a piece today ("On Harry Cole, Doomsday and the new Hyper-Unionism" – https://bellacaledonia.org.uk/2021/03/23/on-harry-cole-doomsday-and-the-new-hyper-unionism/), quotes John Harris as saying " "Shall we at last face the facts? Even if the institutions of the United Kingdom creak on unchanged or are somehow saved by a new federalism, as a meaningful political entity the UK is all but over. Independence is partly a state of mind, and for very different reasons, a large number of people in Scotland, Wales and England have got there already." ("English politicians are waving the union jack, but its meaning is tattered and torn" – https://www.theguardian.com/commentisfree/2021/mar/21/british-politicians-union-jack-flag.
Fwiw I have long had this notion – and I would put it not one wee bit stronger than that – this is no great analytical insight. – just a feeling – that when Scotland becomes independent, no referendum will be involved. In particular, I have been drawn to the Czechoslovak "velvet divorce" of the early 1900s. The reason for this was that ever since the Czechoslovak state had been set up, the Slovaks wanted a decentralised state, while the Czechs were quite happy with the country being run from Prague. As time went on the two communities progressively drifted apart. Slovaks were the minority community (about 1/3) but the Czechs felt that at that proportion they had too much power, though the Czech economy was about 20% bigger per capita than the Slovak. Czechs sought tighter integration of the two parts while the Slovaks sought more local independence. Sound familiar? Pressures from the larger community for greater centralisation of a system decentralised in some respects.
This became critical when in 1992 the Czechs elected Vaclav Klaus who advocated a tighter union of the two communities, while the Slovak's political leader Miroslav Meciar wanted a confederal state. The Slovak Parliament declared Slovakia to be independent, and a few days later Klaus and Meciar agreed the dissolution of Czechoslovakia. There was no referendum – just the declaration of two politicians that the game was up for Czechoslovakia, even though only 36% of Czechs and 37% of Slovaks supported this in a contemporary opinion poll.
Why would this tell us anything about Scotland's independence? For instance, while the Czechs were the largest group and dominated the country, they did so to a much lesser degree than England does the UK – 85% England; 8% Scotland. Nor did they have to deal with the Supreme Court and arcane notions of sovereignty, such that the Slovaks never had to go to the Czechs and ask if it was ok for them to become independent.
The relevance of this is that if Harris is correct and "as a meaningful political entity the UK is all but over", there must be some process for this to happen.
Let's take Wales, whose current First Minister, Mark Drakeford, was quoted earlier this month as saying "The United Kingdom "is over" and a new union should be crafted to reflect a "voluntary association of four nations", (https://www.itv.com/news/wales/2021-03-05/the-united-kingdom-is-over-drakeford-says). Even more importantly he underlines this with "the break-up of the UK was possible if politicians only offered a "tweaking of the status quo" and yet, the direction of travel of post Brexit UK seems to be precisely the opposite.
The vision of the Westminster government, based on the philosophy and practice of the UK Internal Market Act is toward closer integration, side-stepping the possibility of potential difficulties with the device of "mutual recognition", which threatens any part of the UK that imposes higher standards (eg of food production) with the lower standards of elsewhere having to be recognised and allowed to apply.
Harry Cole, Political Editor of the Sun ("ONE YEAR ON Boris Johnson was 'naive' to give Nicola Sturgeon pandemic powers, Cabinet colleagues claim" claims that some members of his Cabinet "wanted Mr Johnson to rely on the doomsday 2004 Civil Contingencies Act which gave Whitehall supreme authority for a "catastrophic emergency" rather than the four nations each going their own way. As Mike Small writes "There's an ominous addendum: A Cabinet Minister said: "I have no doubt that it will be done differently next time. The PM knows that."
In short, Johnson and his government are aiming to take the UK in precisely the opposite direction from what Drakeford wants. A confederation would be relatively loose – Huw Edwards might get to use his flag – but what Johnson et al want is a tightly integrated UK. But it is also important to remember Drakeford's wider political opinions. This is the man who just last year said "Welsh nationalism is an "inherently right-wing creed" and that people must choose between it and socialism." (https://nation.cymru/news/nationalism-inherently-right-wing-and-incompatible-with-socialism-first-minister-says/) and that "devolution is the best of both worlds. It allows us to remain part of the United Kingdom and draw on the strength of being part of that collective whole. But it puts decisions about what happens in Wales in the hands of people who live in Wales." In short, Drakeford is no Nationalist, but if the sort of car crash that apparently looms comes about, he might have to make his mind up. Does he want Wales to be part of a new, more highly integrated UK – at least undermining devolution – or, if confederation is not available, will he support independence? Is this not rather like the contradiction that Klaus and Meciar walked into in 1992.
Then there is Ireland. Many feel the North rejoining the rest of Ireland is simply a matter of time, even if only on demographic grounds – a higher proportion of Roman Catholics among the younger population – the 2011 census was a "demographic watershed", as for the first time, the proportion of the population declaring themselves as Protestant or brought up Protestant fell below 50 per cent. However, that does not take account the utter shambles of the Brexit agreement which places Northern Ireland in the strange situation of following EU Single Market rules (so that customs checks on the border are not necessary as to do so would contravene the Good Friday Agreement ) but still remains part of the United Kingdom. This part of the Brexit Agreement seems likely to see the EU Commission take the Westminster Government to Court over their unilateral increase to the "grace period" for not following new regulations to be extended.
What about England itself? Recently, Labour supporter Rachel Swindon tweeted, "If Bristol was worth a few headlines Liverpool will get its own 16 page souvenir pull-out." Of course, if folk in Liverpool were to take the same course of action as people in Bristol, she might well be right, and just how Johnson would react if his government came under much the same sort of pressure in many more places than just Bristol (or even just Liverpool). Some of us are old enough to remember the riots in 1981 that took place mainly in Brixton, Toxteth, Handsworth, Chapeltown and Moss Side, though there were other outbreaks in Bradford, Halifax, Blackburn, Preston, Birkenhead, Ellesmere Port, Chester, Stoke, Shrewsbury, Wolverhampton, Birmingham, High Wycombe, Southampton, Newcastle-upon-Tyne, Knaresborough, Leeds, Hull, Huddersfield, Sheffield, Stockport, Nottingham, Derby, Leicester, Luton, Maidstone, Aldershot and Portsmouth. The causes were held to be racial tension, economic circumstances and police powers and how they were being exercised. Sound familiar? I think it's fair to say that these issues were not finally settled forty years ago. Could we be set for a replay?
In 1981, Thatcher responded by addressing issues of youth unemployment with such as YTS, Police procedure was amended, the Scarman Commission argued "it was essential that "people are encouraged to secure a stake in, feel a pride in, and have a sense of responsibility for their own area". He called for a policy of "direct coordinated attack on racial disadvantage", and things did settle down after this. However, Thatcher's authority was dented and only restored by the Falklands War
If the same thing happened to Bo Jo, would he be able to respond, or is his government actually so full of dolts that they wouldn't know what to do? Ally this to Brexit, the stress of the lockdown and the virus and is the British state starting to wobble really a stupid question?
And there is us, Scotland. Current SNP leadership intends, assuming it wins the election in May, to approach Boris Johnson to seek another s30 Order so that another referendum can be held by agreement with Westminster. I have considerable sympathy with this view, particularly the latter part – "agreement with Westminster", for without that independence is going to be awful lonely and difficult, even if it is possible. However, at the same time, it is widely held that Johnson will say No. Fine, say the Scottish Government, we will go to Court to determine that Scotland is able to organize its own lawful referendum, even if this means going to the Supreme Court to establish this. So let's suppose this is what happens and that the Supreme Court says it is within the powers of Holyrood to hold its own referendum. Want to bet Westminster just changes (they will say "clarify") the law, which is what they did with the Brexit Continuity Bill when it became clear they would lose at the Supreme Court. In other words, that route seems barren and unproductive. It will generate much heat, for I am not sure Johnson appreciates just how badly saying "no" could play in Scotland. Remember how well George Osborne's "you wont get to use the pound" went down in February 2014! But where do we go?
I don't think there is any agreed answer to this, though there are many suggested, but they all have one thing in common – uncertainty.
But let's consider a situation where Northern Ireland wants to integrate with the rest of Ireland, Wales wants a new Union based on confederacy which has little support in the ruling Westminster elite and Scotland is, well, just being Scotland, and at the same time, England is starting to explode. Can the UK as a political entity survive so many significant challenges coming at it from all sides? Call it what you want – collapse of a dysfunctional UK state, divorce, or whatever. It does though seem to me that a referendum is not necessarily going to be the only way forward.