Insight? That's a good one. Has he had the insight to check the polls? Has he had the insight to check the full facts?
After a bit of schoolboy 'hand-slapping' after finding the above photo, Macwhirter opens with:
I think we can be sure that Nicola Sturgeon is not considering resignation after having been found guilty of misleading Parliament by the Holyrood Harassment Committee. The First Minister was never going to fall over a technical breach of the ministerial code. The Scottish Green Party leader, Patrick Harvie, has weighed in behind her so she will  survive Wednesday's expected censure debate. Yet, there is little doubt that the First Minister did mislead MSPs about her meetings with Salmond's aides in March 2018. The idea that she would somehow have forgotten that her friend and mentor of 30 years had been accused of sexual harassment is, as the committee says, just not credible.
Does Macwhirter balance his 'insights' with reference to the 'minority report' from the committee members pointing out the party political hijack of the report at the last minute? No. Here it is: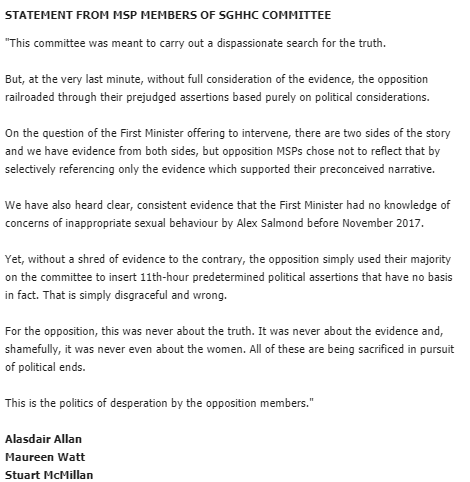 Does he mention at all the dismay over the leaks, expressed by the chair and by many leading politicians in Scotland? No.
Does he consider evidence of wider public perceptions beyond his wee bubble? No. This sort of thing:
Or this:
Or this:
Or, finally this:
Should he stop writing drivel? Yes.